I walked outside the morning of Saturday September 8th, 2018 and something small landed on my shoulder.
An alate. I had assumed, with what little knowledge I had, that it was female.
I immediately turned around to go hunting for the test tubes I had randomly dispersed throughout the drawers of my house. They were just evidence of my many failed attempts to hunt a queen. Keeping an eye on my shoulder, I witnessed her scratch her wings off. Into a test tube she went, and I stepped back out the door armed with several more tubes. Scanning the sky, they were everywhere. I followed a few over towards a large mound of top soil I had delivered several months back. Several landed on the pile, dispatched their wings and began poking around. I couldn't believe what was happening, and all my test tubes were quickly occupied. I was able to scrounged up several more test tubes and went straight back to the pile. I focused more broadly on the pile, it was glittering with tumbling ant wings. I filled a total of 8 test tubes.
I completed their setups with fresh water and cotton, but now where to put them? I knew they needed to hibernate, and several sources suggested an unheated basement. I lined a cardboard tray with some crumpled paper towels to prevent the test tubes from rolling around, covered the whole thing with a black scarf and tucked it away on a shelf in the basement. To keep myself from constantly peeking, I binged on every article and video I could find for several weeks, learning they were most likely Lasius Neoniger queens.
I kept an eye on my artificial founding chambers over the next couple months. Every time I lifted the cover, I could see they were all still alive though not very active. In early February I transferred them all into new tubes with fresh water as most were running low. I researched more in depth into hibernation, getting as specific as I could about genus and location. The temperature of my basement, although unheated, was still too high for what most considered appropriate hibernation temperatures. I began to worried that keeping them in mid 50's Fahrenheit was a mistake.
I moved them them upstairs into warmer temperatures in the middle of March and set a reminder in my calendar to check in on Saturday March 23rd, 2019. At this point I was able to confirm 2/8 had laid eggs. Potentially a third. They are really hard to see, and I am a terrible photographer so forget about macro photography. This might change. I can see myself wanting to improve the quality of my ant photography.
At this point I have a formicarium setup, although I realize even if I do get workers, these colonies might not even be big enough this year to introduce them into the setup I have. I promised my uncle a spare colony from the 8, not sure what to do with any others at this point. We are meeting in a couple days to go over details. After that I will post about my future plans for my colonies.
These were the best images I could get of the 2.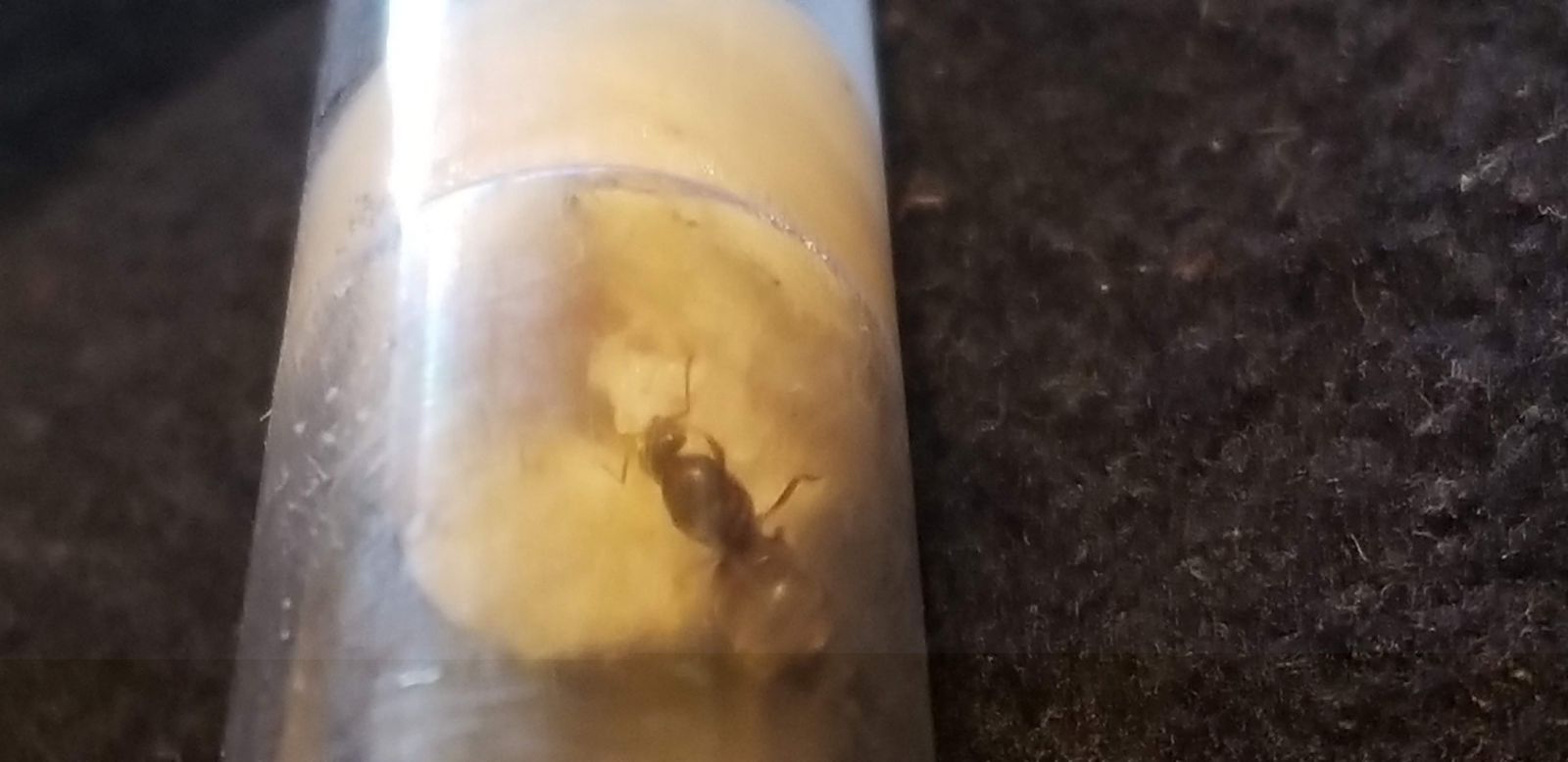 The small pile just above her head.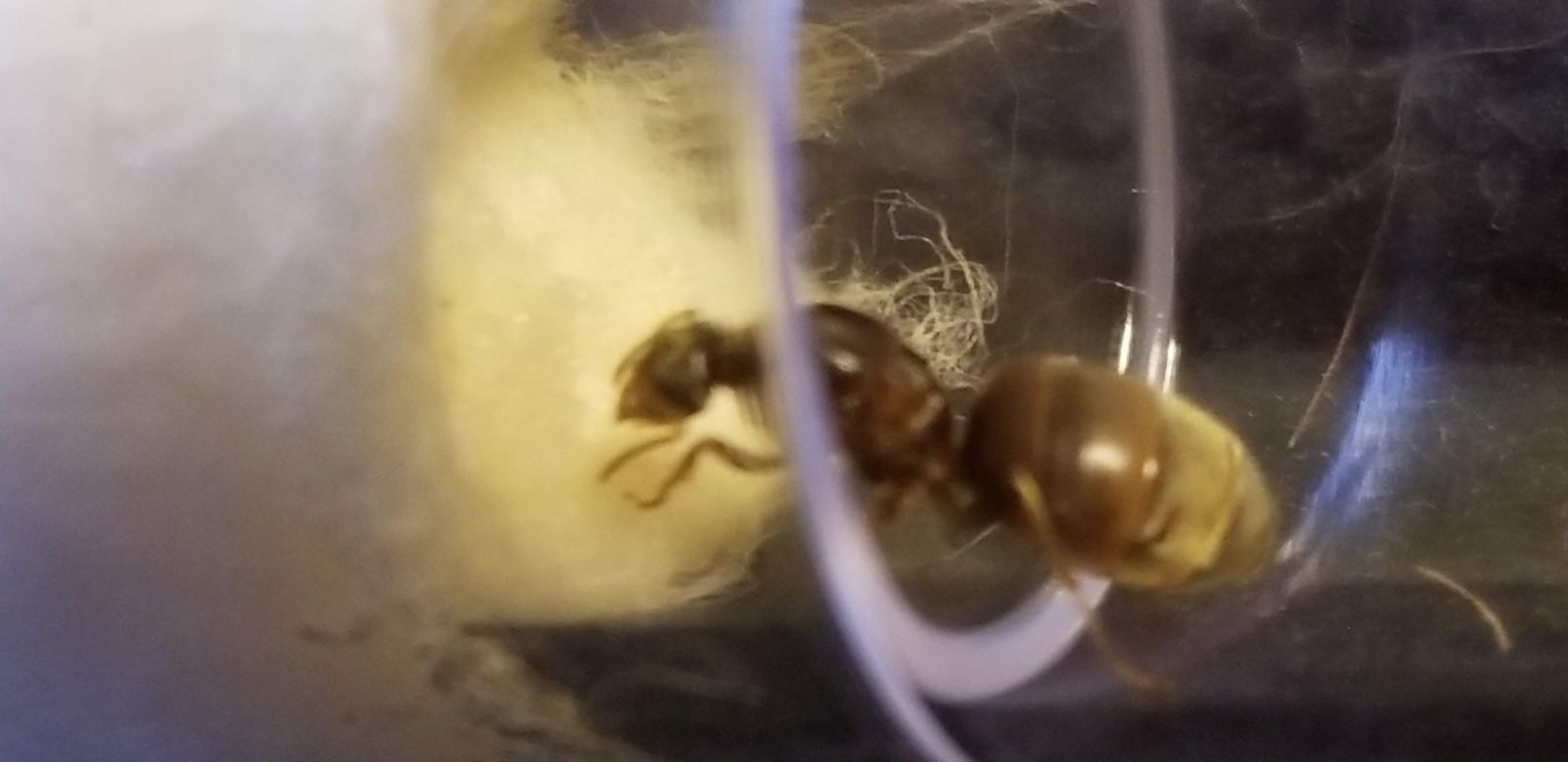 Even harder to see, but I can make out the eggs by the way they distort and reflect light.
Edited by Scherme, April 3 2019 - 8:26 AM.