A pictured timeline of a Myrmecocystus mexicanus colony, about one year old at the time of posting. Includes Gifs and video links for your enjoyment. Added notes and care tips.
August 2022 - First workers and formicarium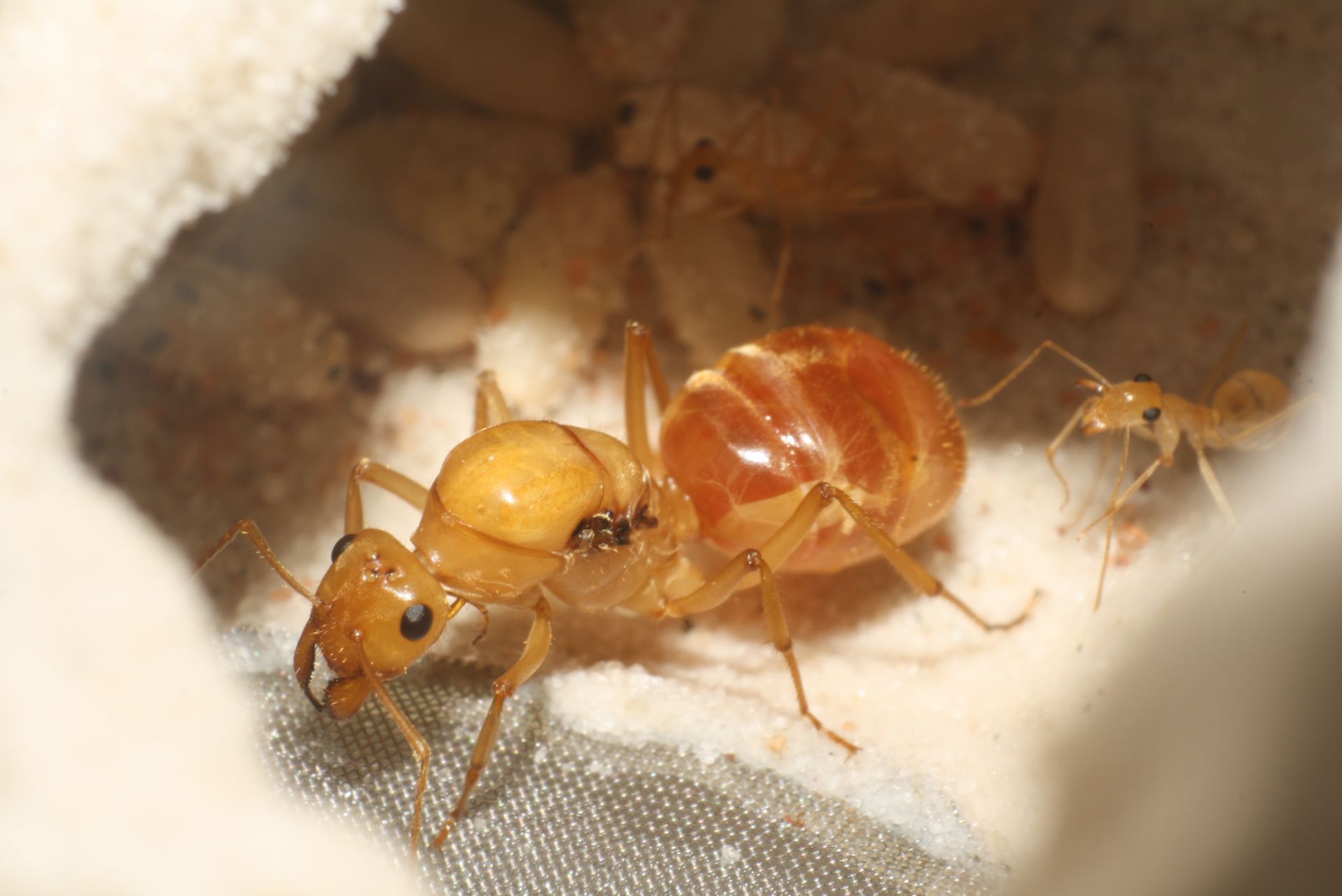 Care tip: I fed the colony sugars as soon as I could to encourage new replete formation and, by effect, encourage the queen to stop storing sugars to focus on egg production. If you have a small colony, feed them sugars daily to boost the chances of success. Additionally make sure you heat these ants! One of the most common mistakes I see from beginners is not having a suitable heating mat or cable on hand. A warm room in the house will also suffice. Temperature should be around 80-90 degrees. Remember to leave a section of the nest for the ants to escape to at a lower temperature if the heating mechanism overheats.
------------------------------------------------
DIY formicarium made from perfect cast and white beach sand with two viewing sections. I attached a supply of distilled water on the left to give them constant access to drinking water.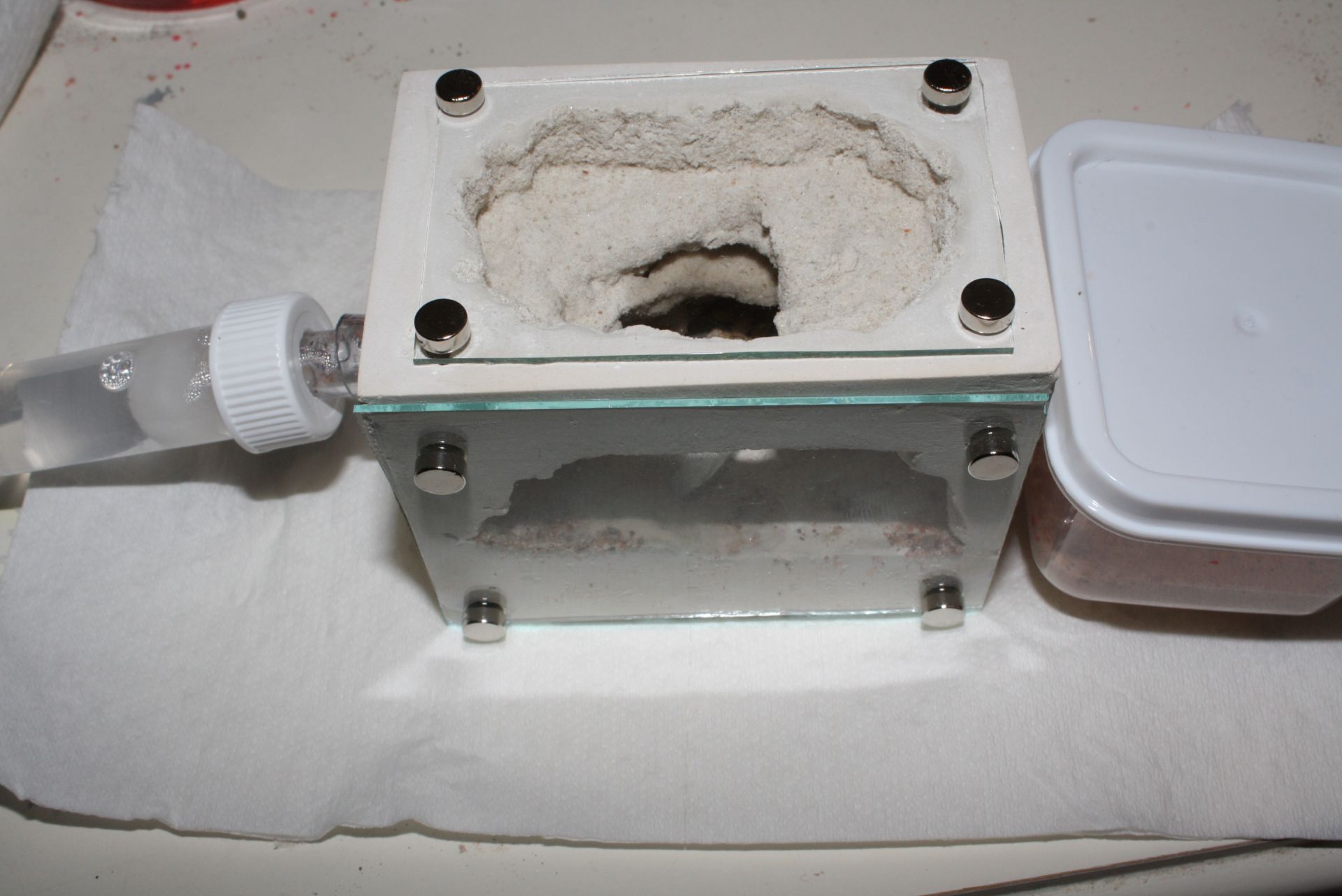 -------------------------------------------------
First replete. I noticed most workers can store a limited amount of fluid, but the first real repletes don't arrive until the second or third generation. The colony had about 25 workers.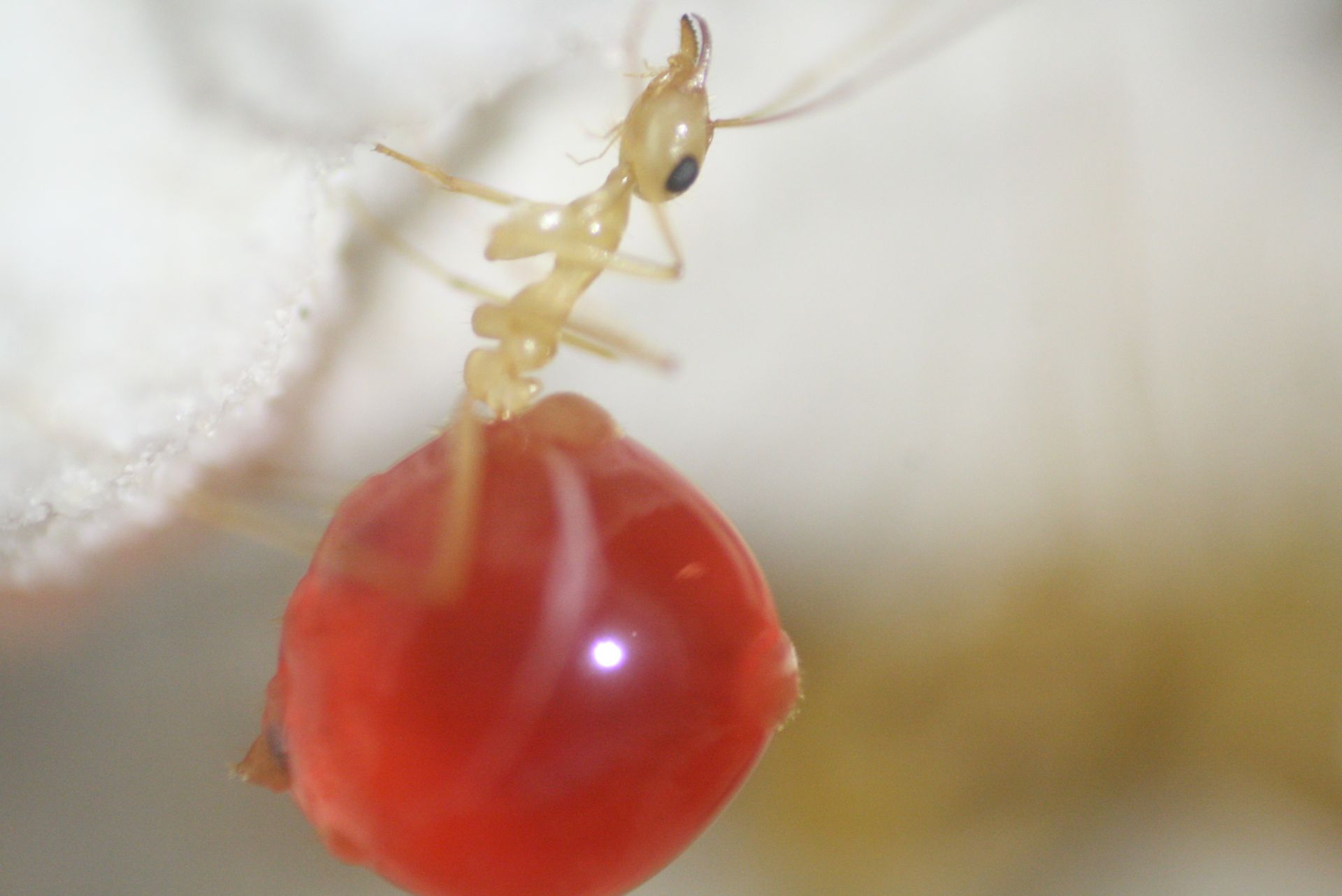 October 2022 - Growth explosion
After feeding pre-boiled and pre-cut mealworms and crickets every 2-3 days along with a contant supply of sugar, the colony began to quickly grow. By this time the queen had completely stopped acting as a replete for sugars. The colony had around 60 workers.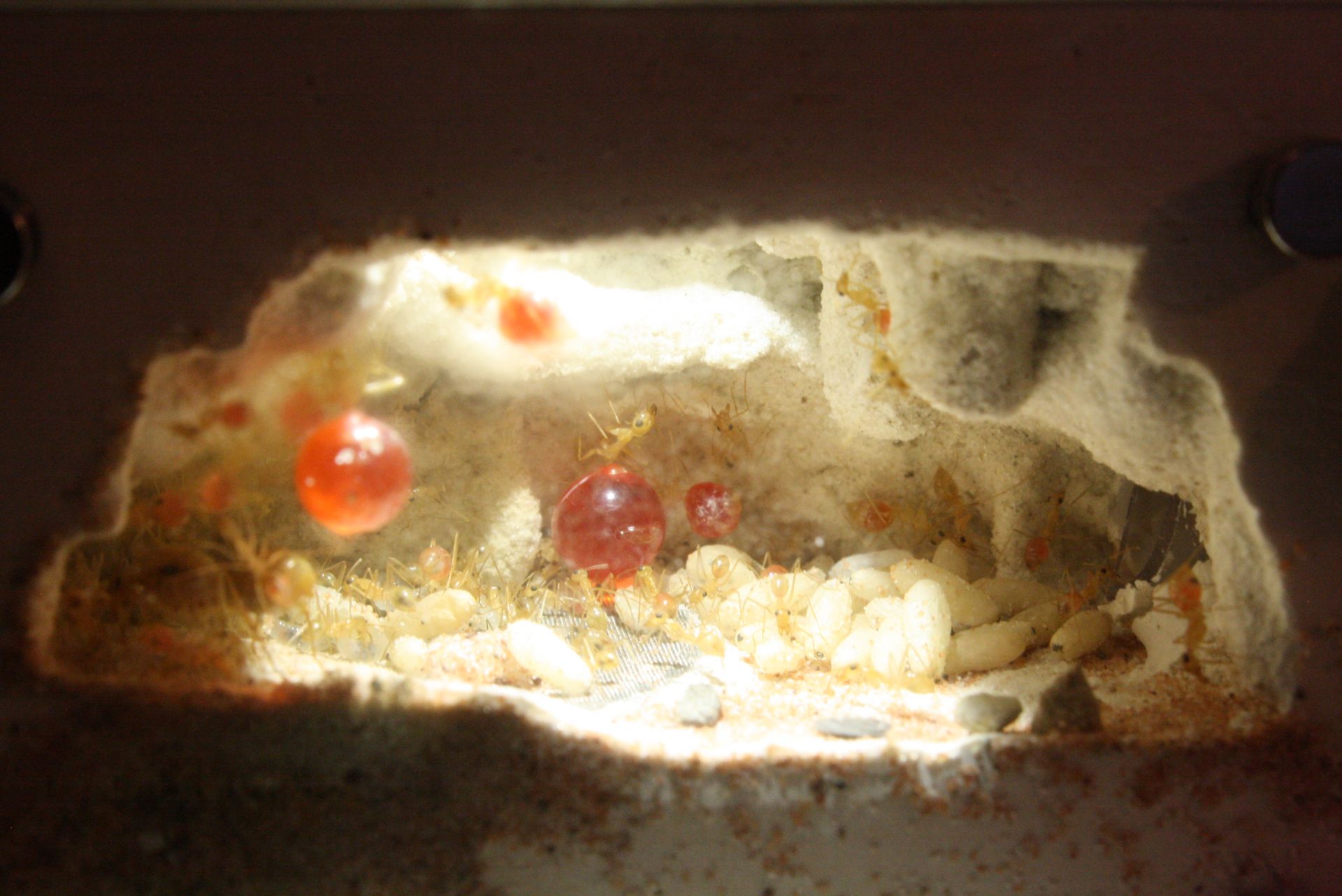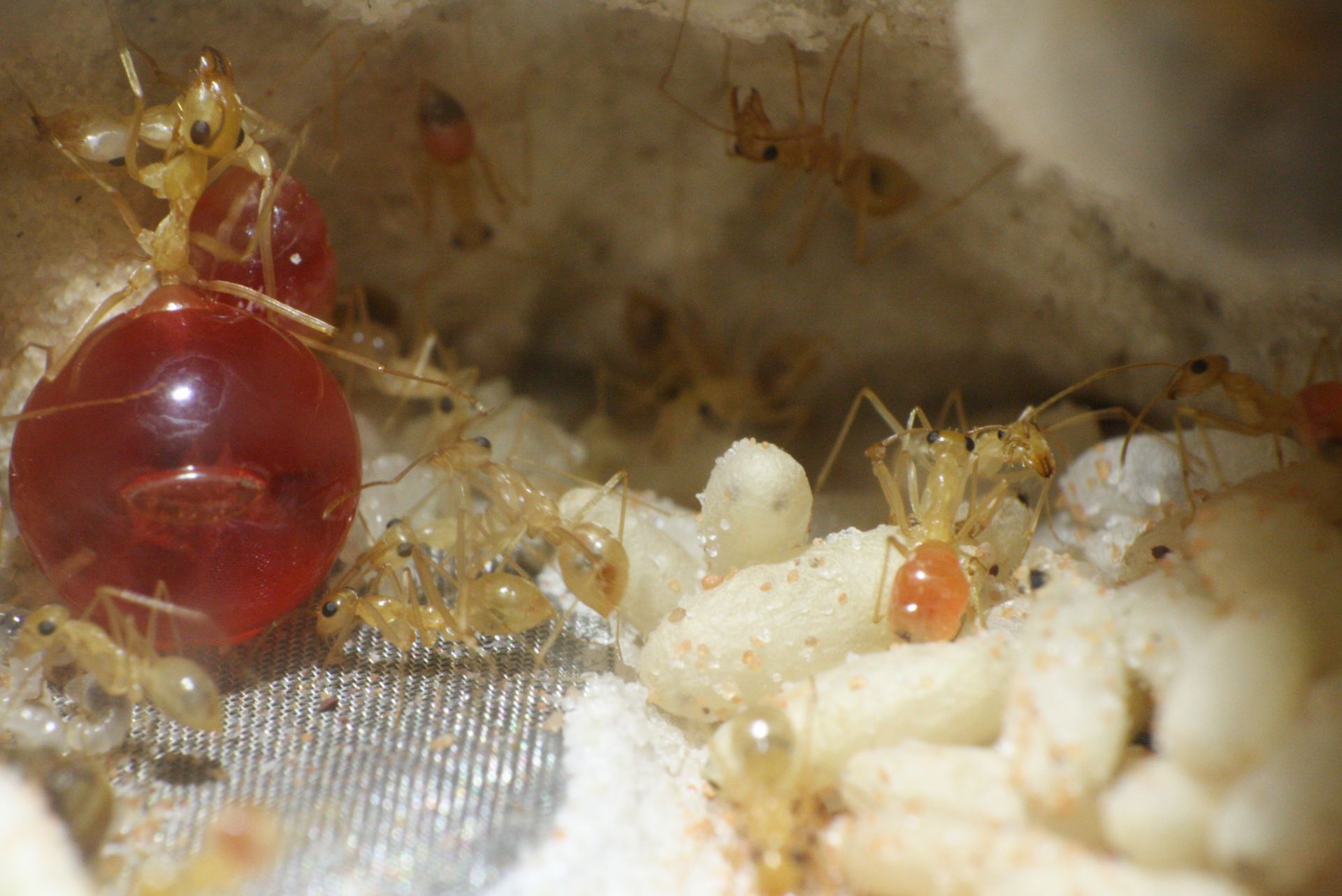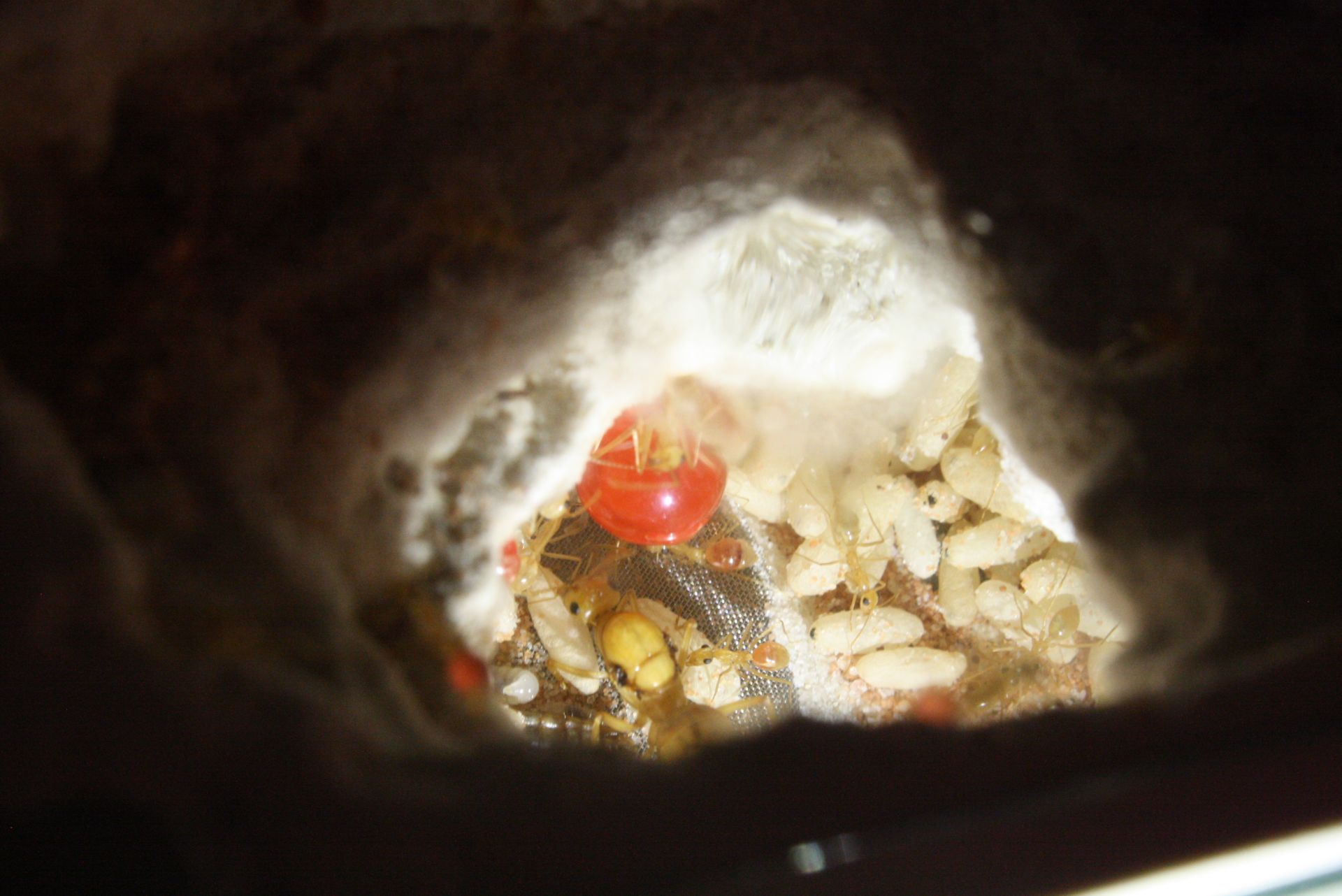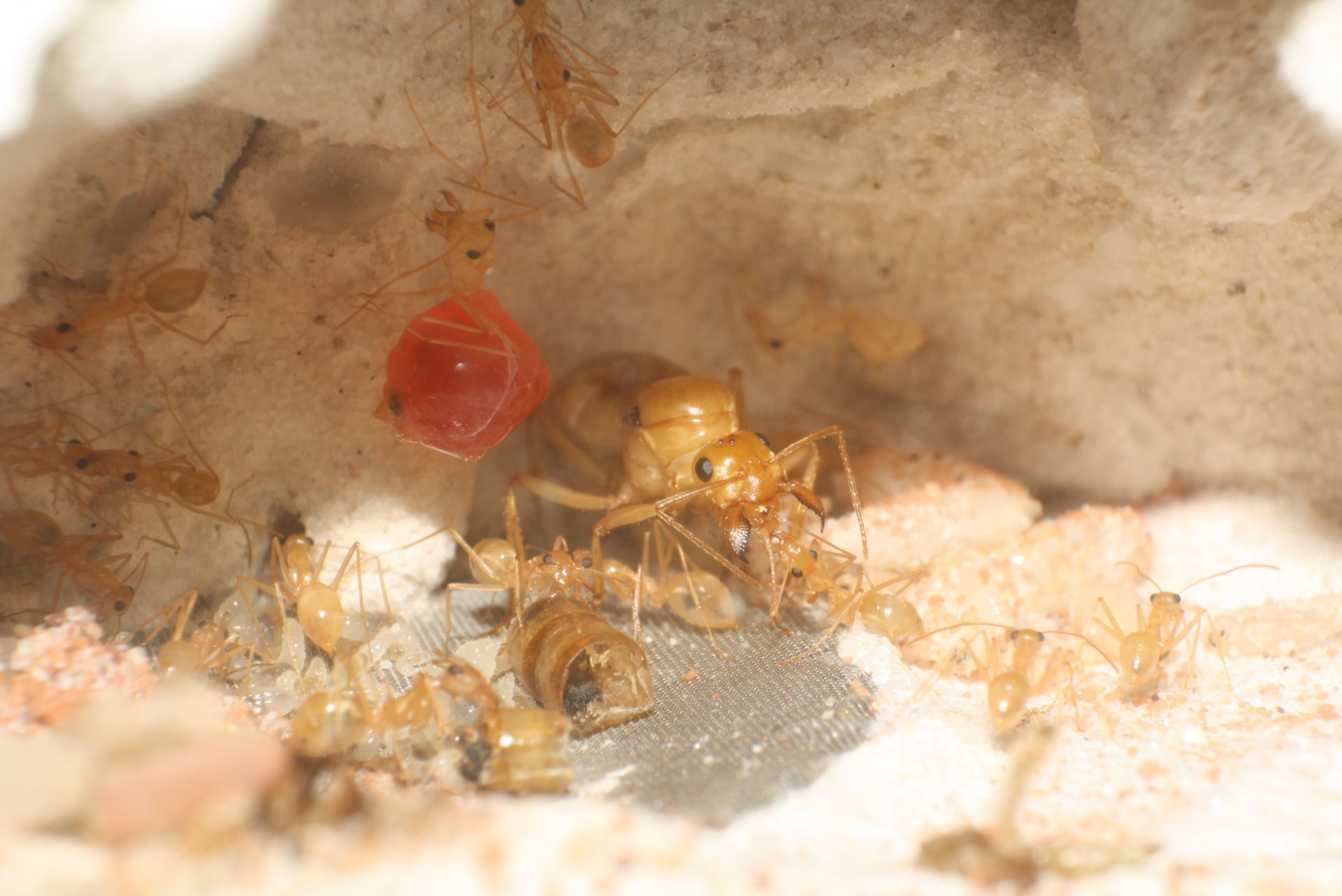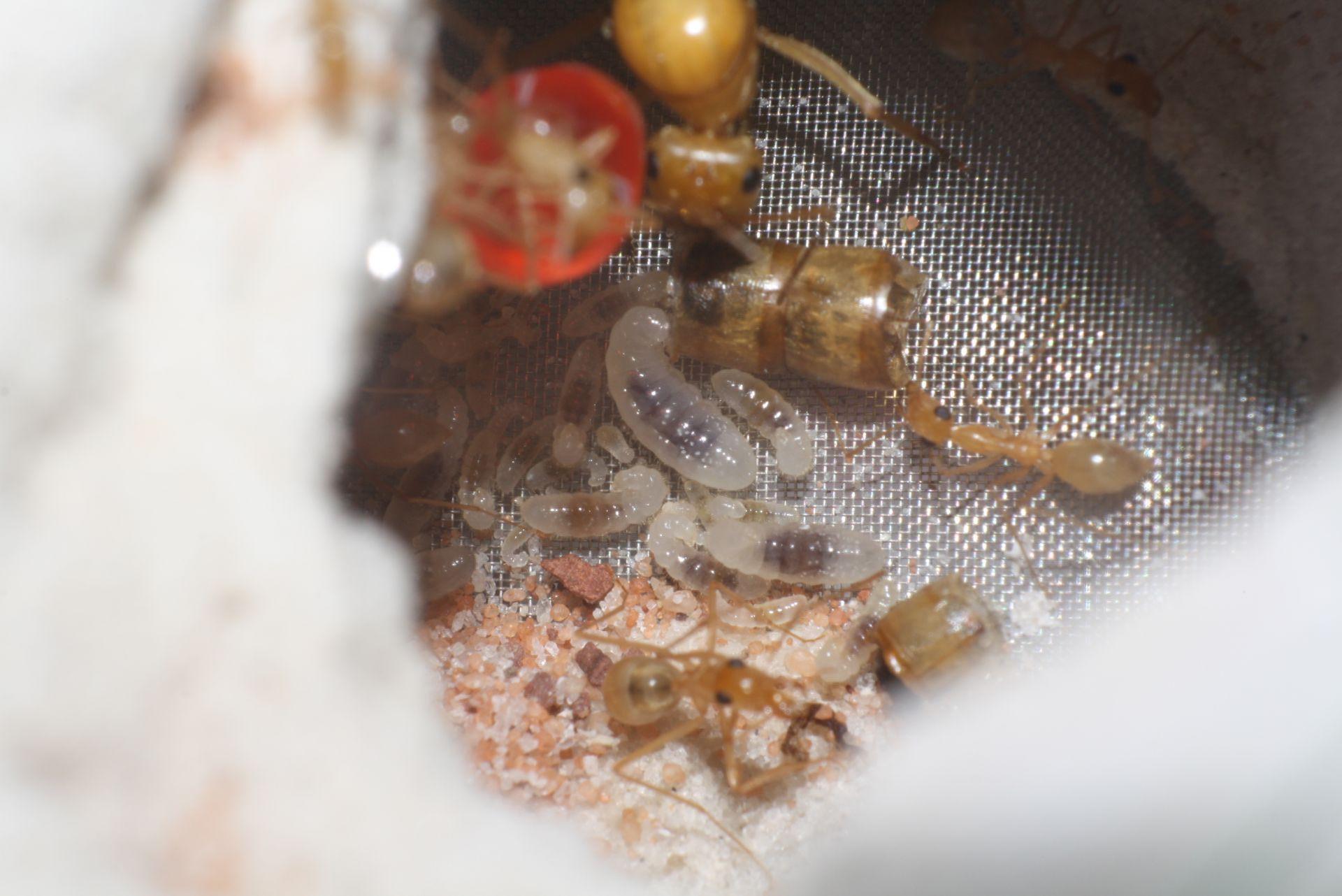 January 2023 - New Setup
This setup would allow for a lot of new replete space. Made of the same materials as the first - Hobby Lobby perfect cast and white beach sand.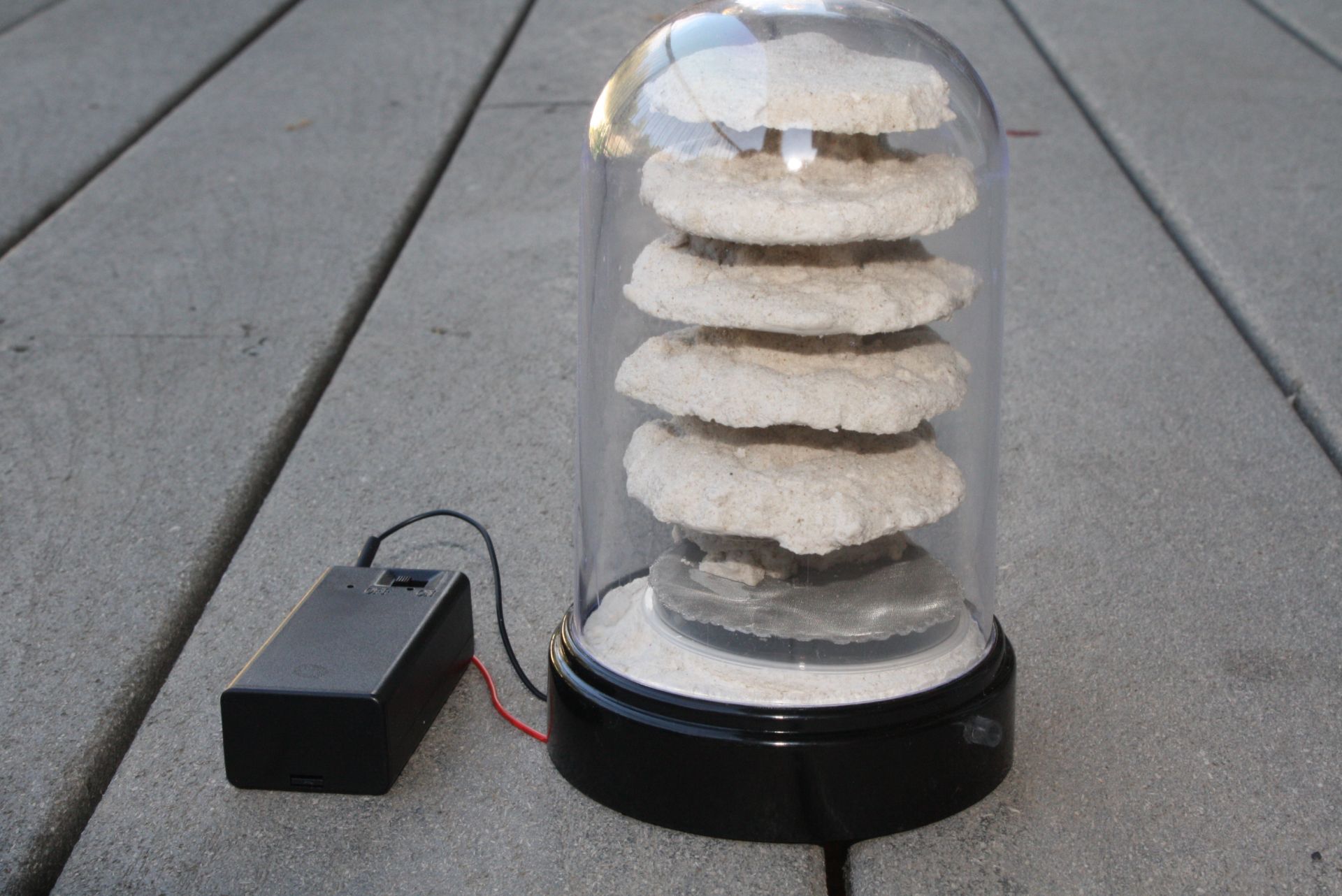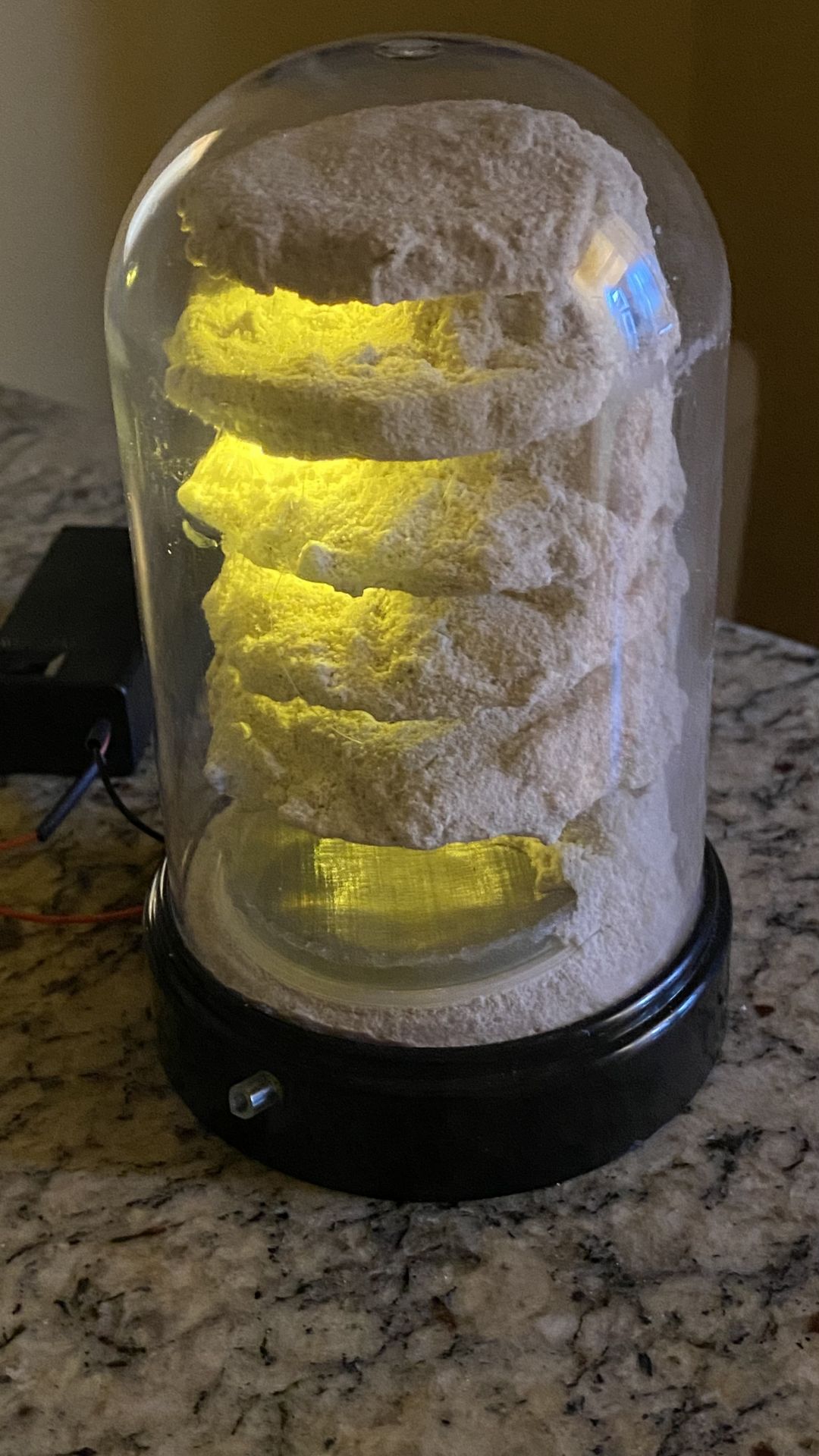 Moved in January 26. The colony had a little more than 100 workers.
-------------------------------------------------
Care tip: Myrmecocystus colonies must be moved manually, as the repletes will not be able relocate. When moving, use featherwight forceps and/or a thin stick to gently move the repletes over to a new location.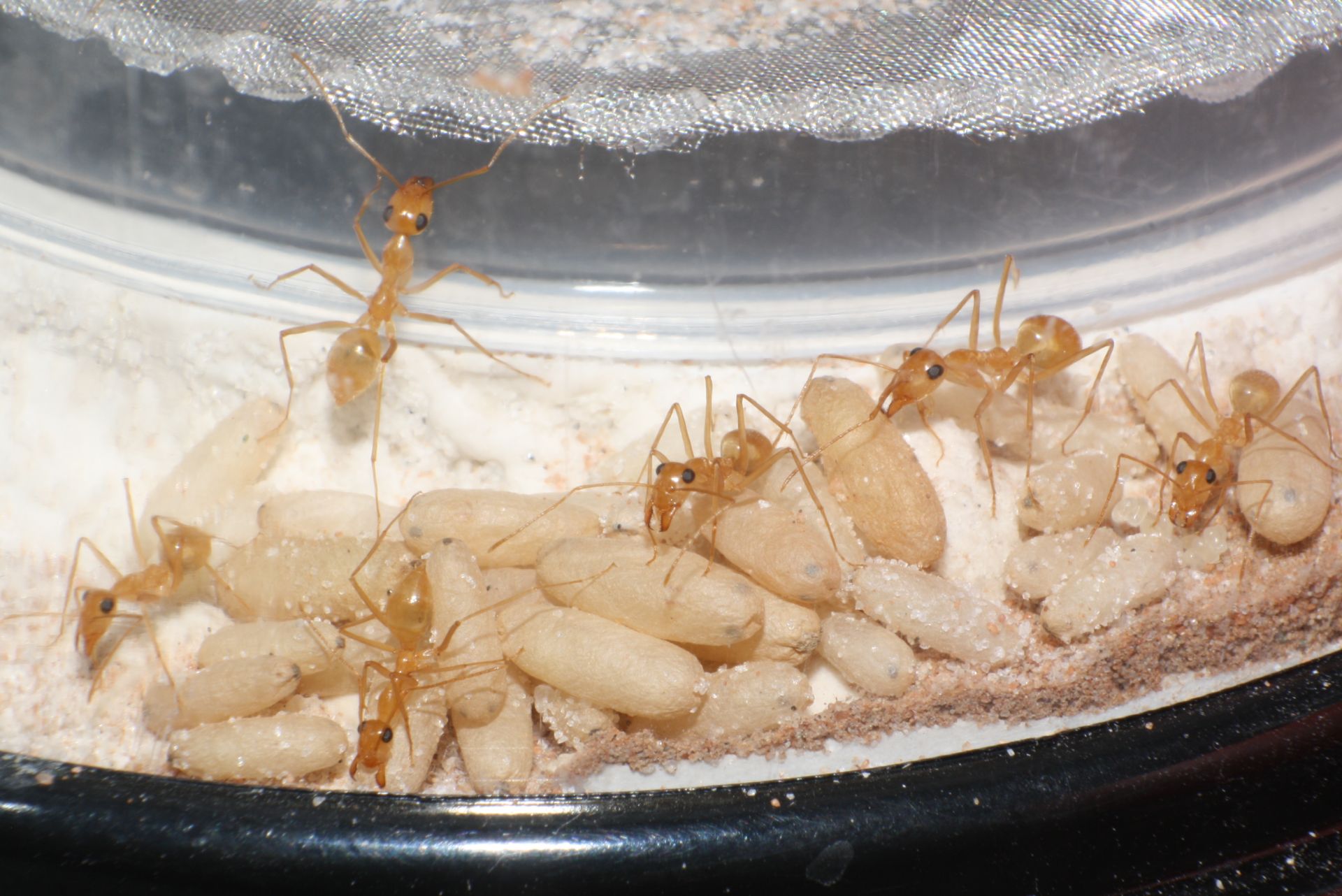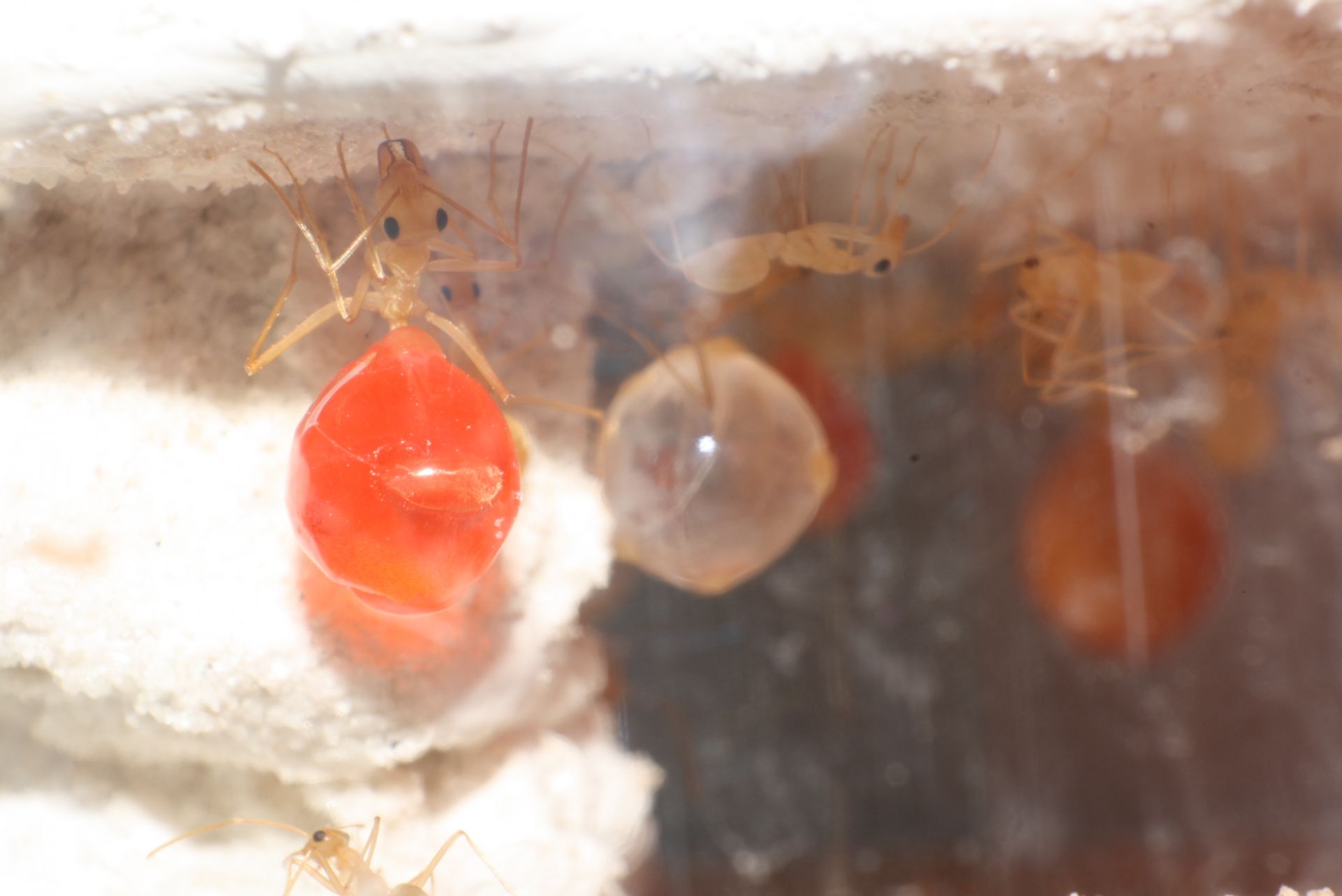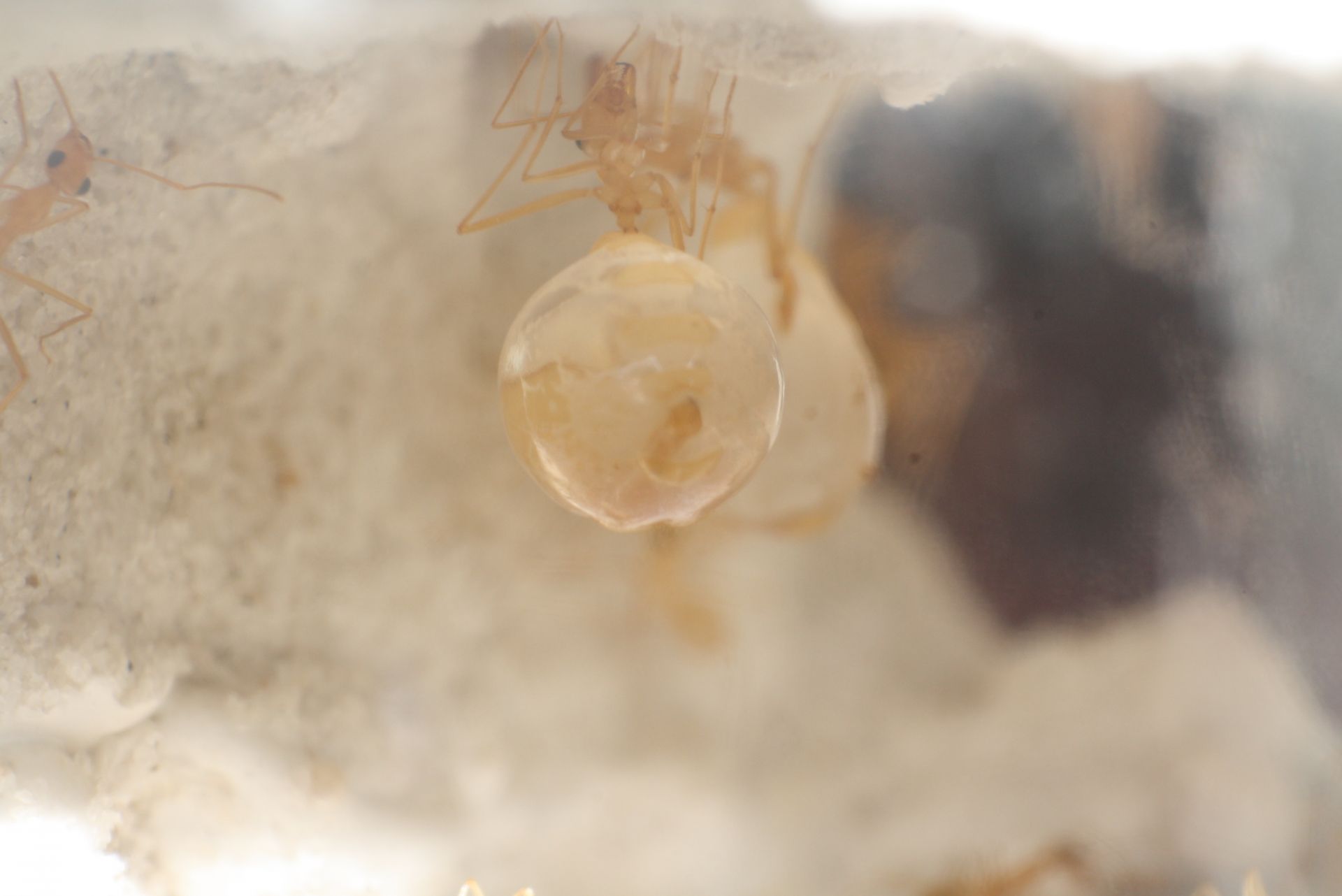 -------------------------------------------------
When housing Myrmecocystus colonies, I would highly recommend overhead lighting capabilities. It makes observation much easier.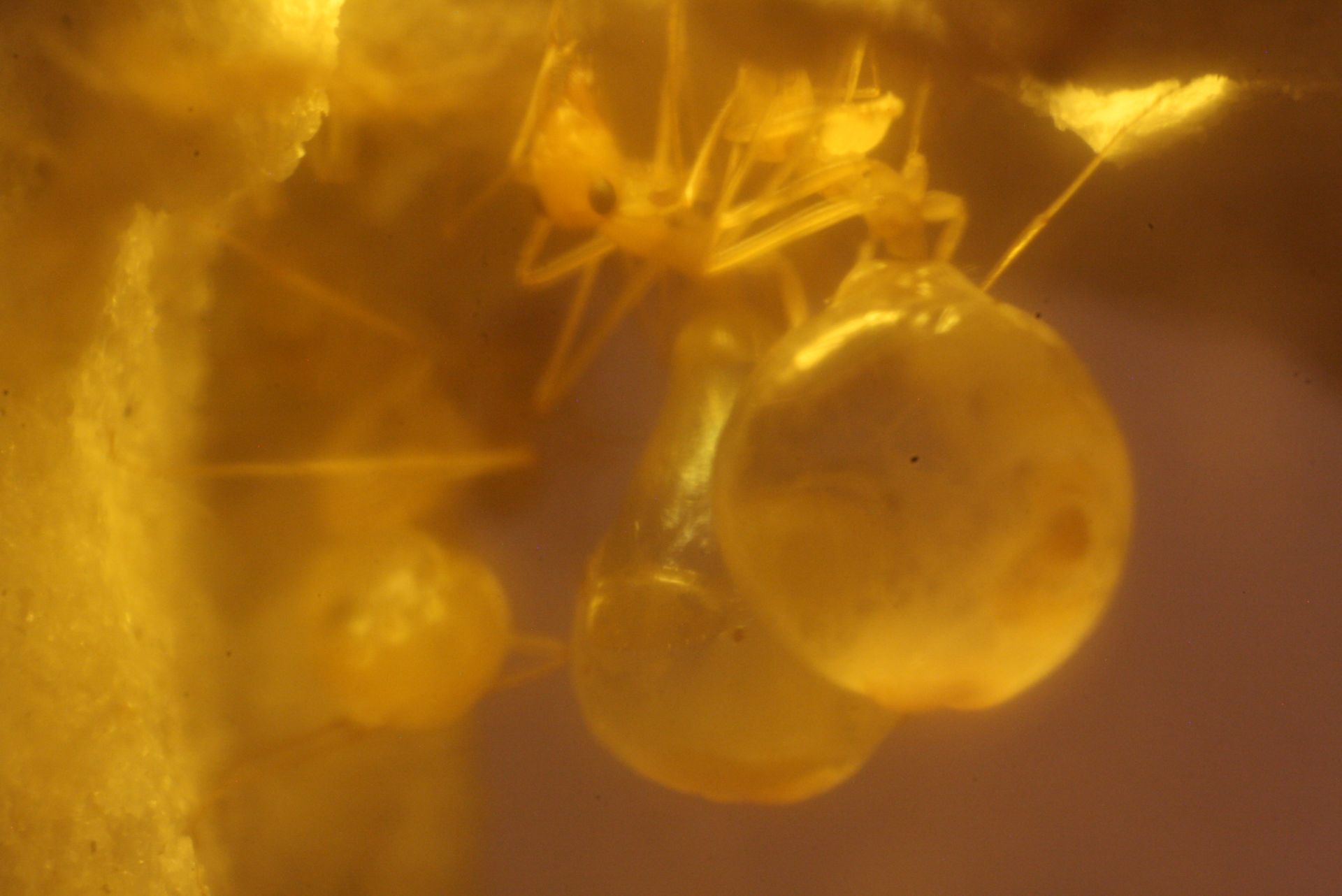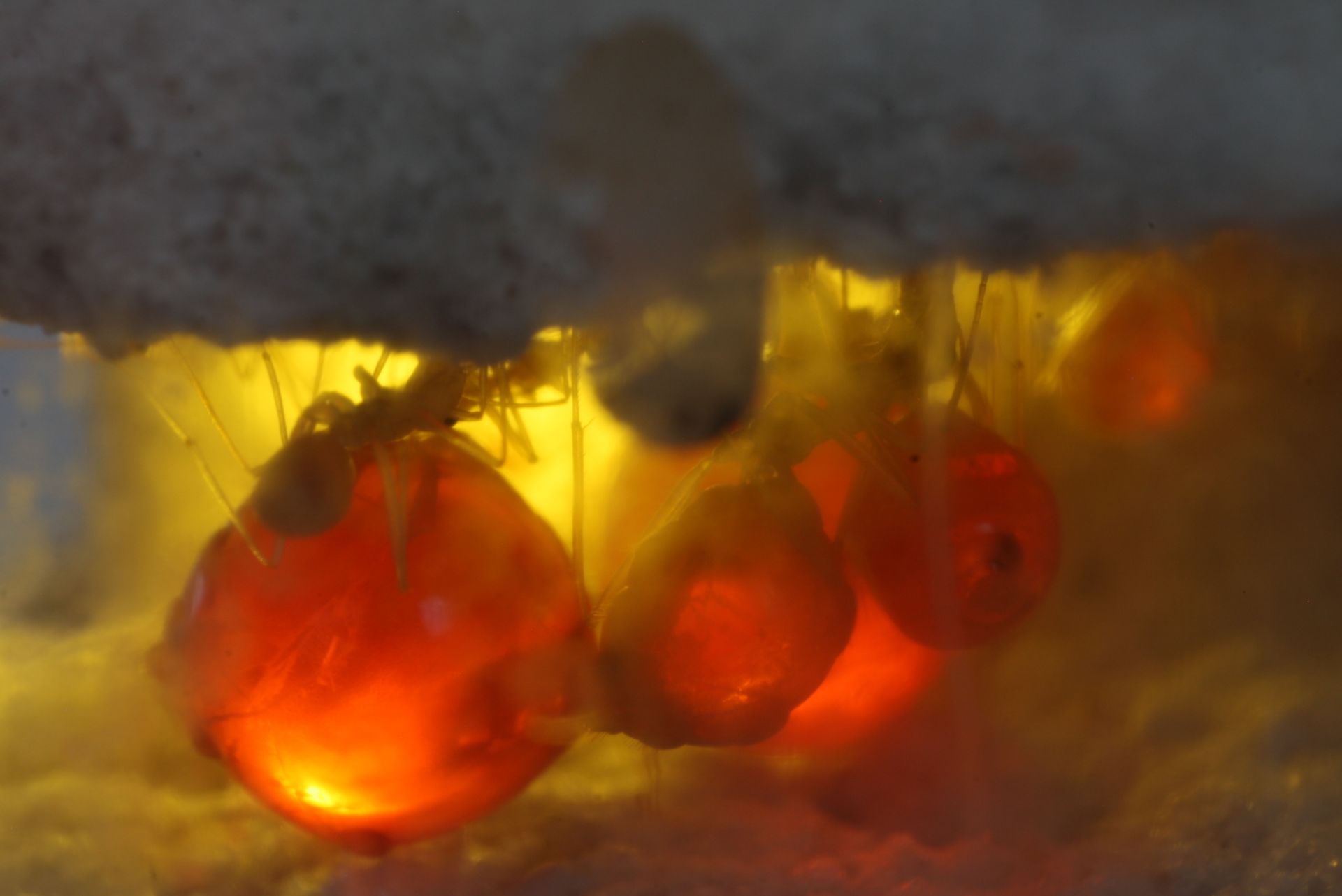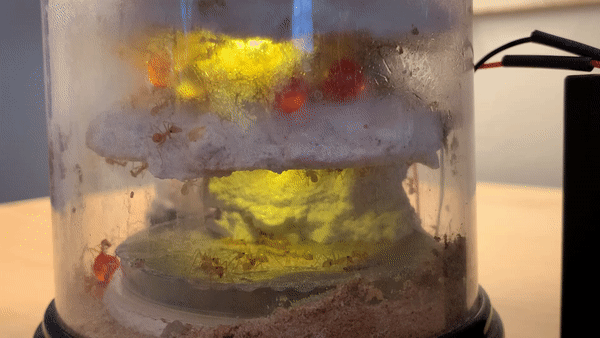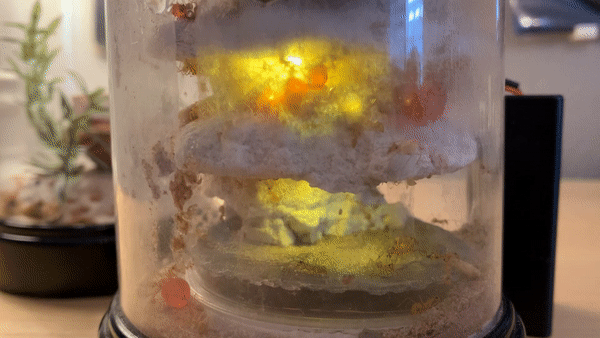 February 2023 - More growth and repletes
The colony slowed growth slightly over February and March - the colony had around 200 workers. Their outworld connection was partially closed at this time, I didn't notice until I moved them out. It may have also possibly been a pseudo-hibernation to give the queen a break. The colony also began trashing the nest a bit more, again possibly due to the outworld connection being smaller. If I could do it over I'd have made the tubing a bit bigger.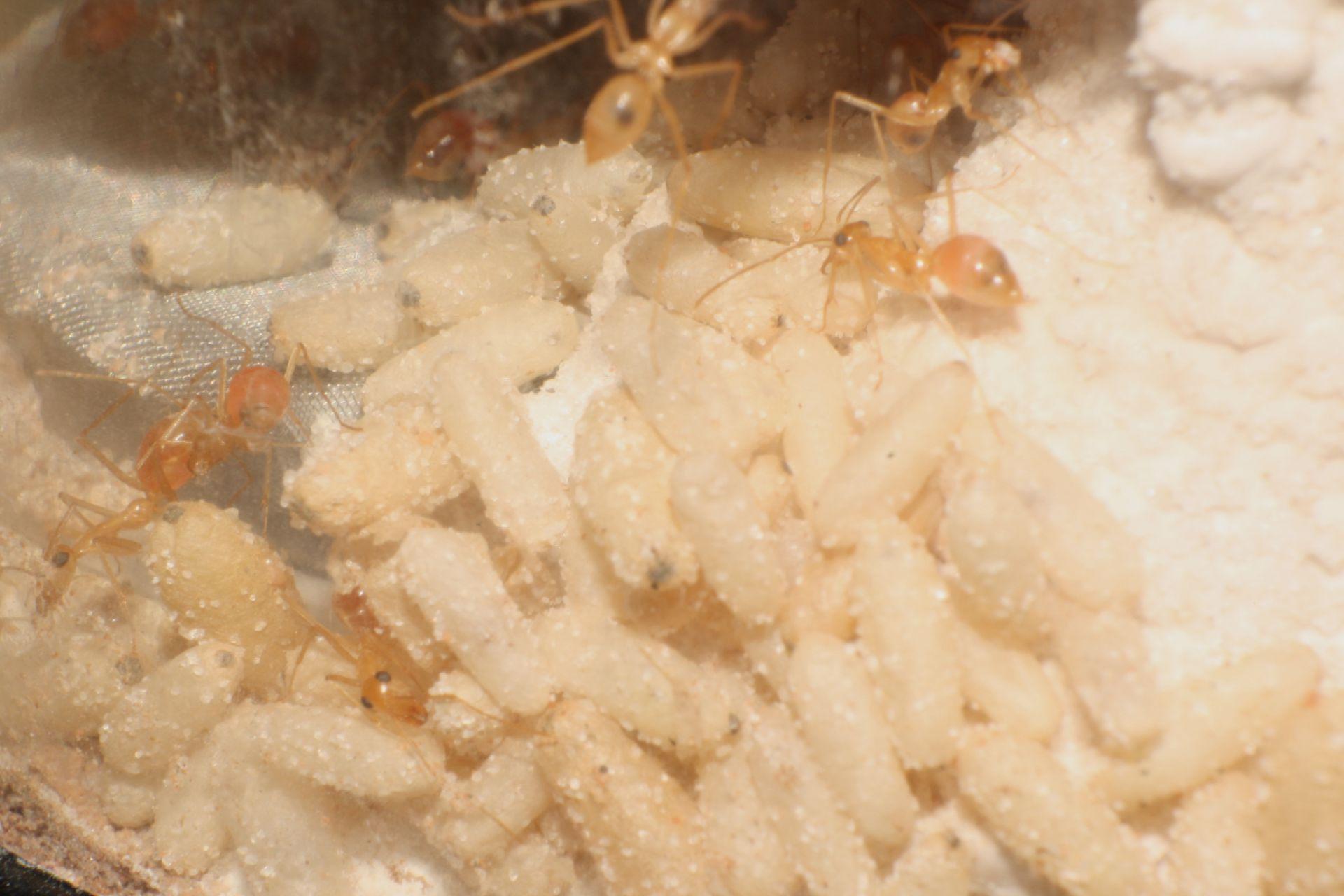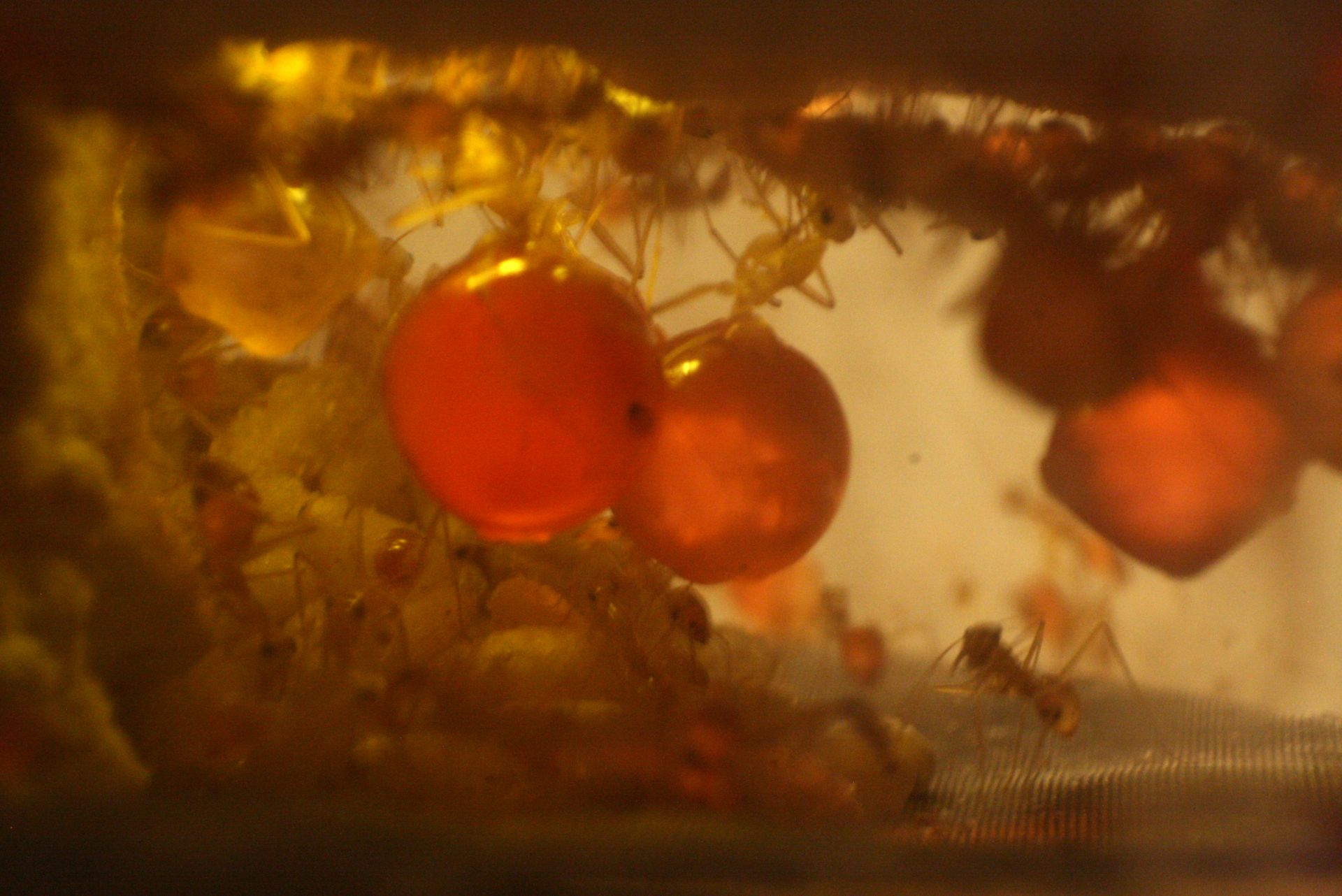 March 2023 - New setup
You'll notice in the video below how much trash was in their nest. This was one thing I tried to fix with their Dome nest V3 (see July update) by creating a large and structured tubing port to the outworld for trash removal.
Dome Opening video - https://www.youtube....rts/FBbbsDPu9Kc
Lot's of new replete space. Also added a simple (but larger) outworld with desert sand, agate pebbles, sandstone, and an olive oil barrier. Nest was made with the same material as the previous two - perfect cast.
-------------------------------------------------
Care tip: These ants need a source of sand for proper pupation. Some formicaria come with sand ingrained in the walls, however the larvae need to be covered in the stuff to pupate. I recommend providing different types of sand in the outworld for the ants to choose from. Don't put sand directly in the nest unless you want to loose sight of your colony because they smeared it everywhere. The ants can move it by themselves, remember many species of the genus live in a sandy environment naturally.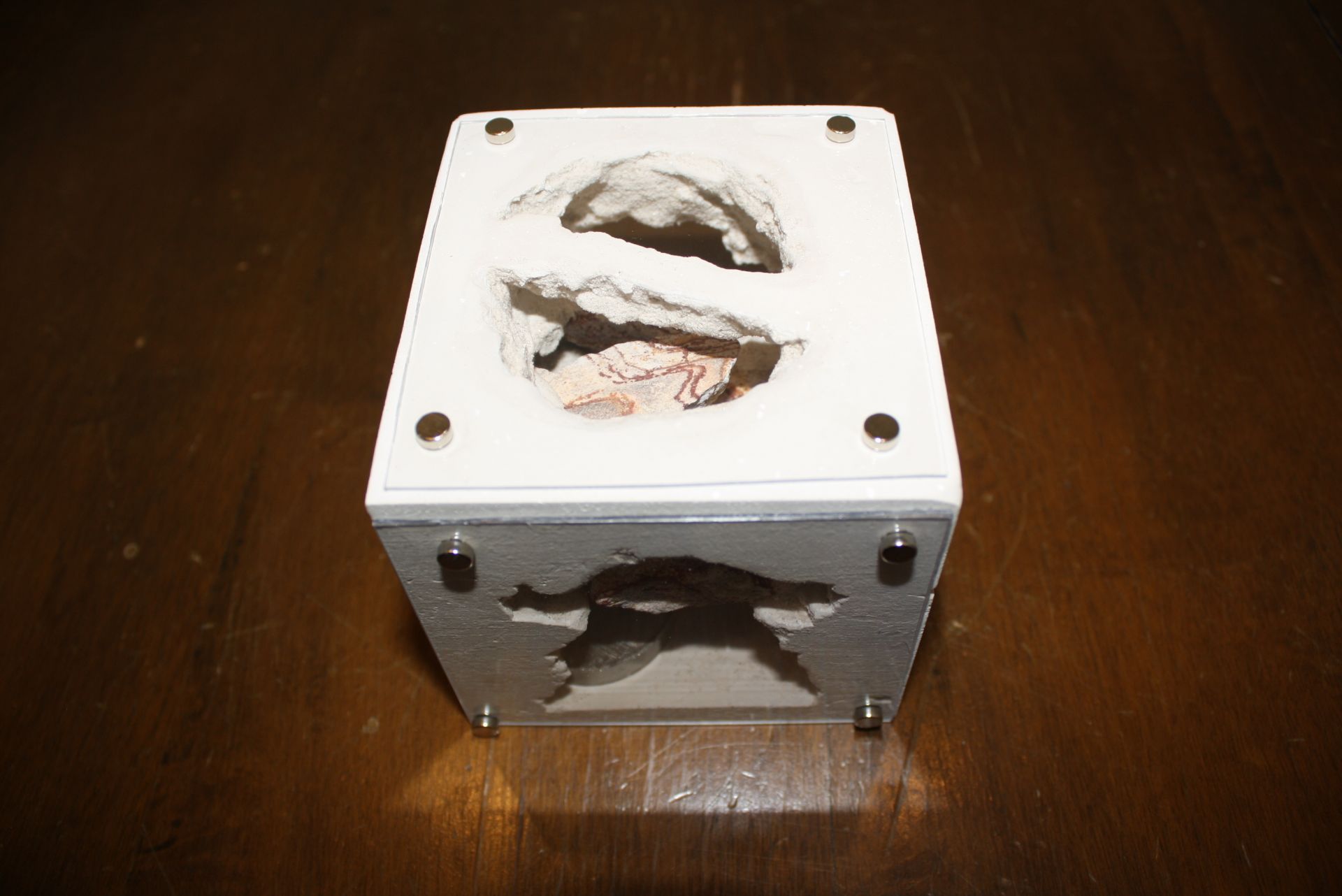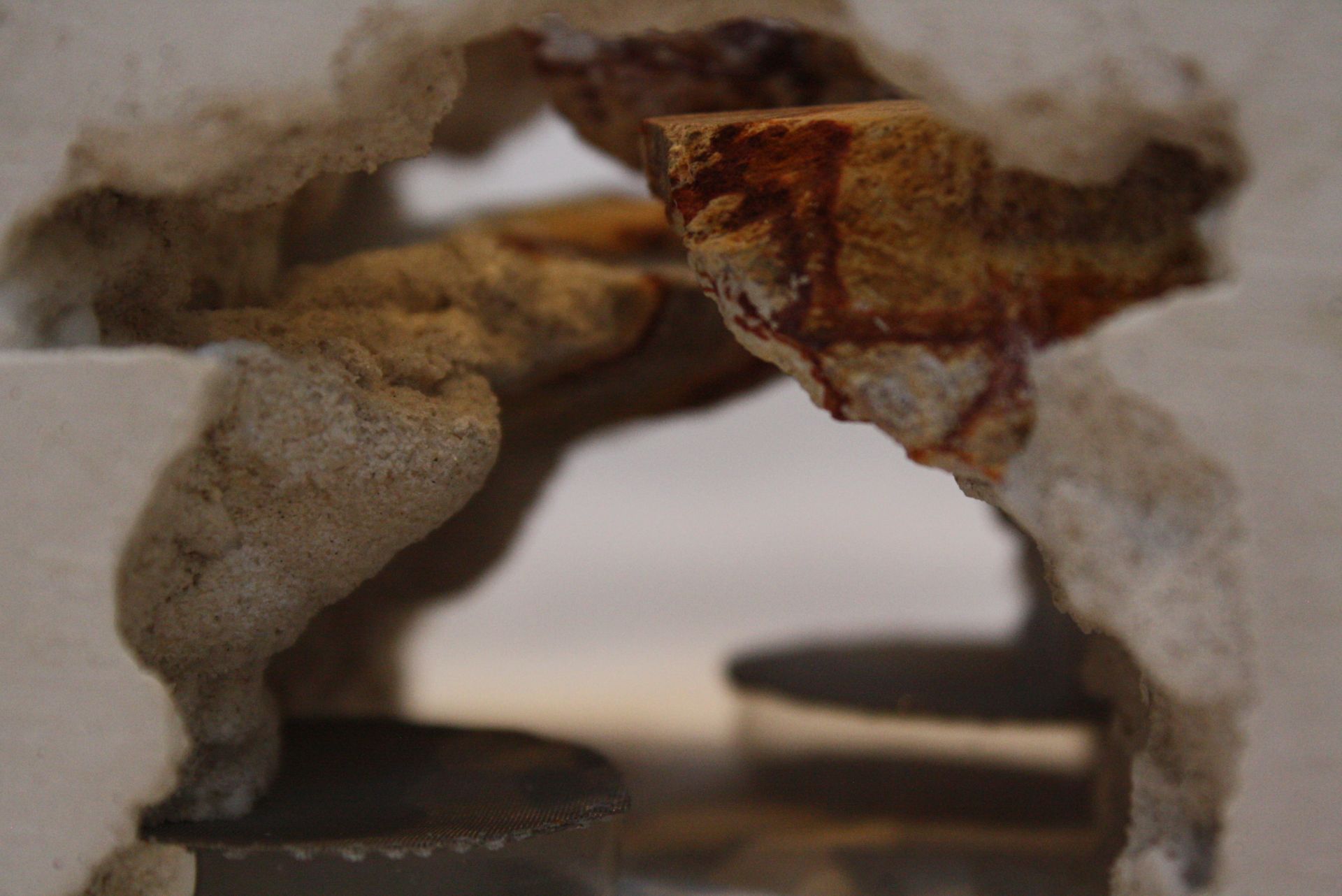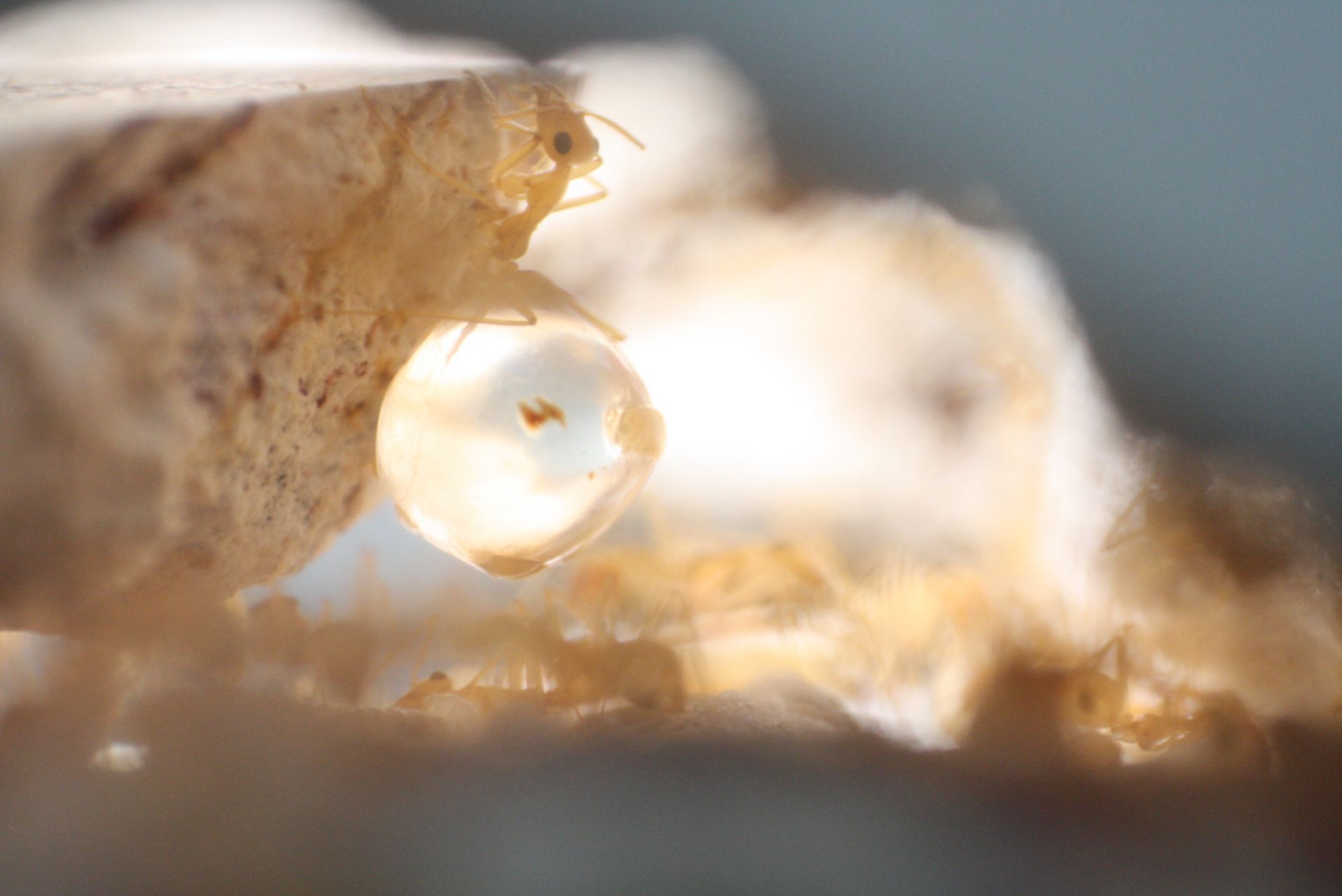 April - May 2023 - More growth
The colony really lost any picky eating habits they had before. I started feeding them larger prey like grasshoppers, wolf spiders, and large flies. They also consumed much more sugar around this time, presumably because of the new repletes that were growing. The colony now had around 300 workers.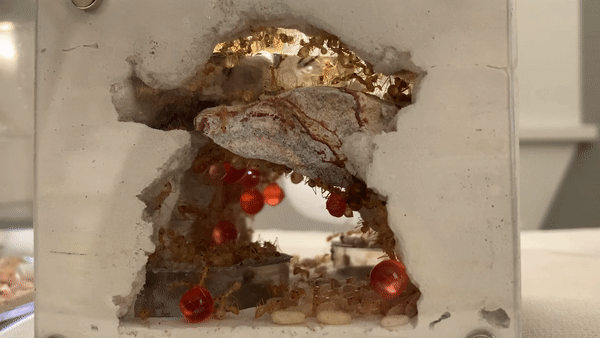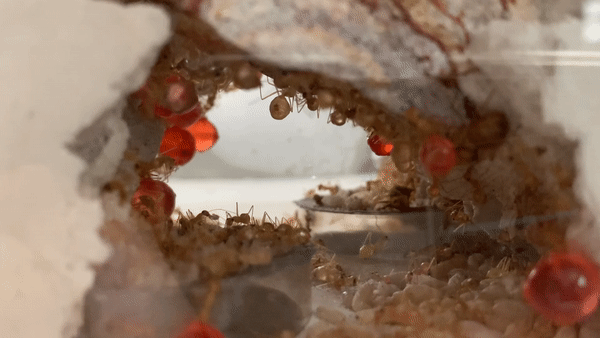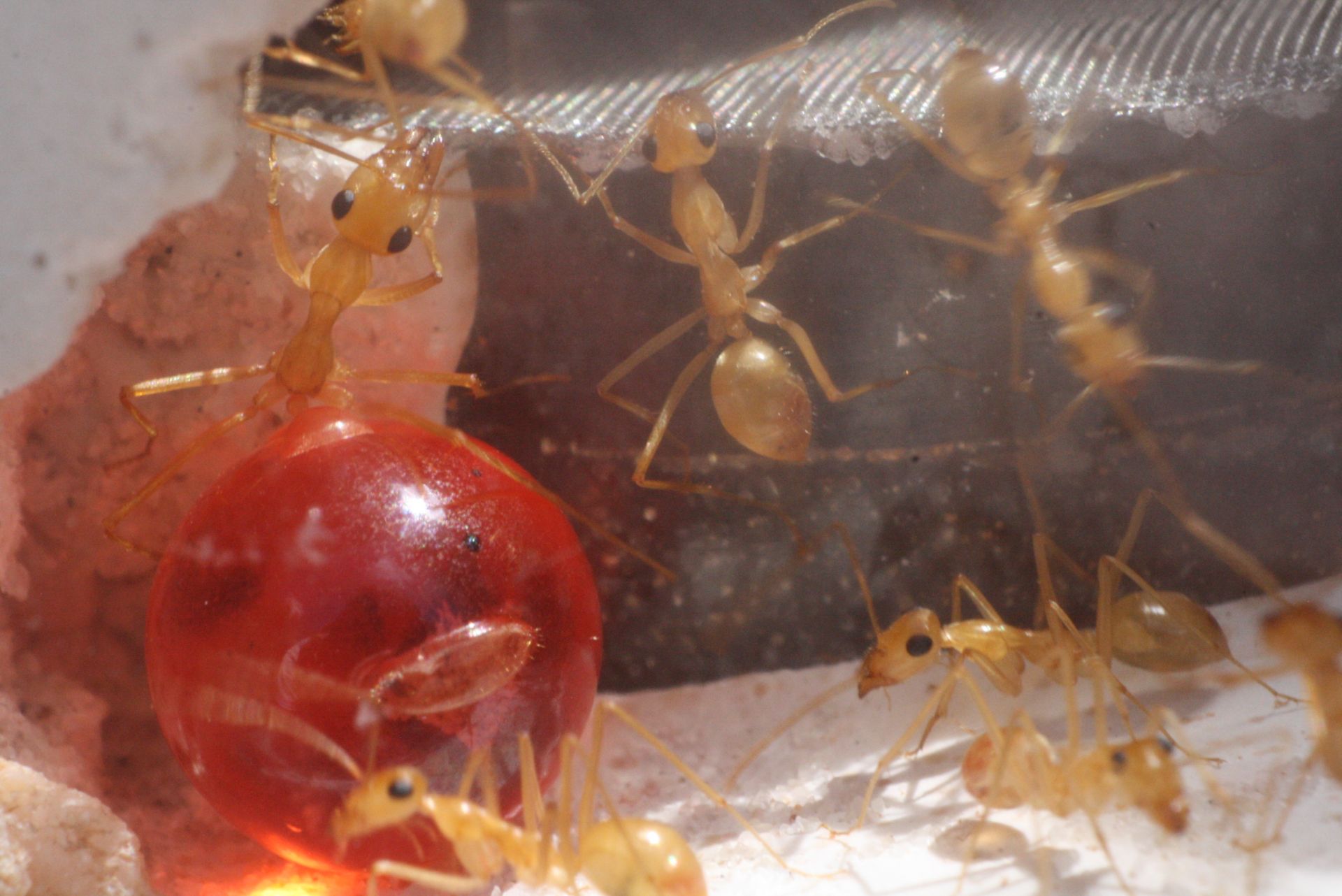 June 2023 - Explosion of replete count
Closeup video - https://www.youtube....rts/vUAvF9zzwwQ
Timelapse of nest activity - https://www.youtube....rts/_5q6ryOT_9Q
Complete view timelapse -
The colony was now very active all times of the day, I began feeding them larger protein servings at once while feeding less often - around once a week for convenience. The colony had around 400 workers now.
-------------------------------------------------
Care tip: To diversify protein sources, try feeding bloodworm soup, this brand in particular (Hikari) is accepted by not only Myrmecocystus colonies but many other speces as well. It's a favorite of large colonies especially.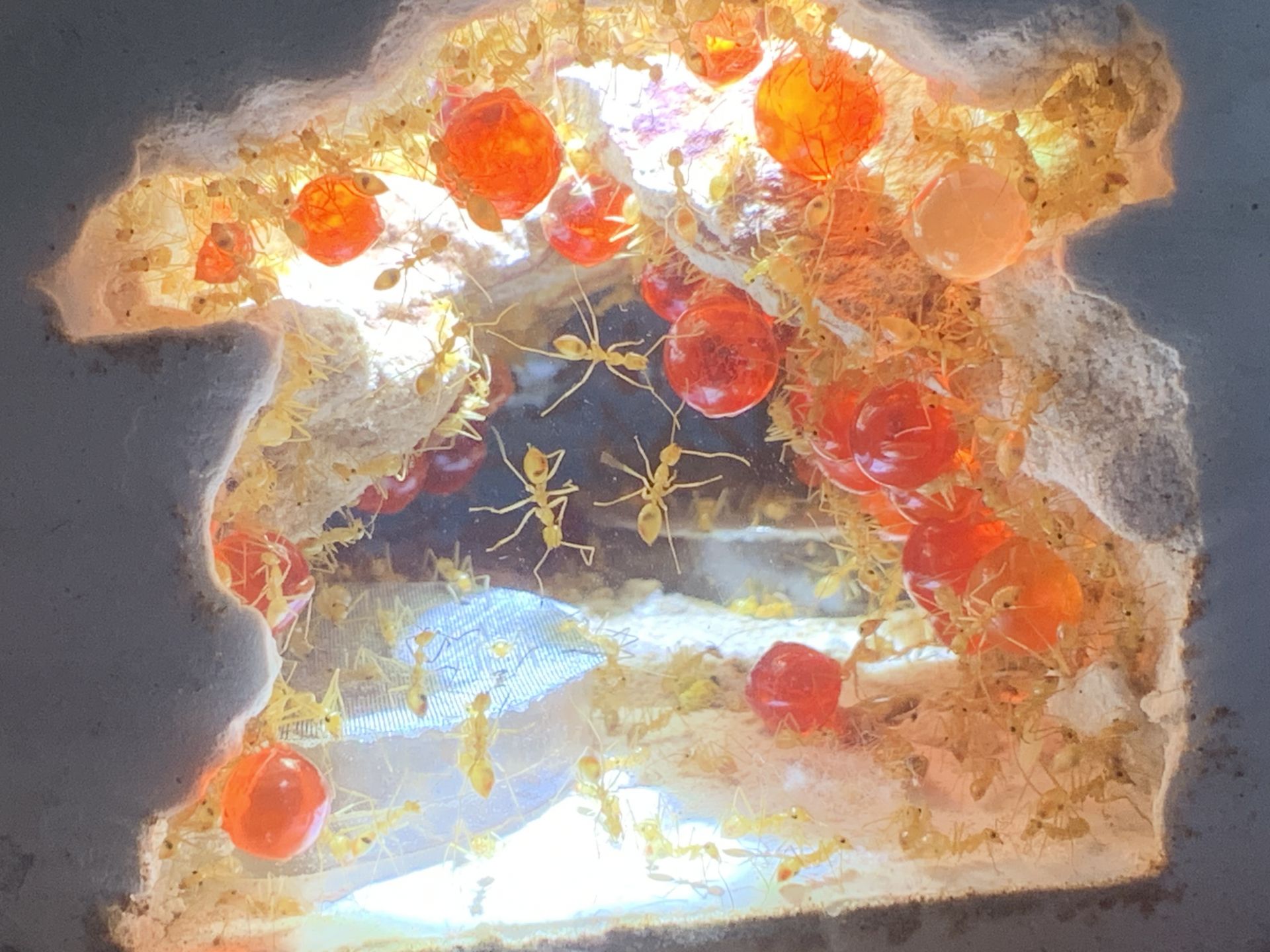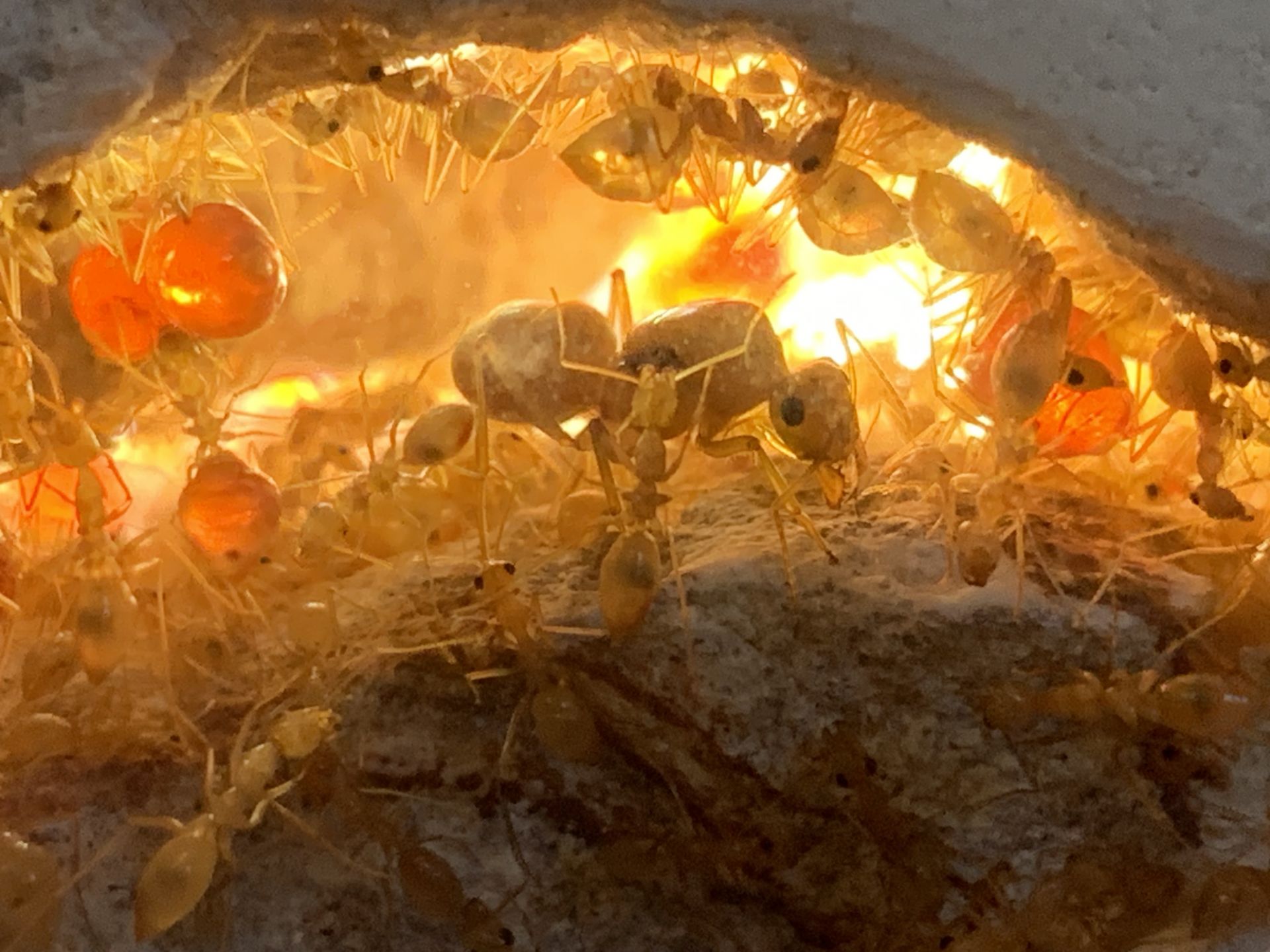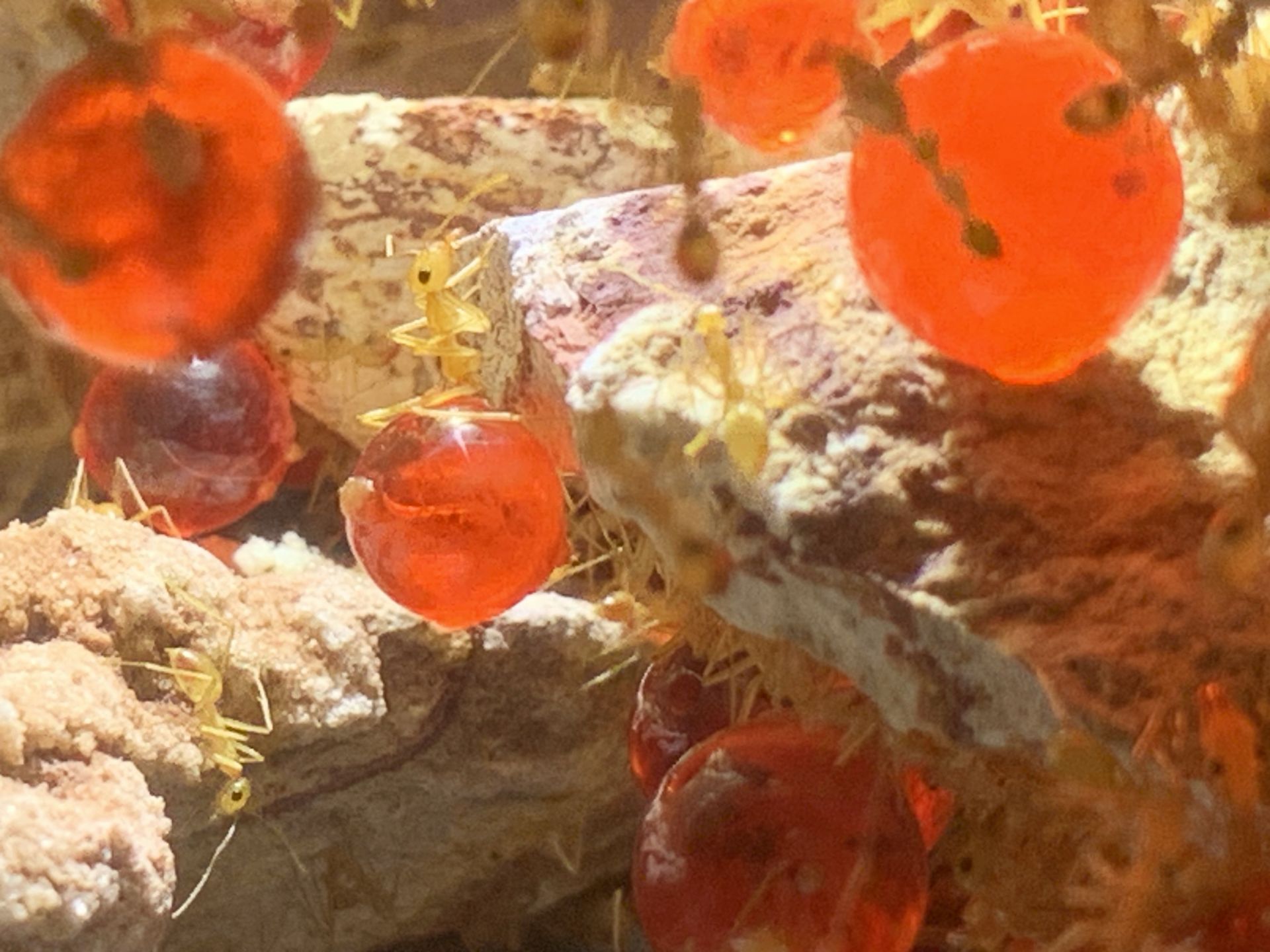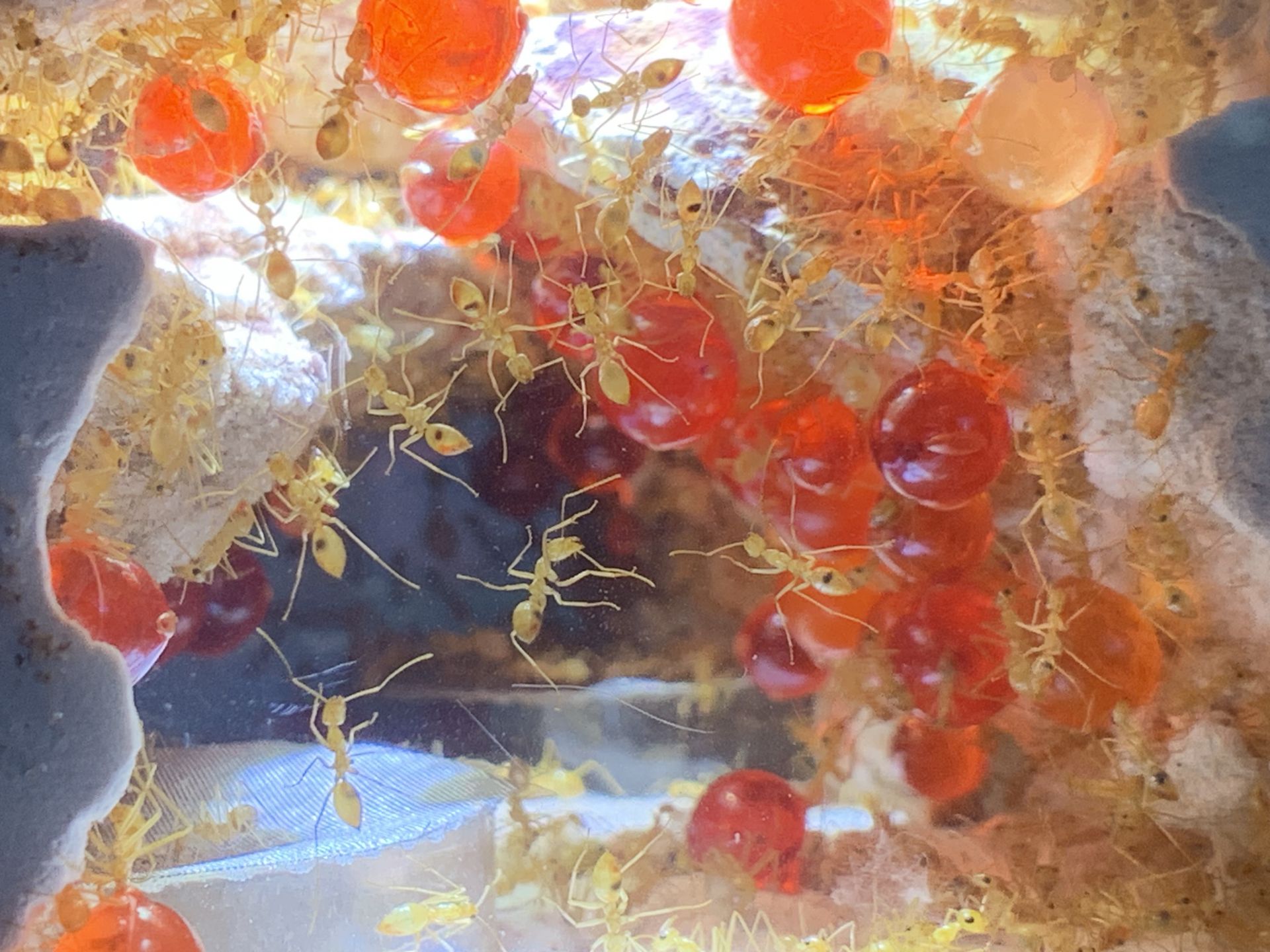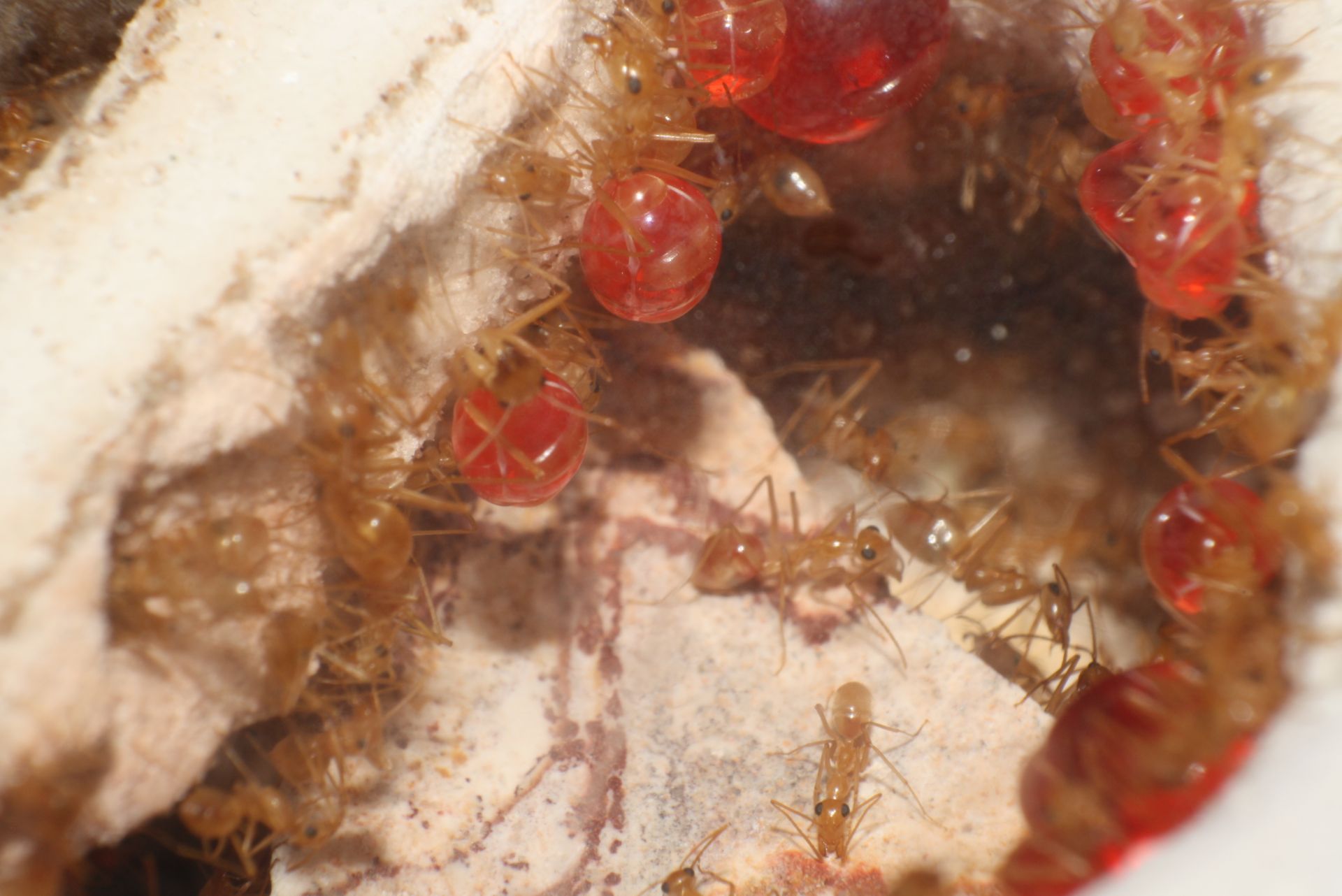 --------------------------------------------------
I noticed around this time the first larvae moving by themselves, video here - https://www.youtube....rts/mbUugSITMJc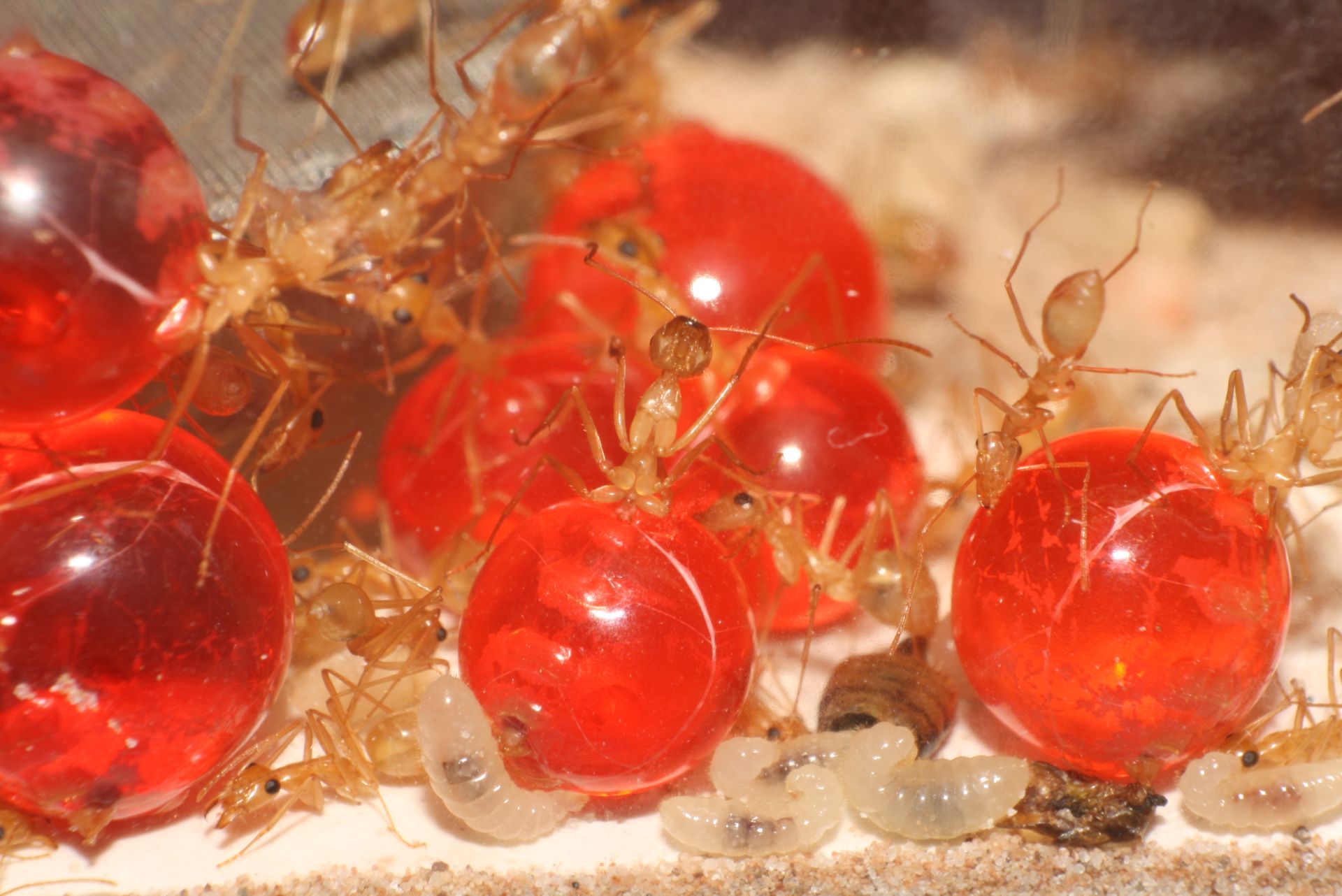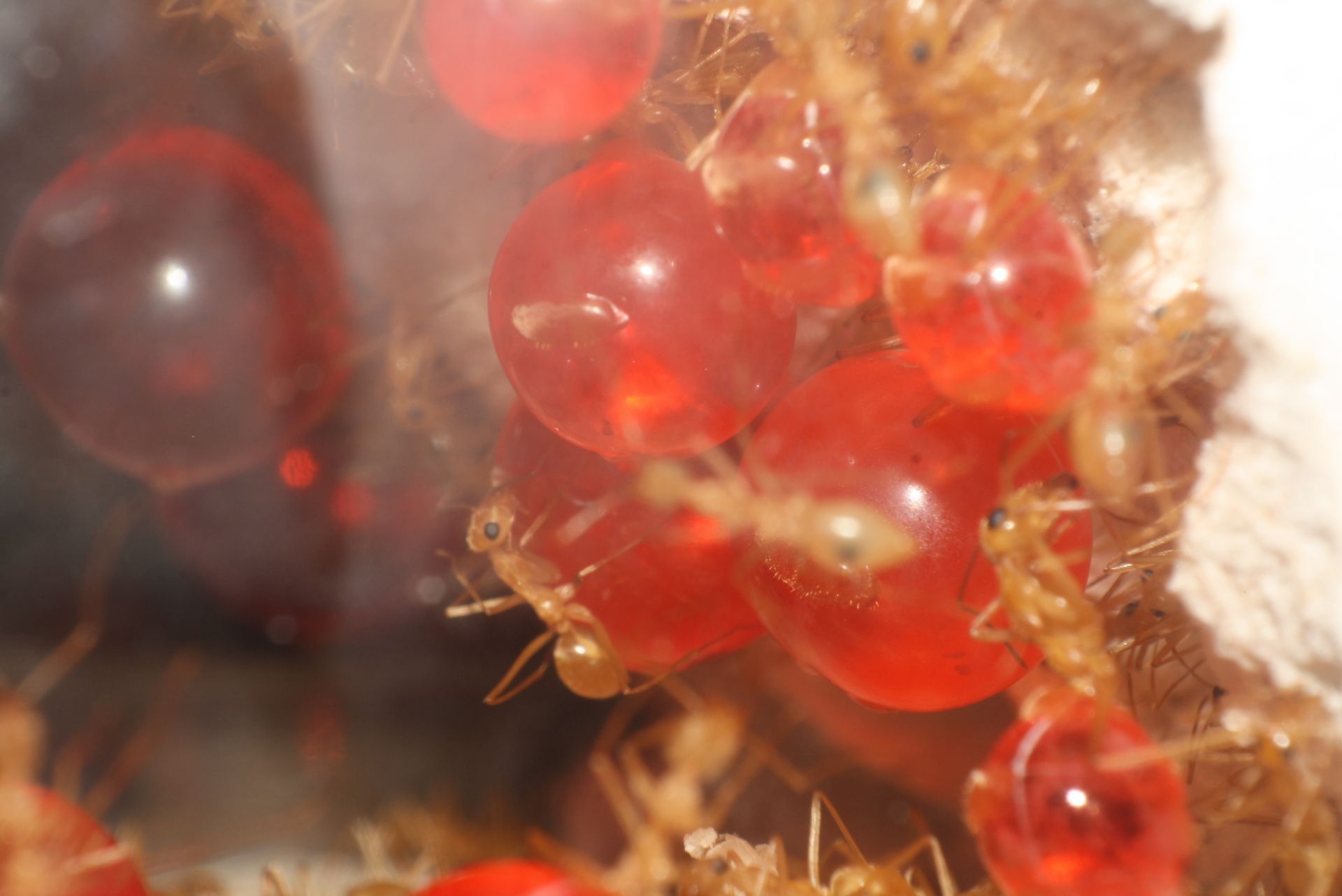 July 2023 - New 360 Dome Setup
The colony now has around 500 workers.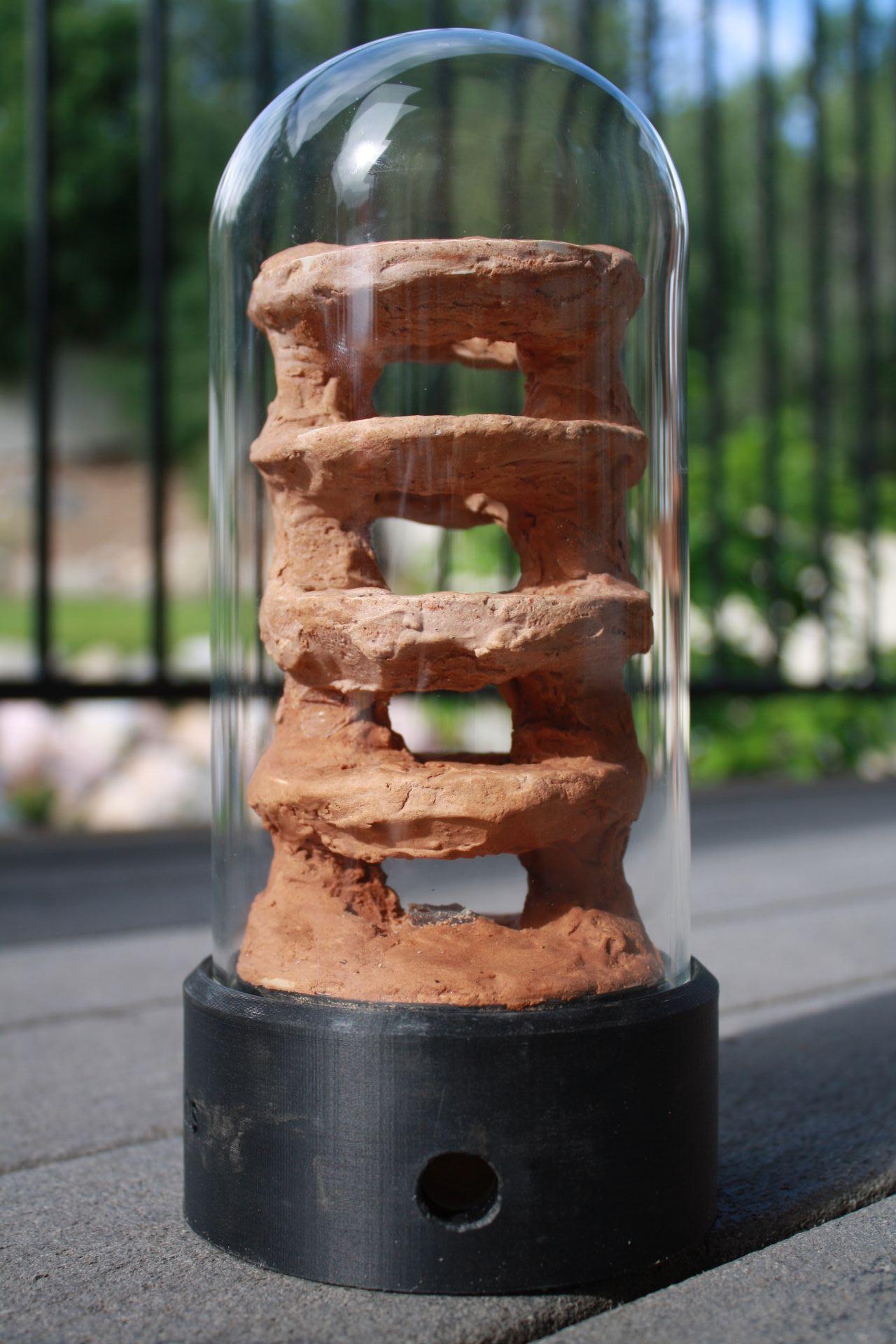 -------------------------------------------------
Care tip: No sand was added to the nest, I let the ants do it themselves. This makes sealing the dome much easier, and allows the ants to choose the size of sand grains they prefer. Larger colonies can also regulate humidity much easier than small colonies can. This allows for less external hydration given a source of drinking water is provided.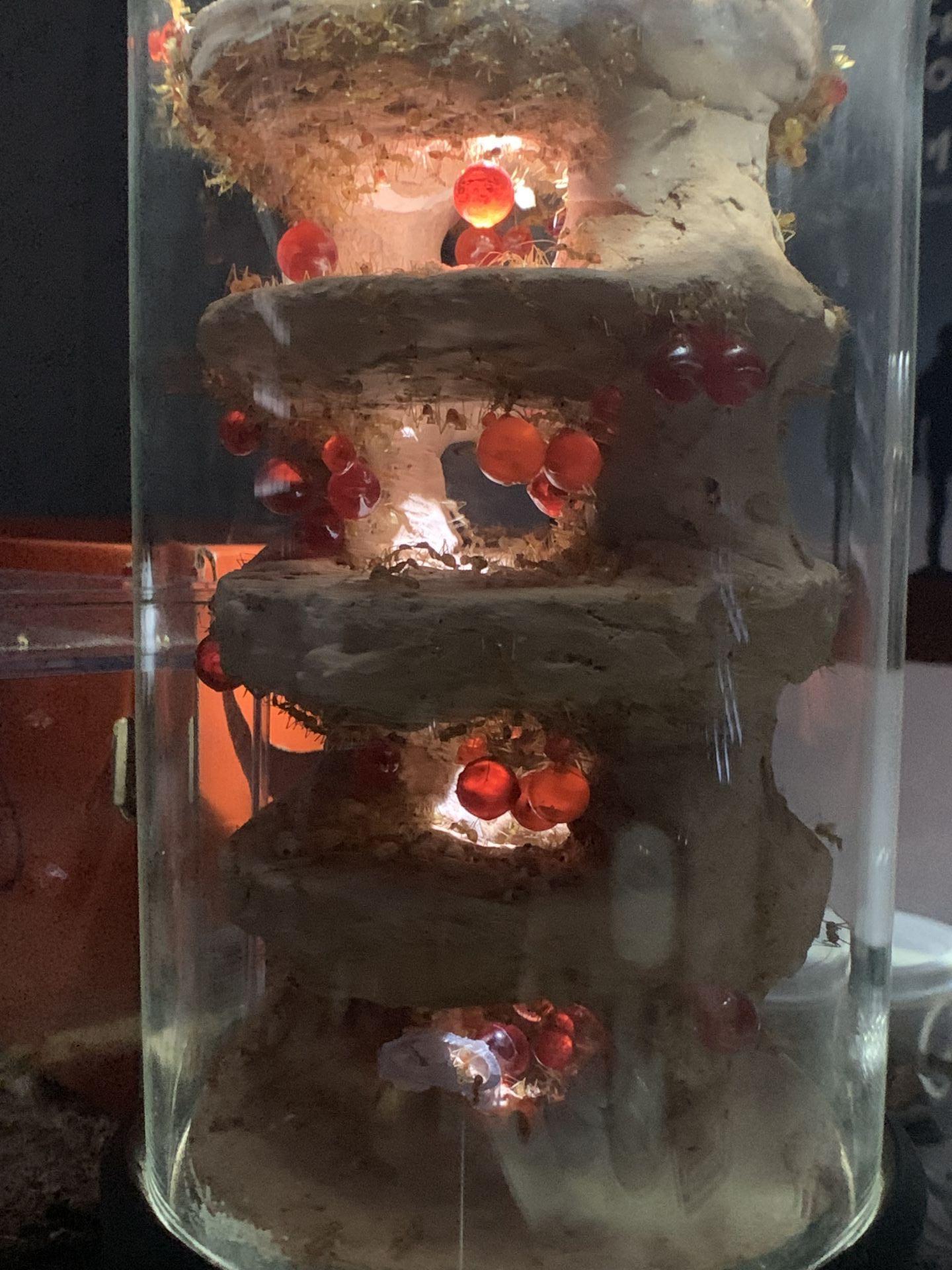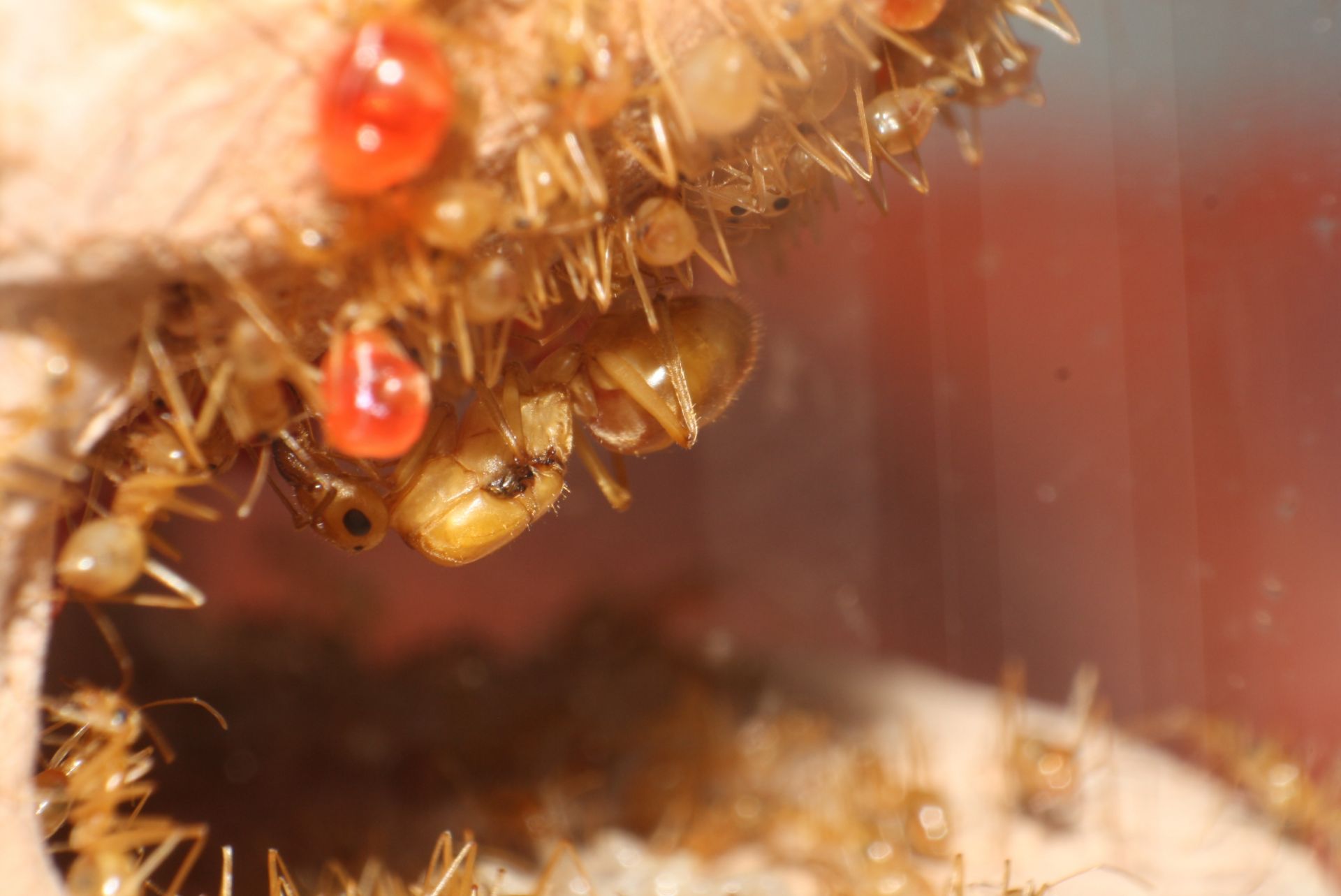 -------------------------------------------------
Note the difference in size between workers. The largest repletes are obvious but I only recently realized the smallest workers attend the queen and clean while the medium sized workers usually do the hunting, feeding, and general brood care.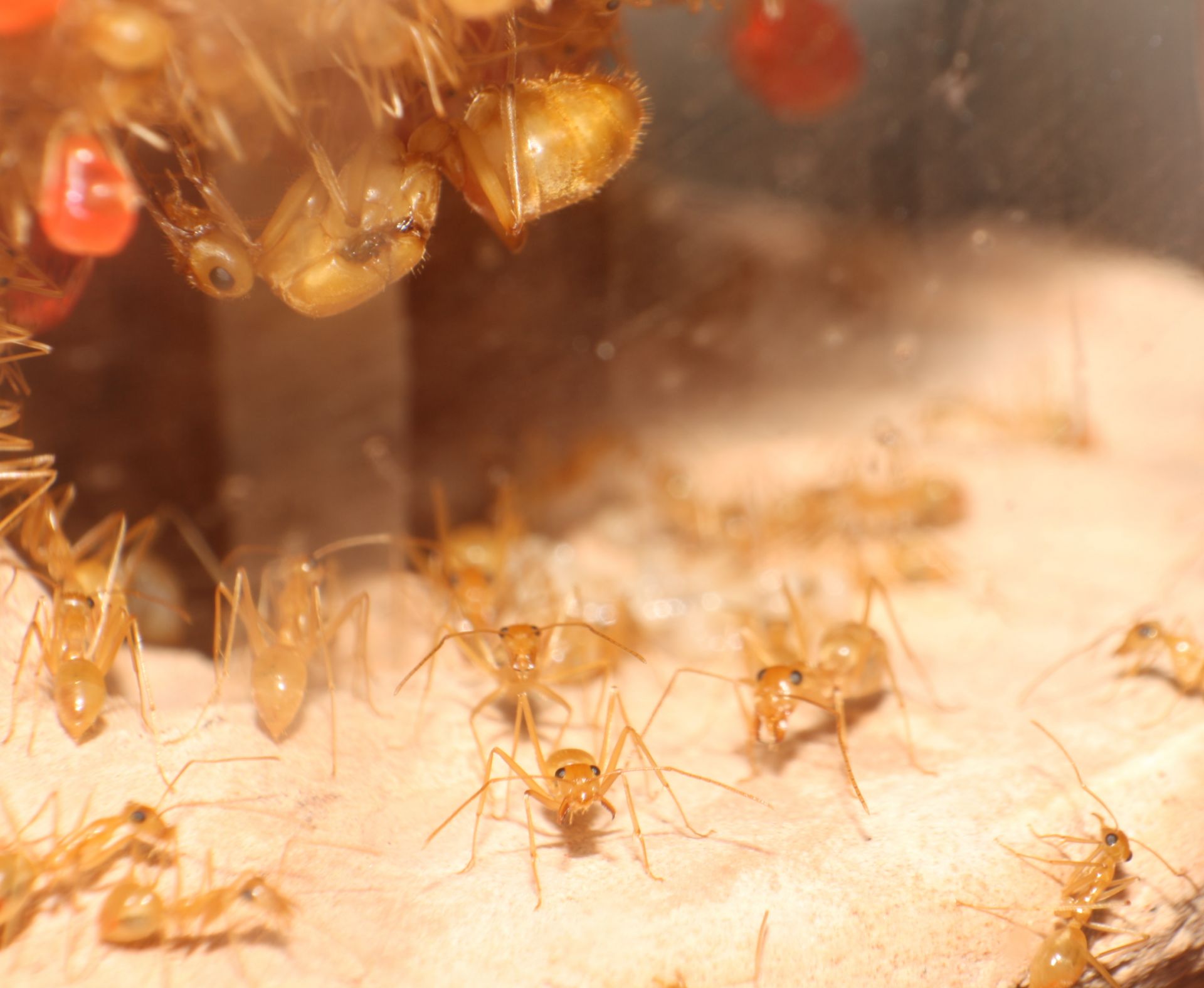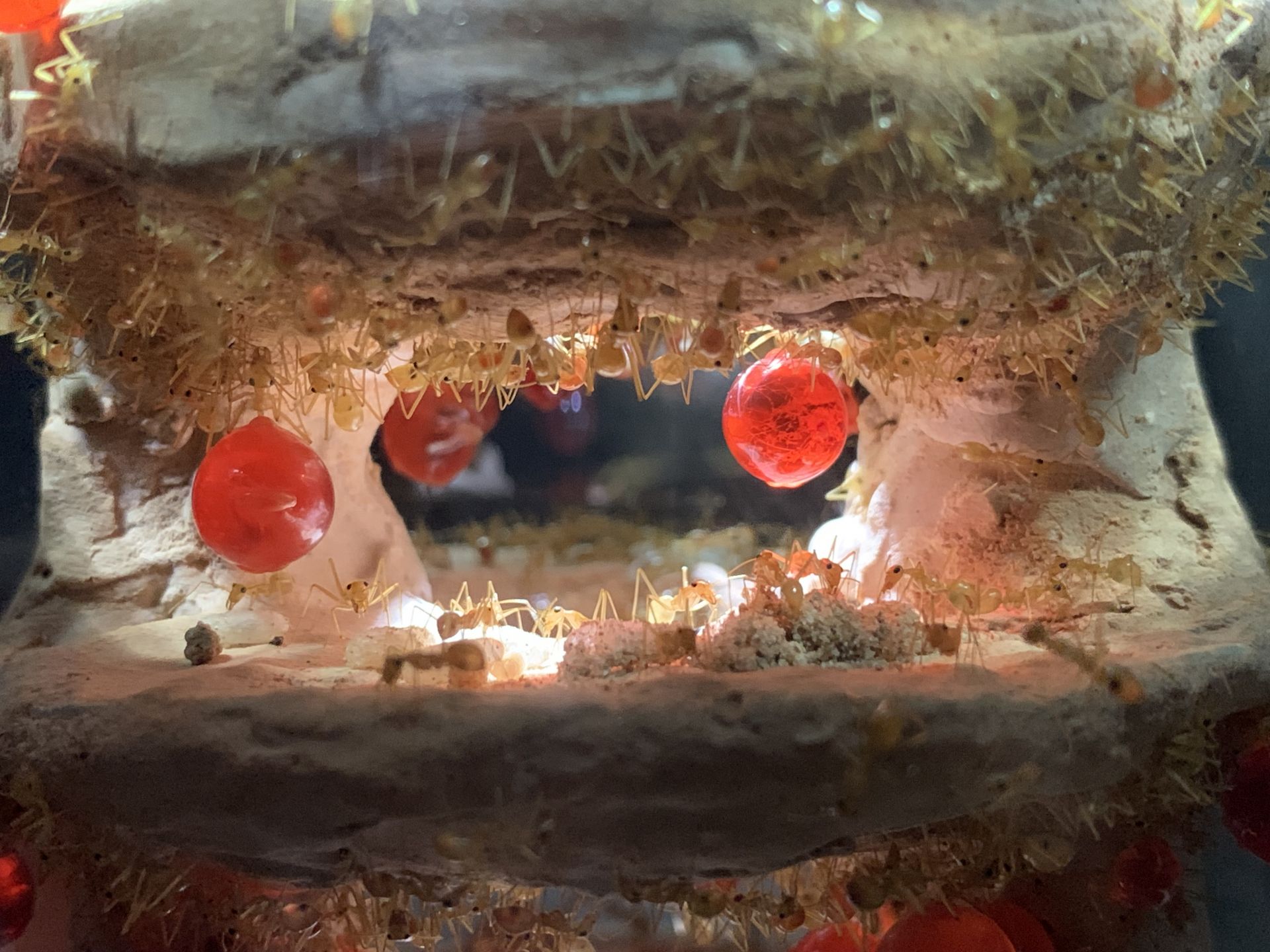 -------------------------------------------------
Care tip: At this point the colony has little response to indirect light. That said, I like to cover the formicarium to encourage the ants not to trash their glass (a natural response to light to try and block it). Especially at a young age, these colonies (and most other ants for that matter) should be covered to not give them any more stress then they need.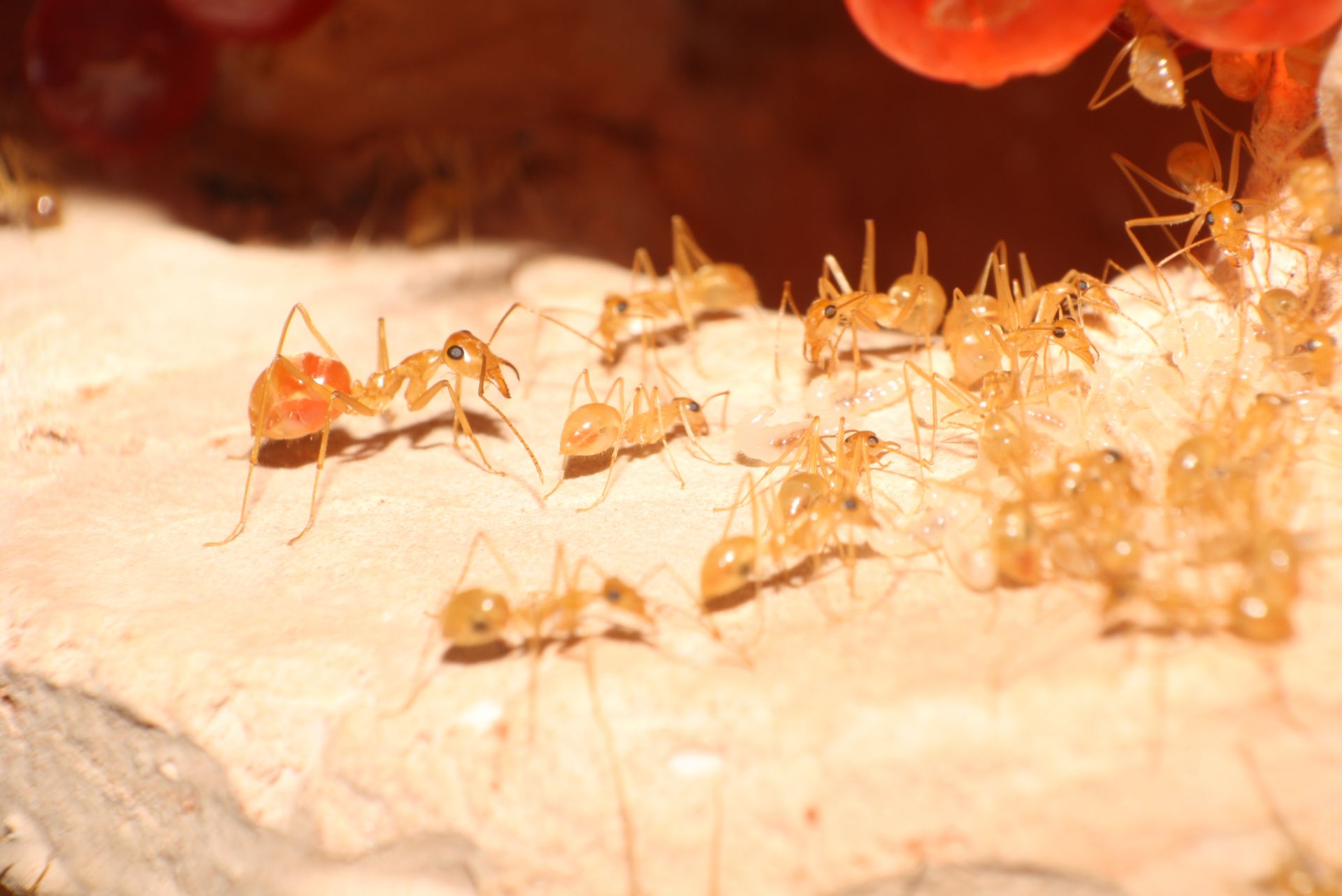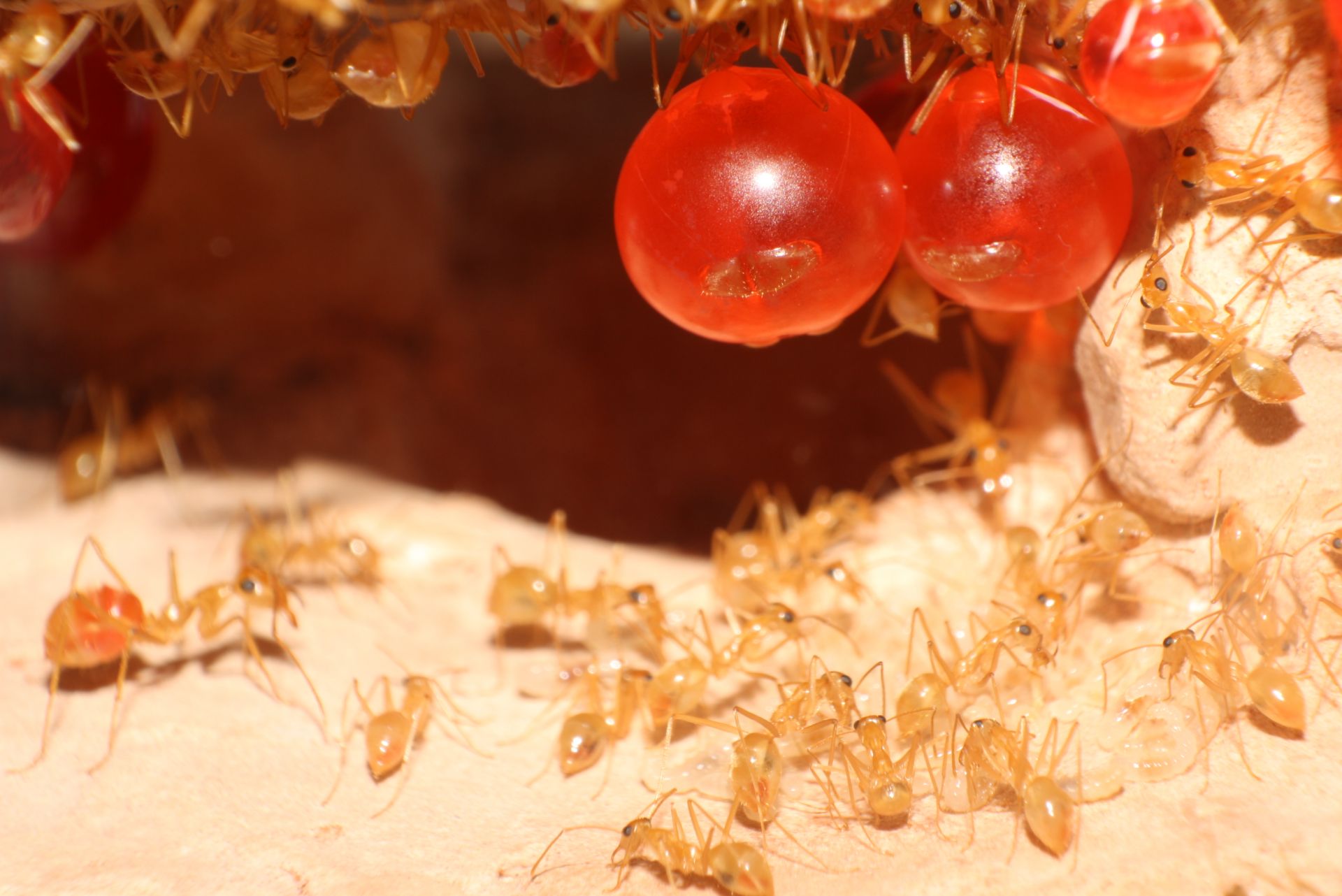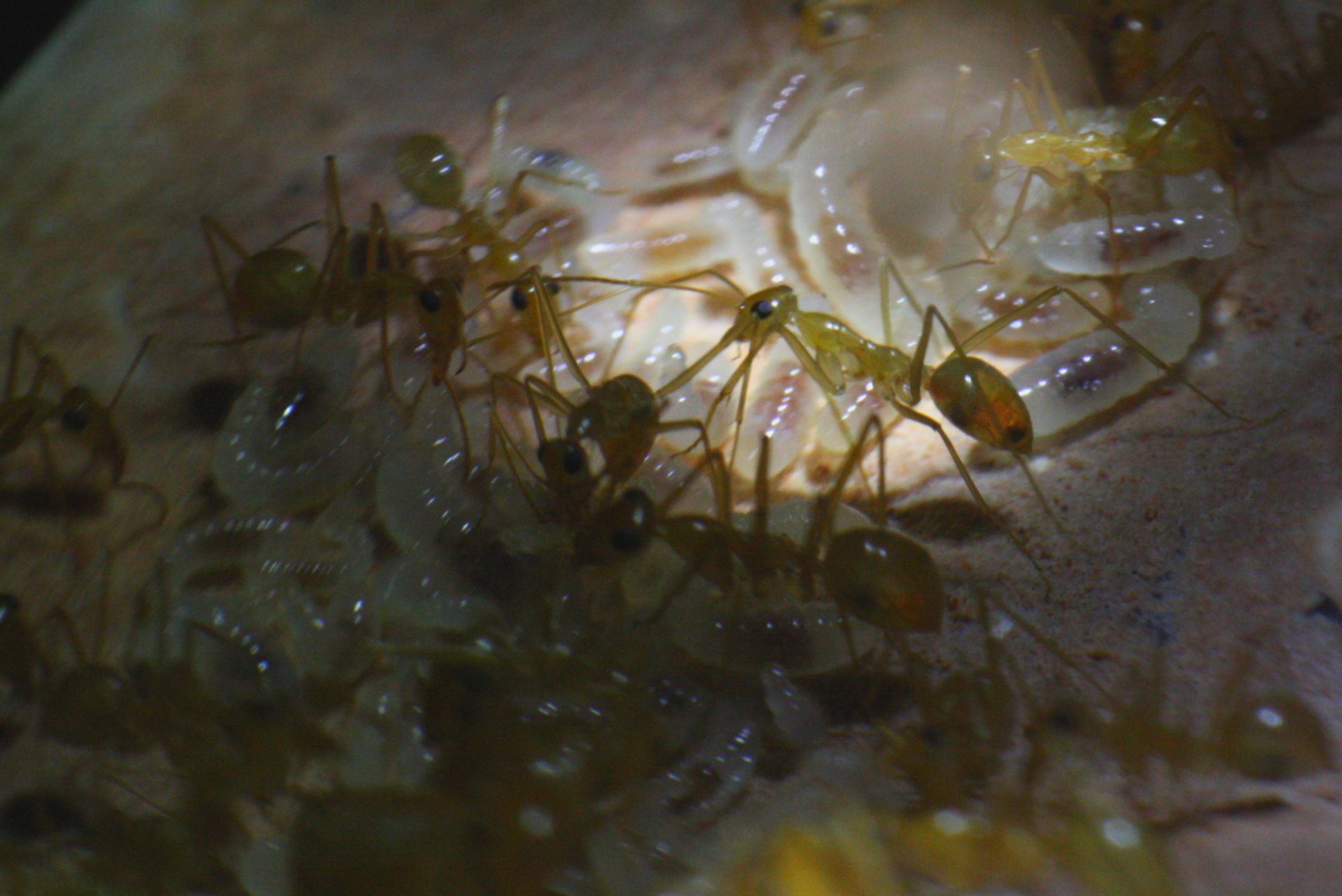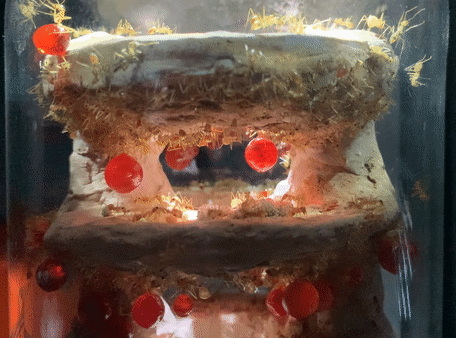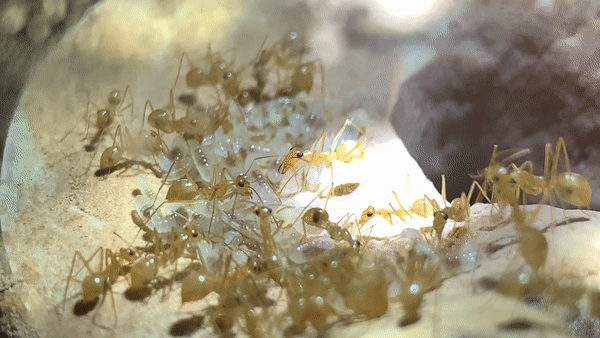 August 2023 - Many more workers
This colony is nearing a thousand workers and it's a joy to watch them grow. I've included some videos below along with pictures.
-------------------------------------------------
Care tip: When using sealed formicariums, like this dome, be wary of overwatering. A little condensation will not hurt the ants themselves, but it can obscure the glass.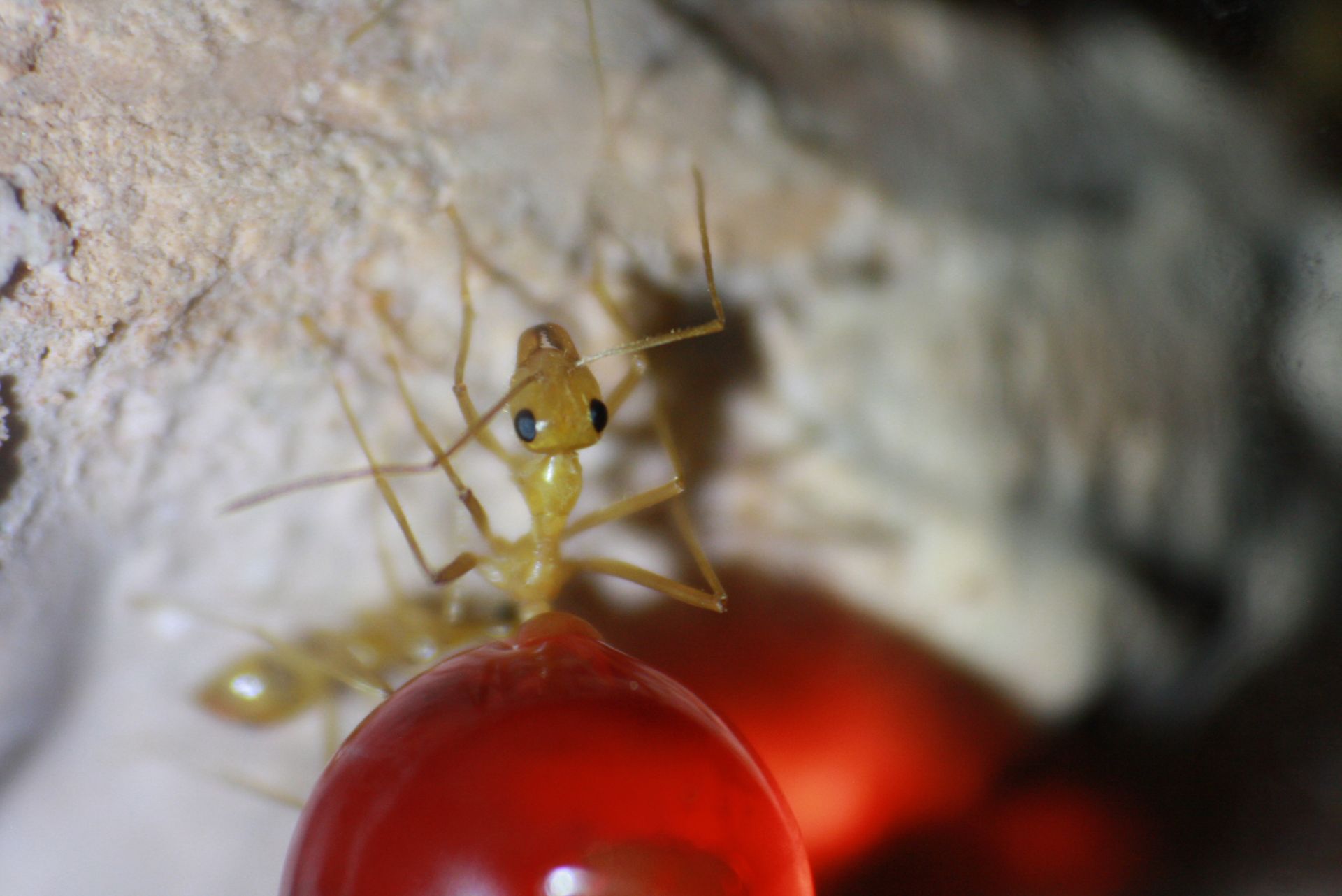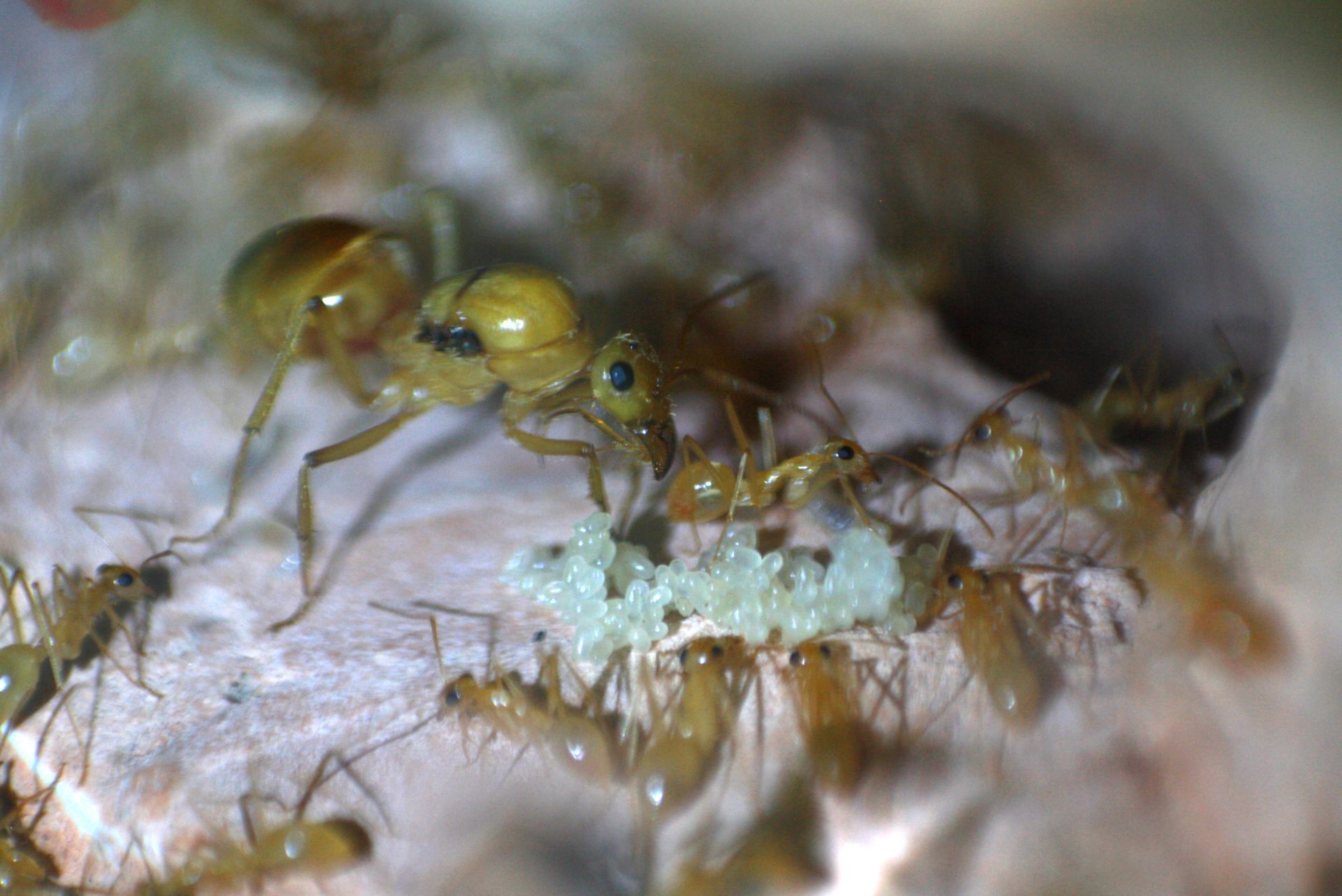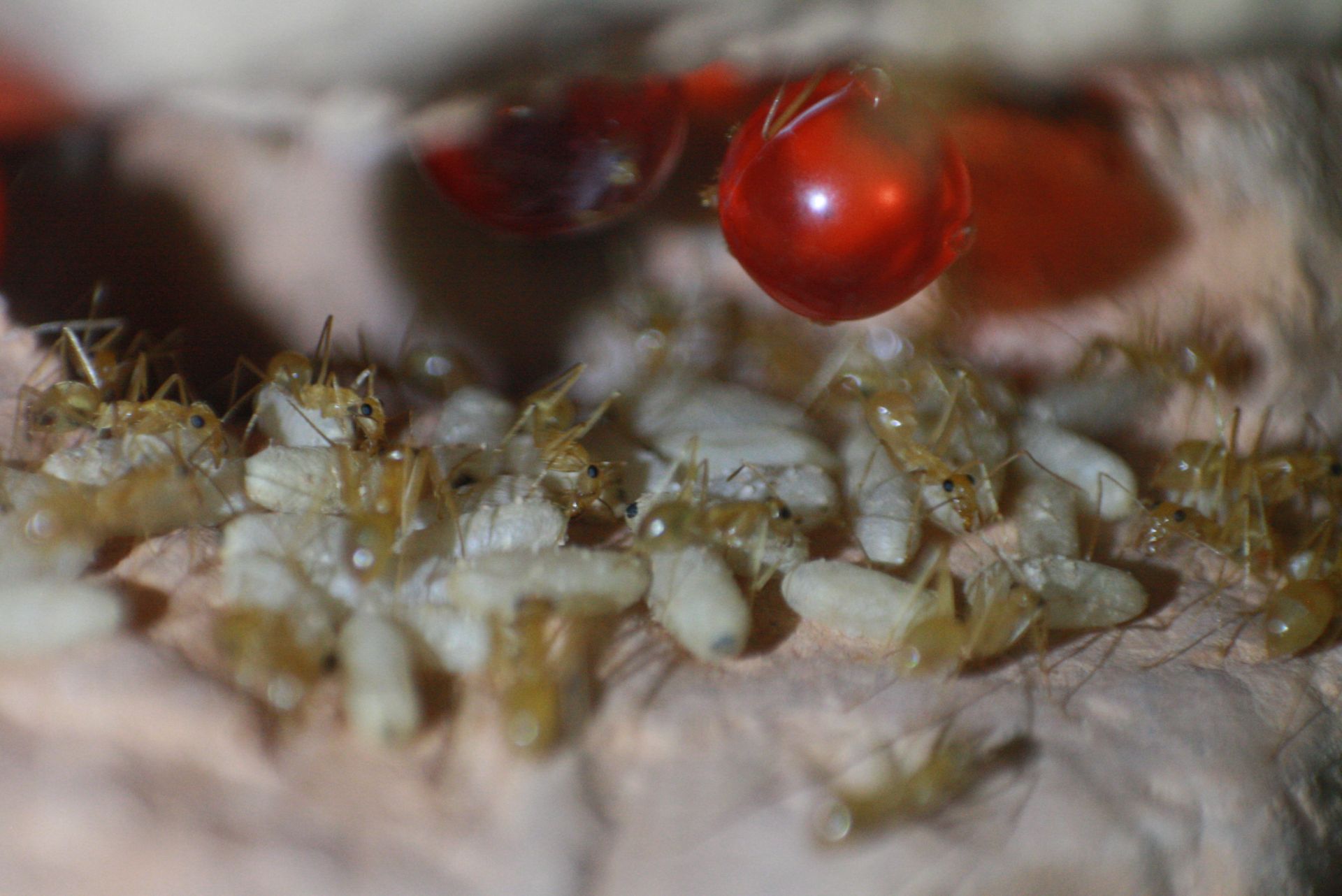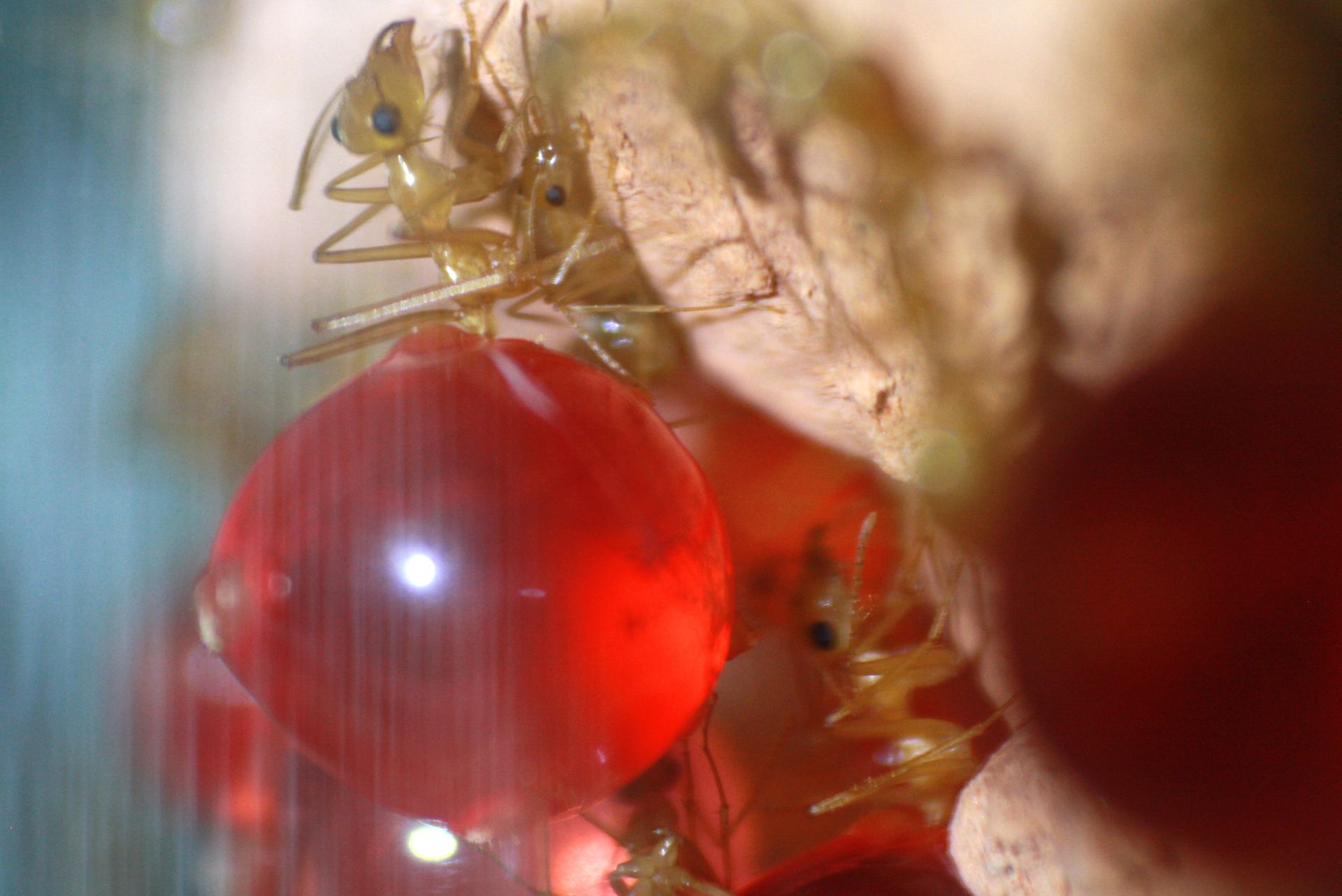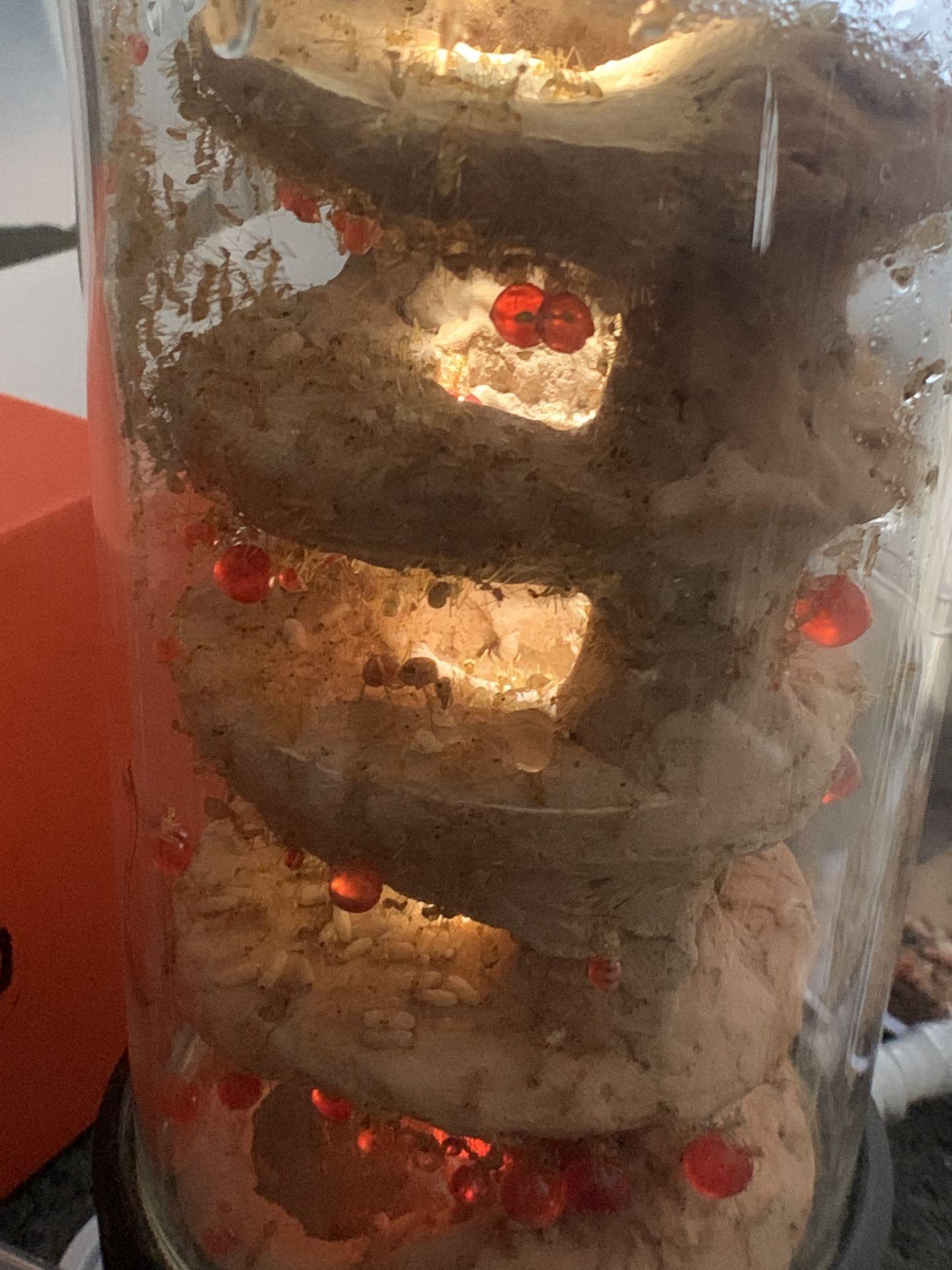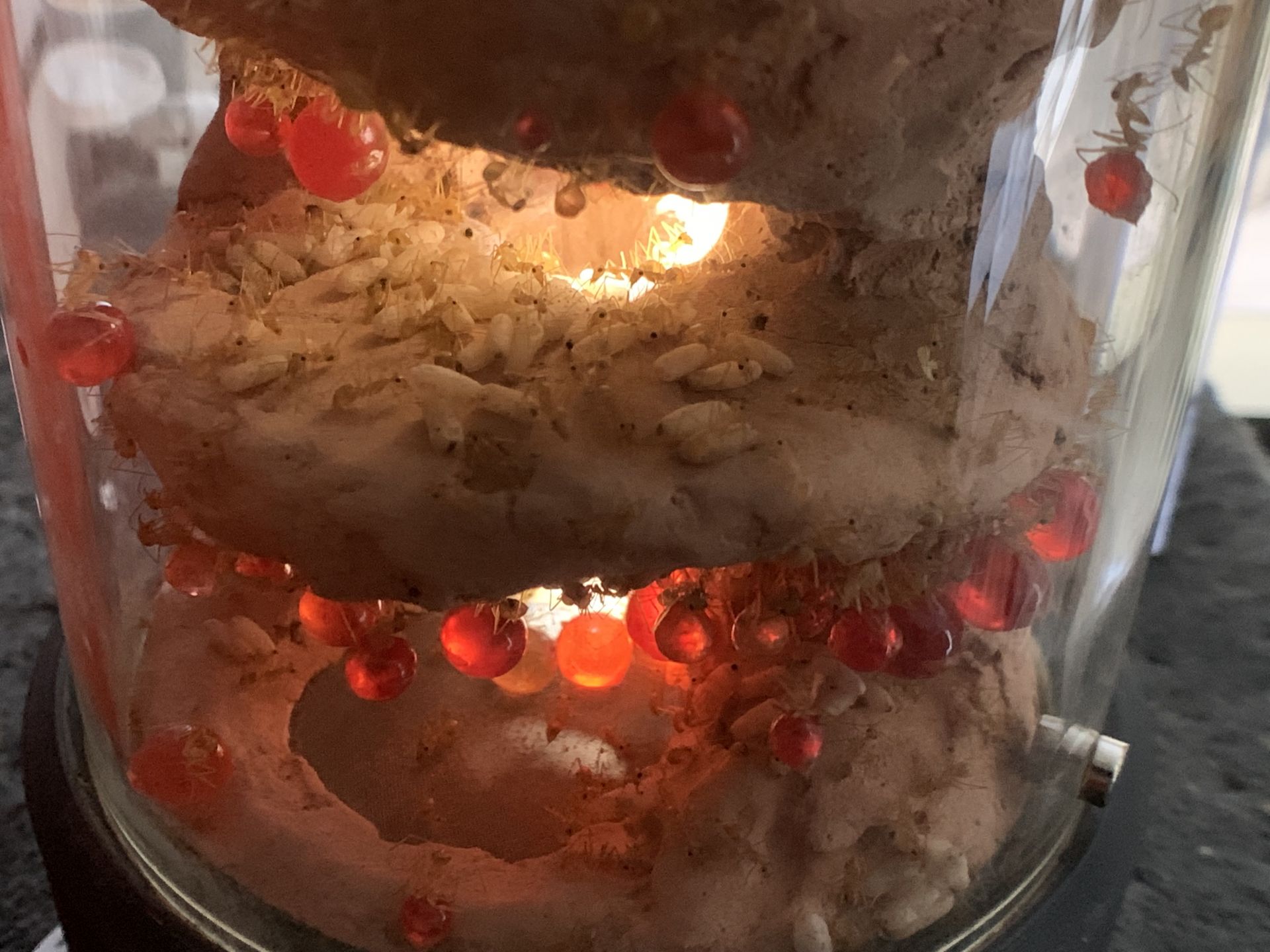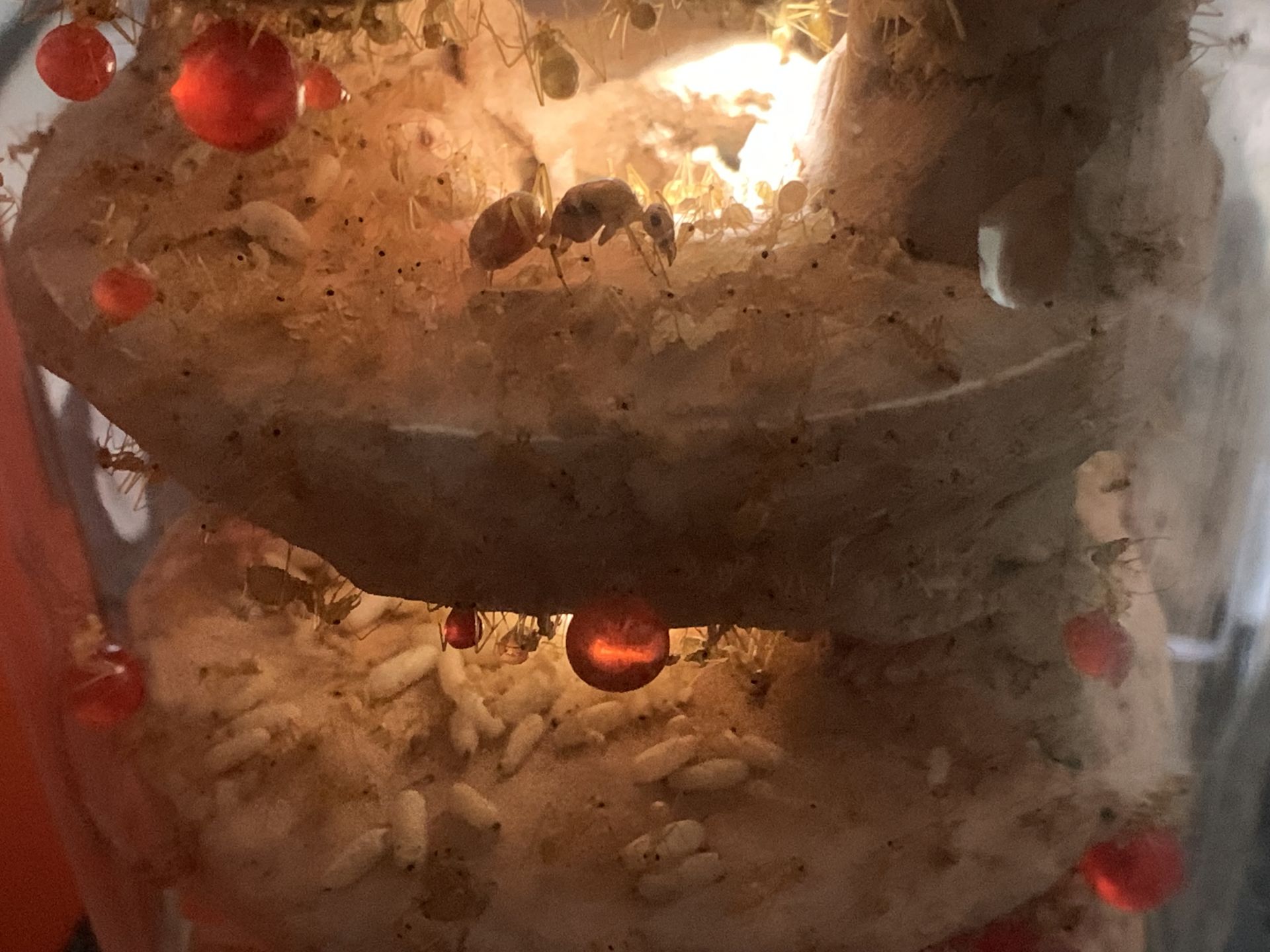 September 2023 - 1k+ Workers
I've been a bit busy lately so I haven't been feeding this colony as much as I should have, but hope to encourage one last growth spurt before they hit their slow phase during the winter. I've been feeding them primarily crickets for the last few weeks. The colony is somewhere above a thousand workers.
I nearly sold the colony, and to make transit easier I shrunk the repletes by limiting their sugar for a few weeks. I finally fed them some more last week, and by mid October I plan to have the replete count up and running again. I know in the more temperate areas of southern Utah this species does not consume many external sugars during the cold months, so I might try something similar. See videos below: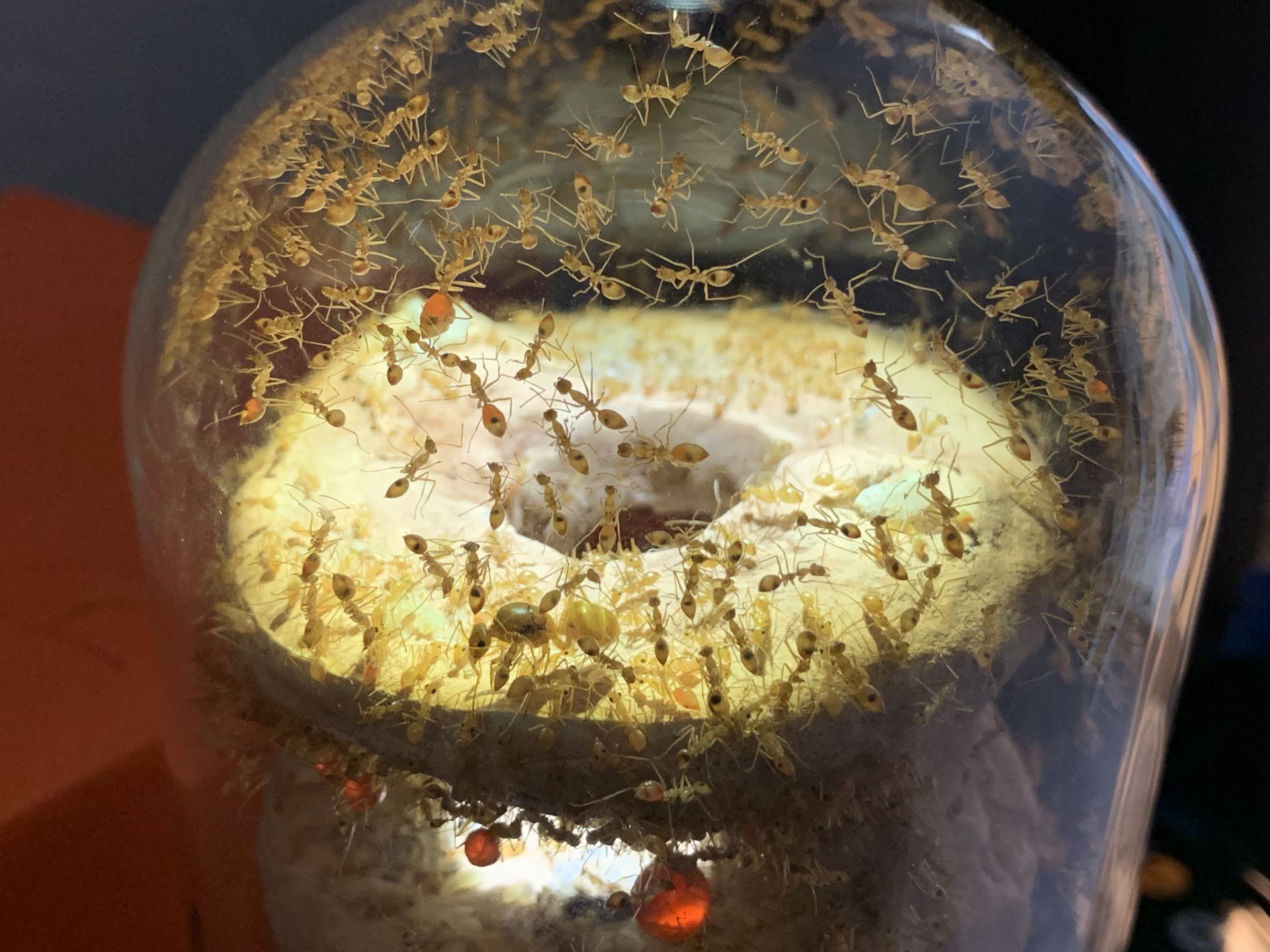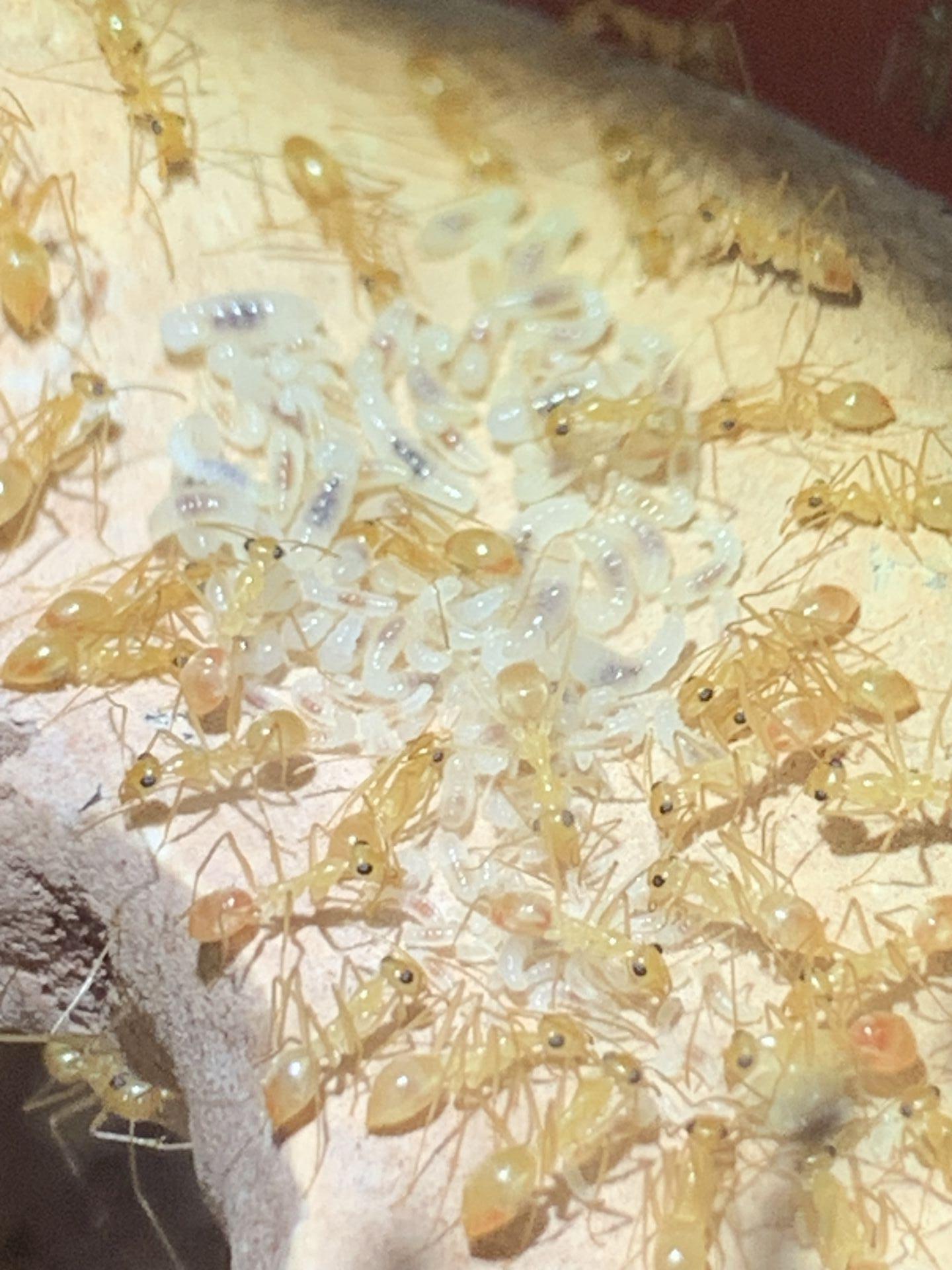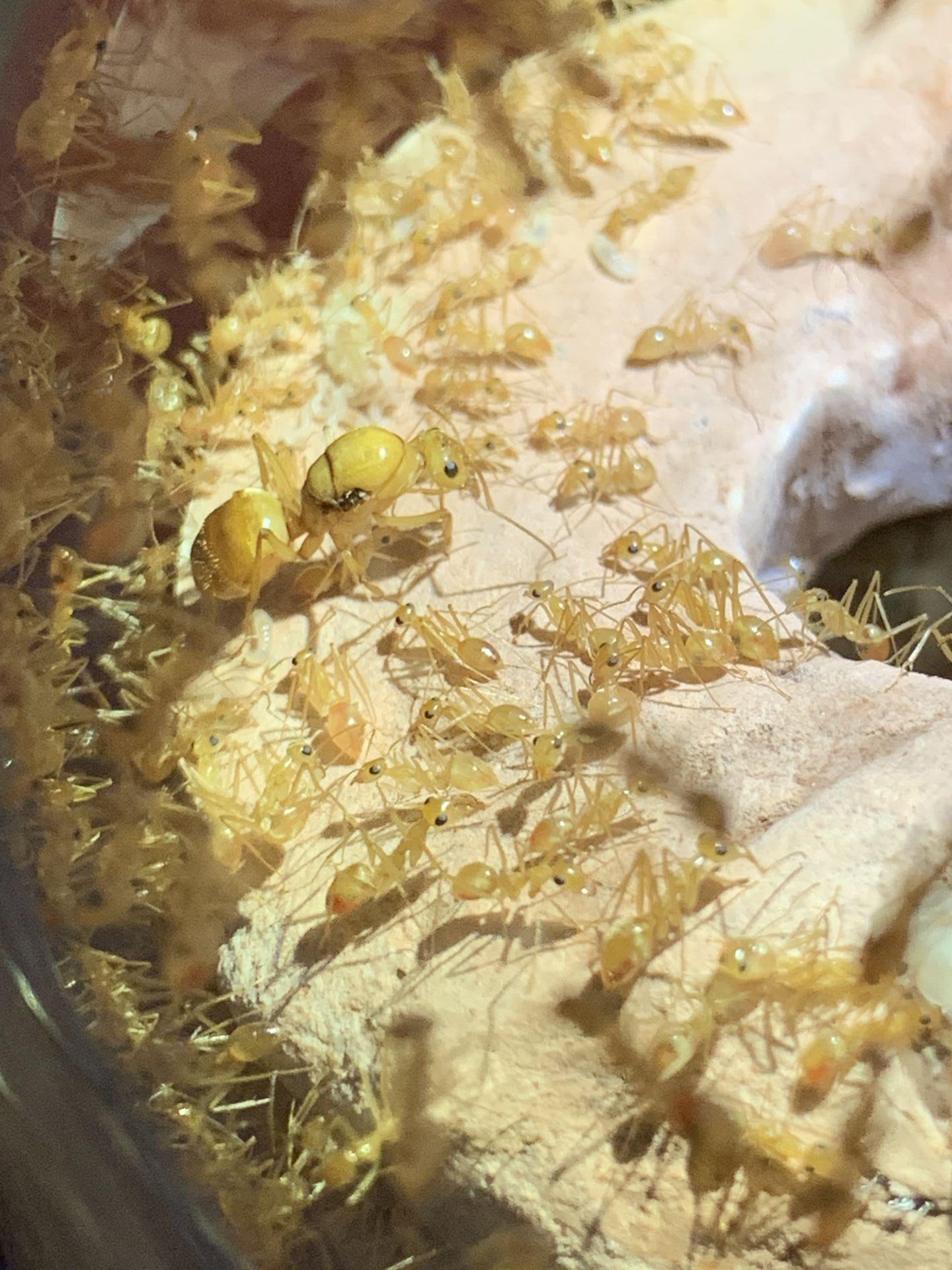 October - November 2023 - More Repletes
They continue to grow at a steady pace. I've been feeding them about 5 crickets a week, any more and they might outgrow the nest. I haven't been giving the colony a huge supply of nectar, but they do get a refill to their THA liquid feeder every week as well. Repletes and various sizes of workers continue to eclose every day. Next update will hopefully include a full 360 degree video.
Forgot to include this from a few months ago-
Half an hour of the upper portion colony.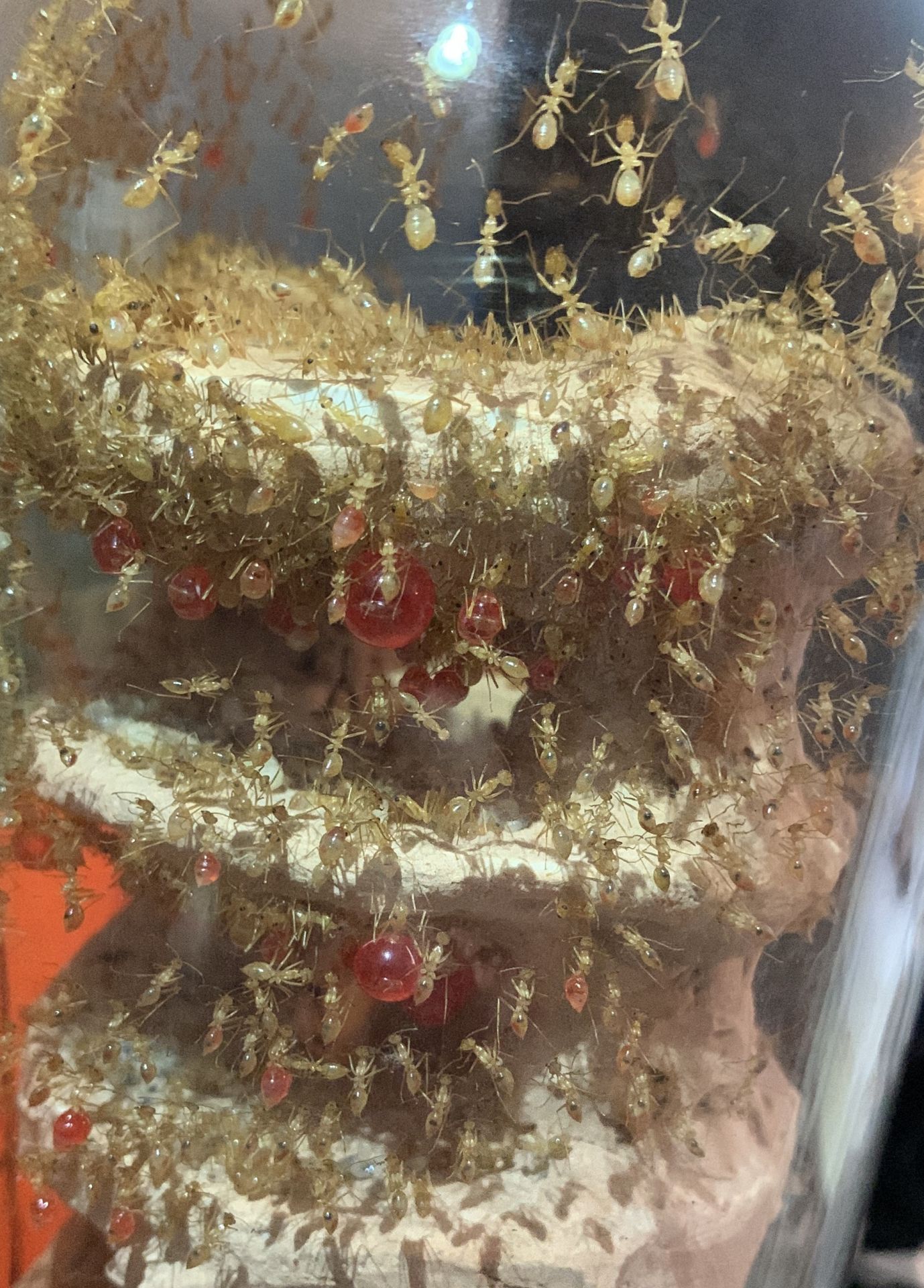 --------------------------------------------------
Care Tip: When this species grows into the full capacity of their formicarium, I've noticed a slowing of growth. An upgraded formicarium may encourage faster growth. As a general rule, whenever repletes cover the ceiling, and pupae cover the floor, it's time for a new formicarium. A couple years ago before this colony here, I had a colony that never outgrew their THA mini hearth. However I believe they were constrained by the nest itself. Had they been given more space the colony could have expanded by creating new repletes. Just be sure to have a nest upgrade on hand, especially for smaller, growing colonies.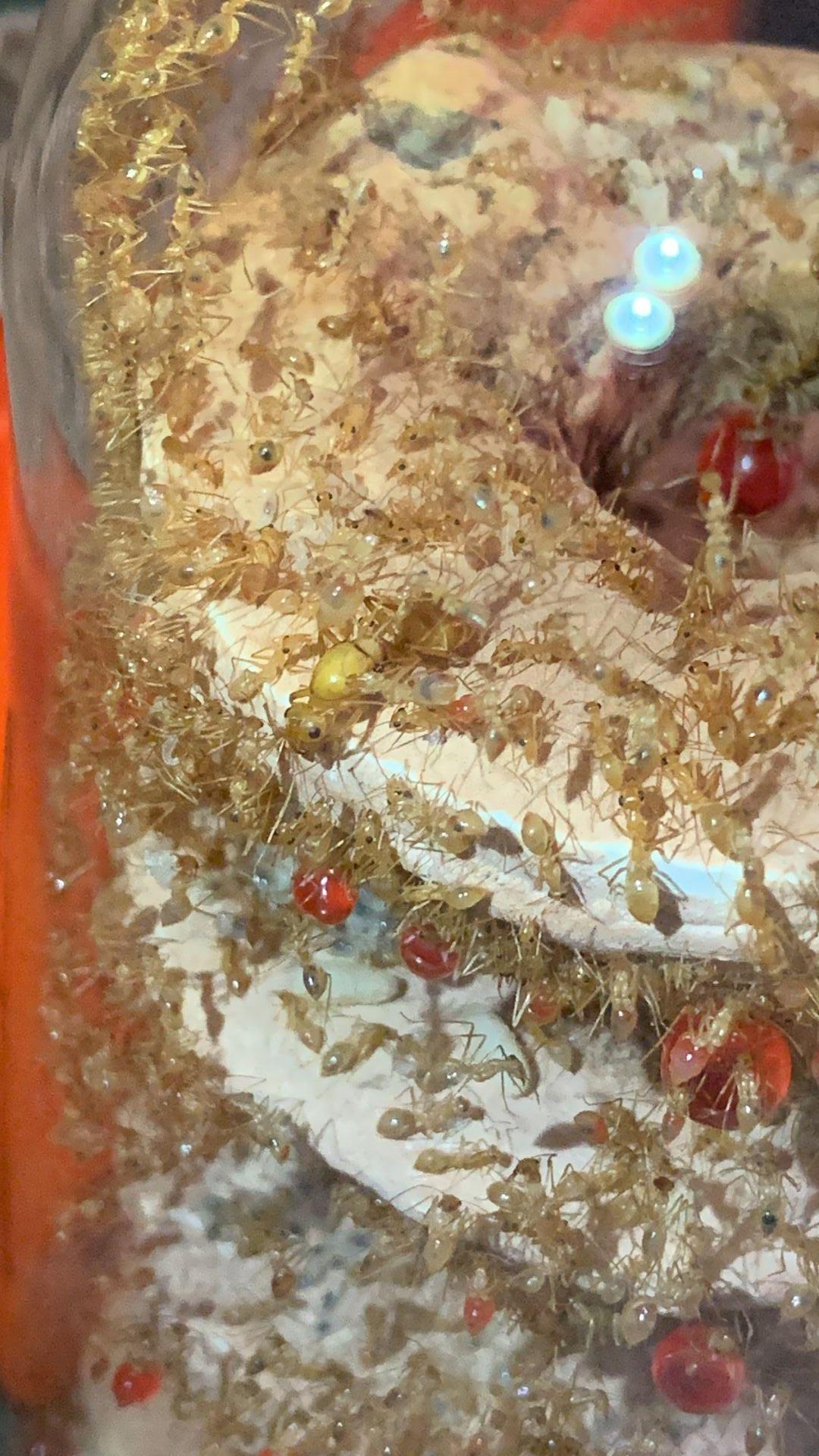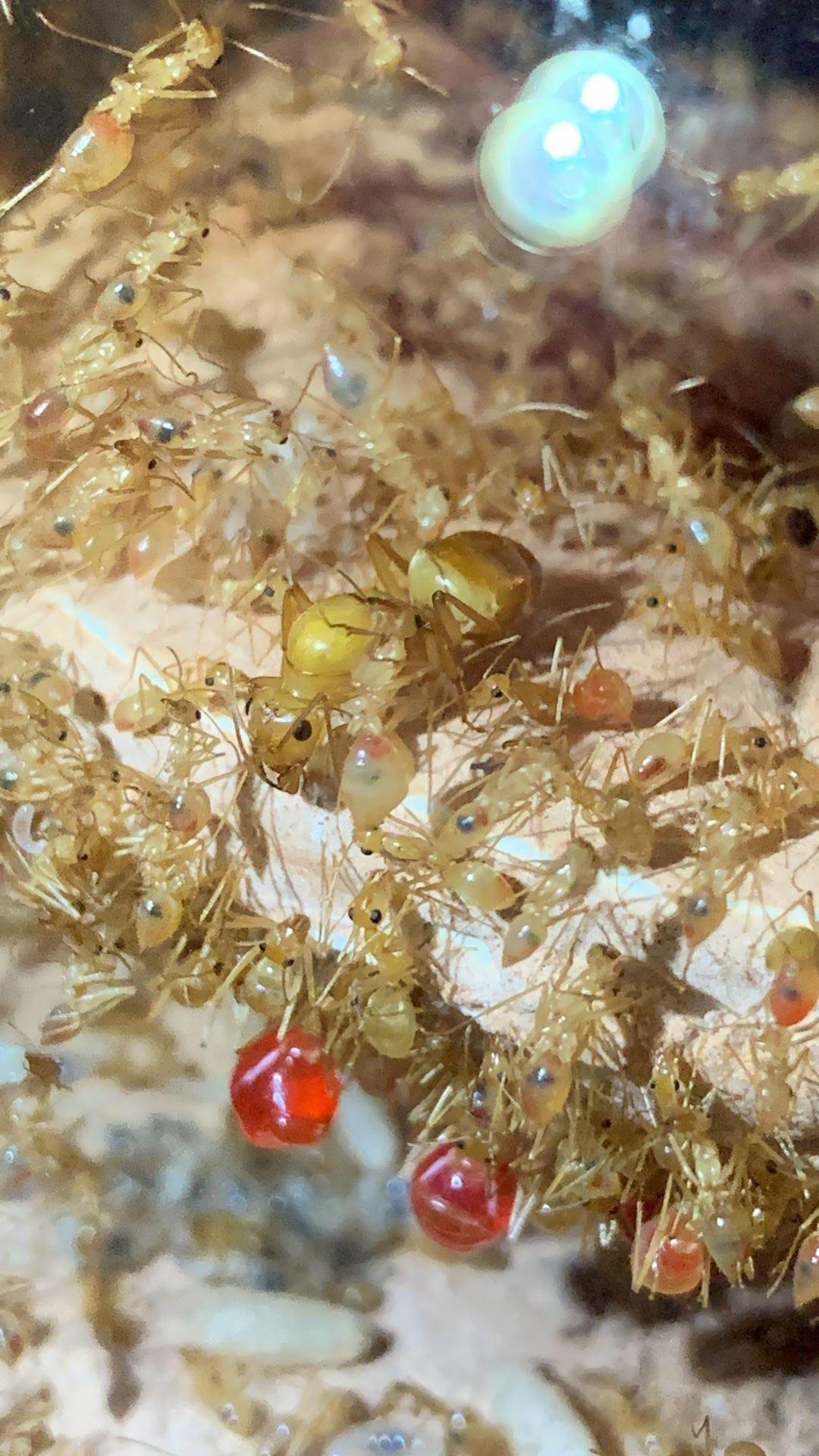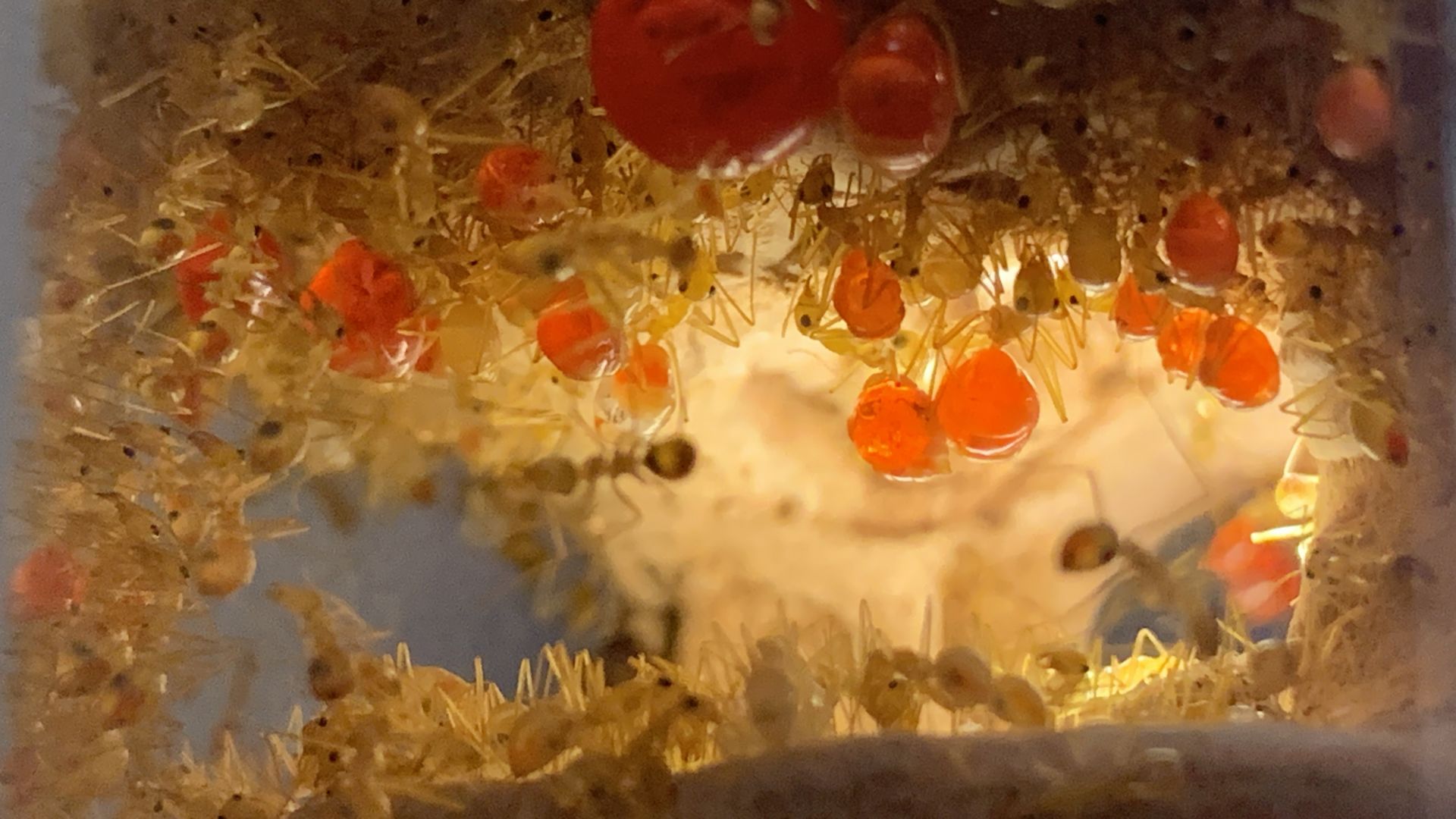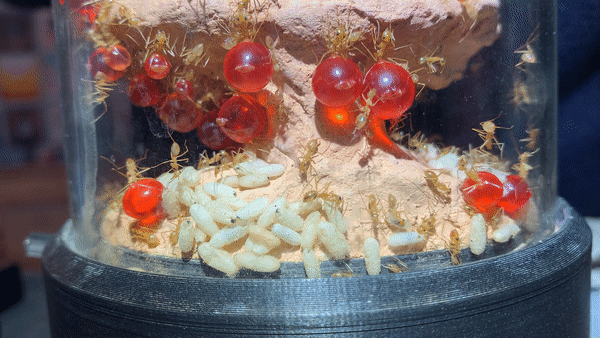 Edited by UtahAnts, November 10 2023 - 9:59 PM.