7-27-2015
I caught about 100 of these queens while sitting on my porch in Costa Mesa, California around 5:00 am 7-19-2015. There was a tropical storm the day before that brought us some extreme humidity. It was about 75 degrees F, and 98% humidity that afternoon! I set my black light up in my window, and just sucked up every queen I saw with my aspirator.
ID Threads:
https://www.formicul...y-ca-12-7-2012/
https://www.formicul...y-ca-8-16-2013/
https://www.formicul...rnia-6-16-2014/
Location: Costa Mesa, Orange County, California.
Habitat: Well kept apartment landscaping/Urban.
Coloration, hue and pattern: All very dark brown, head and gaster slightly darker.
Length: 4.5mm.
I found some of these in my apartment two years ago, but none of them turned out to be fertile. Well see how it goes this year. They were all over my porch ripping their wings off, so I'm pretty sure I got some fertile ones this time.
I dumped all of them into a tub lined with Fluon, and waited for them to remove their wings. Within a day, about a quarter of them had removed their wings, so I split them up into three test tubes. After returning from my desert anting trip, I found another quarter of them without wings, so I just stuck all of those into a fourth test tube.
They quickly started producing very large piles of eggs.
Edit: This species name was changed from
Pheidole moerens
to
Pheidole navigans
.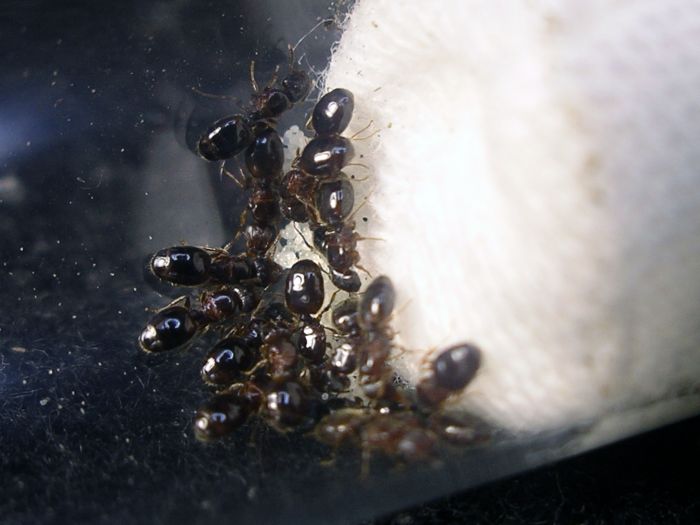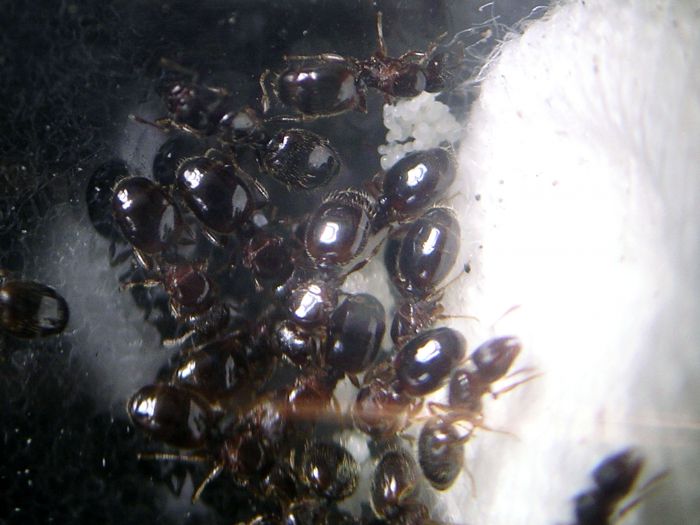 Edited by dspdrew, June 20 2020 - 6:40 PM.