1. Location - Collected from the high desert
2. Date - March 2022
3. Habitat - desert scrub
4. Length - 10-11mm
5. Color, hue, pattern, texture - ferruginous-yellow gaster with darkened fifth tergite; mesosoma dark with orange markings; head orange; legs orange
6. Distinguishing characteristics - Long, erect hairs along malar area
7. Anything else distinctive - n/a
8. Nest description - founding chamber

Yes, this is one of the few species called "mimicus" and called a "purple back.," some are undescribed some are not, this one is not. These M. kathjuli are quite easy to identify even with a live queen since the long erect hairs are very noticeable. It also is ironic that they have been called M. mimicus when they are clearly in the kennedyi-group along with the other "purple back mimicus." Though, this statement is not to discredit the works of others, it is just to point out that not everything is M. mimicus and that identifying species is a doable thing.

Preface/acknowledgement of key validity and flaws:
I do acknowledge that the publicly available Myrmecocystus keys, mainly the Endiodioctes key which I will be using, do have flaws and don't include all known species or variants. With that being said, there is no other species that key out to M. kathjuli.



1
Penultimate segment of maxillary palp more than twice wider in basal third as at apex, the remaining segments very broad; gaster ferruginous . . . . . 2
Penultimate segment of maxillary palp slender, more or less parallel-sided, never more than 1.5 x wider in basal third than at apex, remaining segments slender; gaster brownish or blackish . . . . . 3
Using the photo below, the base of the maxillary palp clearly widens to be more than twice that of the apex and is not parallel-sided- the following photo shows that the following segments are broad. In the third photo, of the side profile, it is evident that the gaster is ferruginous in hue. This takes it to couplet two and negates the option of couplet three.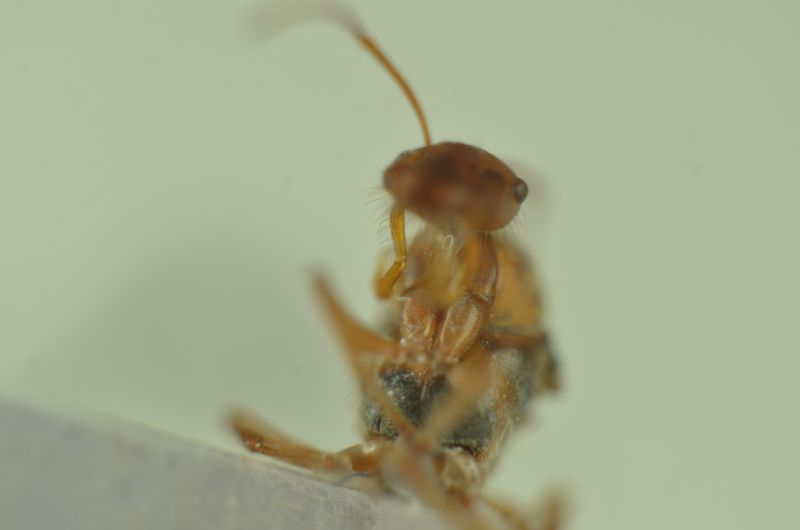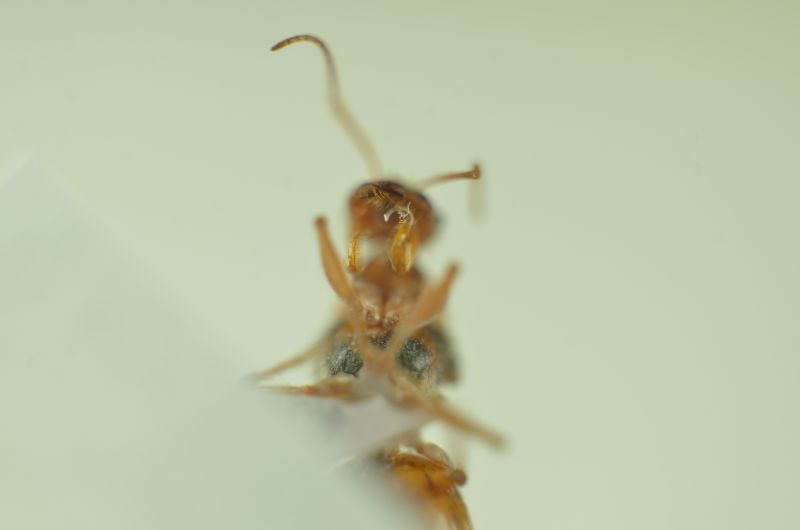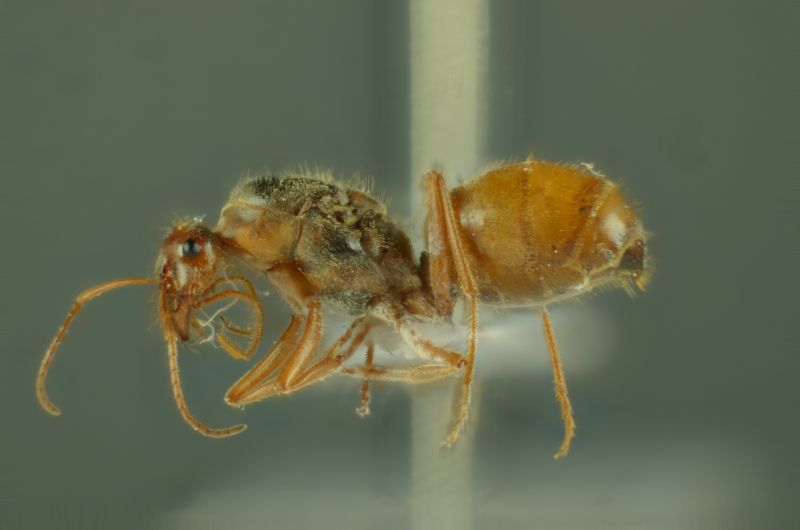 2
Punctures of frontal lobes separated by a puncture diameter or more; scutellum with median area punctate, interspaces mostly about one to two times a puncture diameter; longest scutal hairs exceeding EL . . . . . Myrmecocystus kathjuli
Punctures of frontal lobes uniformly dense, separated by less than a puncture diameter; scutellum, along midline, impunctate or very sparsely punctate, interspaces mostly three to five times a puncture diameter; longest scutal hairs less than EL . . . . . Myrmecocystus wheeleri
Unfortunately this is where the limits of my camera gear hinder the photos, but I have inspected this specimen and others under a stereoscope. In reference to the below photo, the punctures on the frontal lobes are separated by a puncture diameter or more- which will be difficult to make out if possible. The photo below the frontal head view, struggles to show that the scutellum does have median area punctate that is spaced out by 1-2x puncture diameter. What is vital and one of the easiest and most obvious identifying features of this species is shown in the frontal view - the long erect hairs that are clearly longer than the eye length. This negates the option of M. wheeleri, leaving M. kathjuli as the species.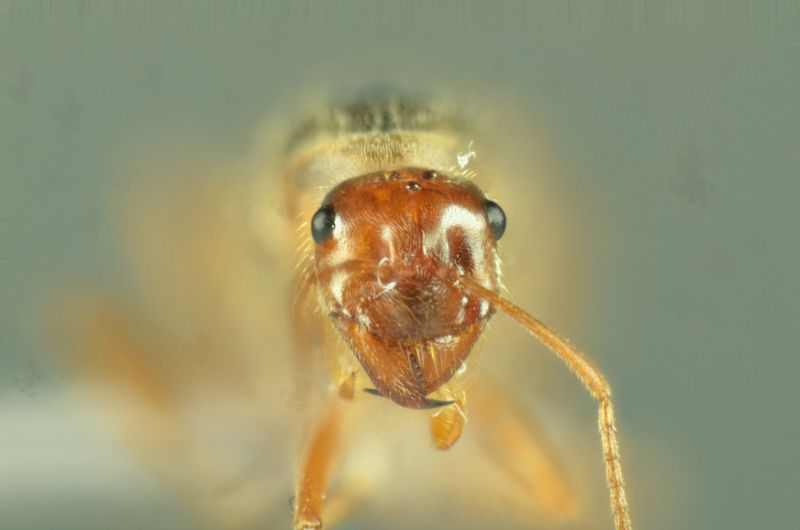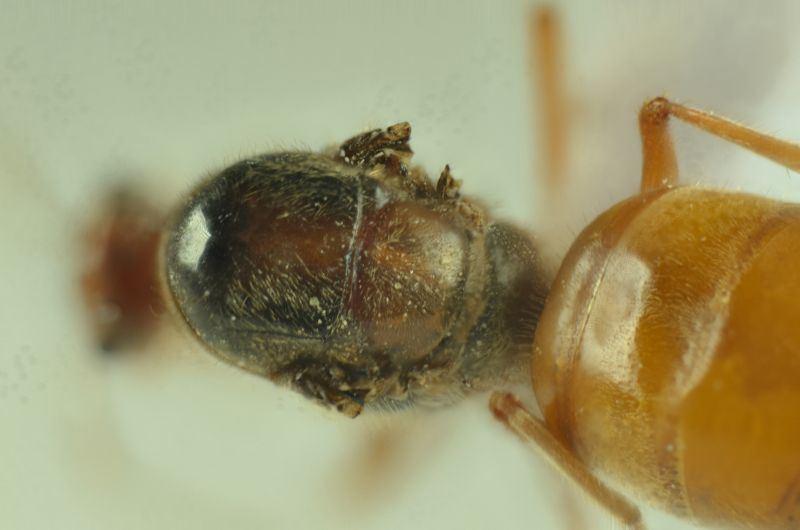 Please bear with the last couplet, I want to make this ID thread to start spreading that not everything is M. mimicus based on the blatant species group being kennedyi-group, but also that they easily identify to known species for the areas they are found in. And as I stated earlier, I do not mean to do this to bash on other people's works, but to clear up the confusion. And yes, I do realize that "purple backs" are a group of species - most of which are undescribed, but with that I do not think it is wise to continue to call them M. mimicus when they clearly are not. I plan on making more ID threads to cover the known variants and widely spread misinformation of some identifications.
Edited by ReignofRage, May 24 2022 - 5:57 PM.