Looking for pheidole, solenopsis molesta, and formica species. Will naturally pay for shipping.
I have a extra tetramorium immigrans colony for sale/trade. Queen with 20+ workers ($20 plus $9 for shipping) I'll include their current tub/tubes setup for $10 more. I'll even toss in a byformica liquid feeder.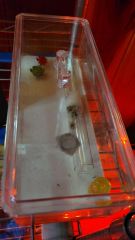 I also have several brachymyrmex depilis queens. Just waiting to see if any of them actually lay eggs. (I will add a value once they start laying.)
I take Paypal, Venmo, and Cashapp. (Prefer to use paypal.)
Edited by TacticalHandleGaming, September 3 2021 - 8:10 AM.