Another journal which is a repost of my journal on a small Polish forum.
First season
I've caught a queen of Lasius fuliginosus genus on, most likely, 2020.06.11. The next day I dug out some Lasius niger pupae and few workers, separated them and placed queen with pupae: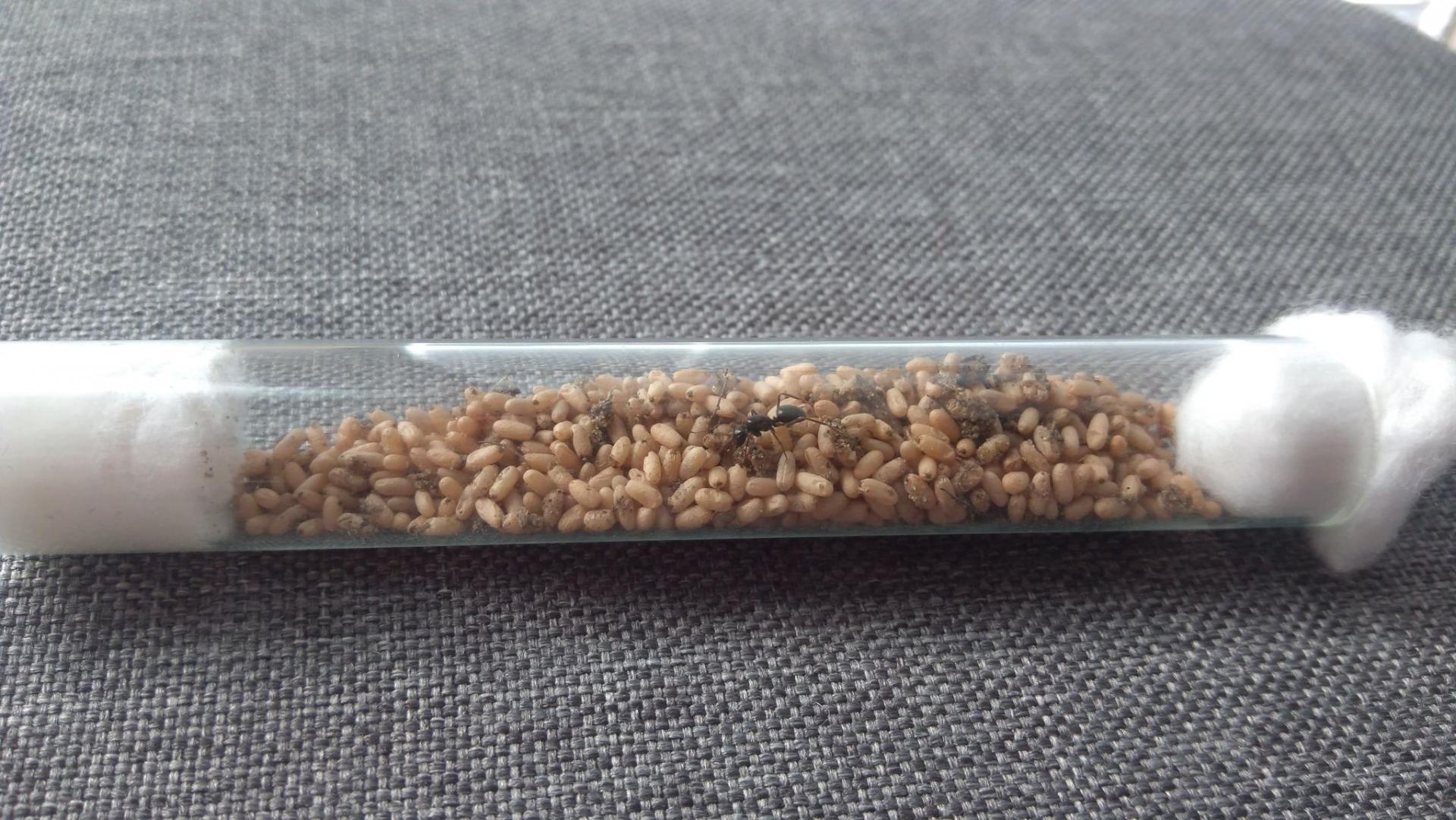 Few hours later I introduced the workers too. I took too few workers, I should've taken 1 worker per 5-10 pupae.
2020.06.26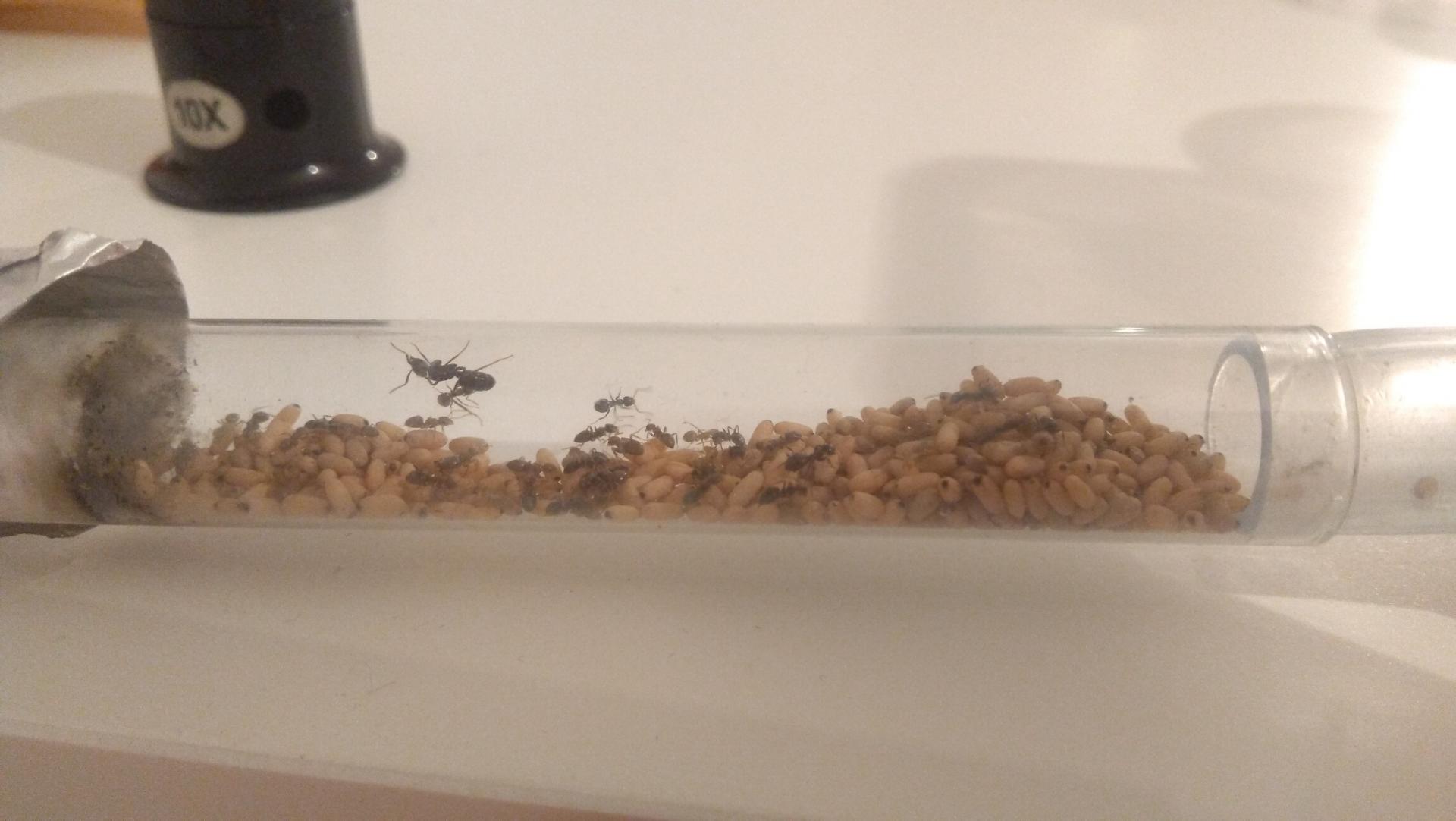 2020.07.23
The queen started laying eggs, her abdomen became swollen a bit: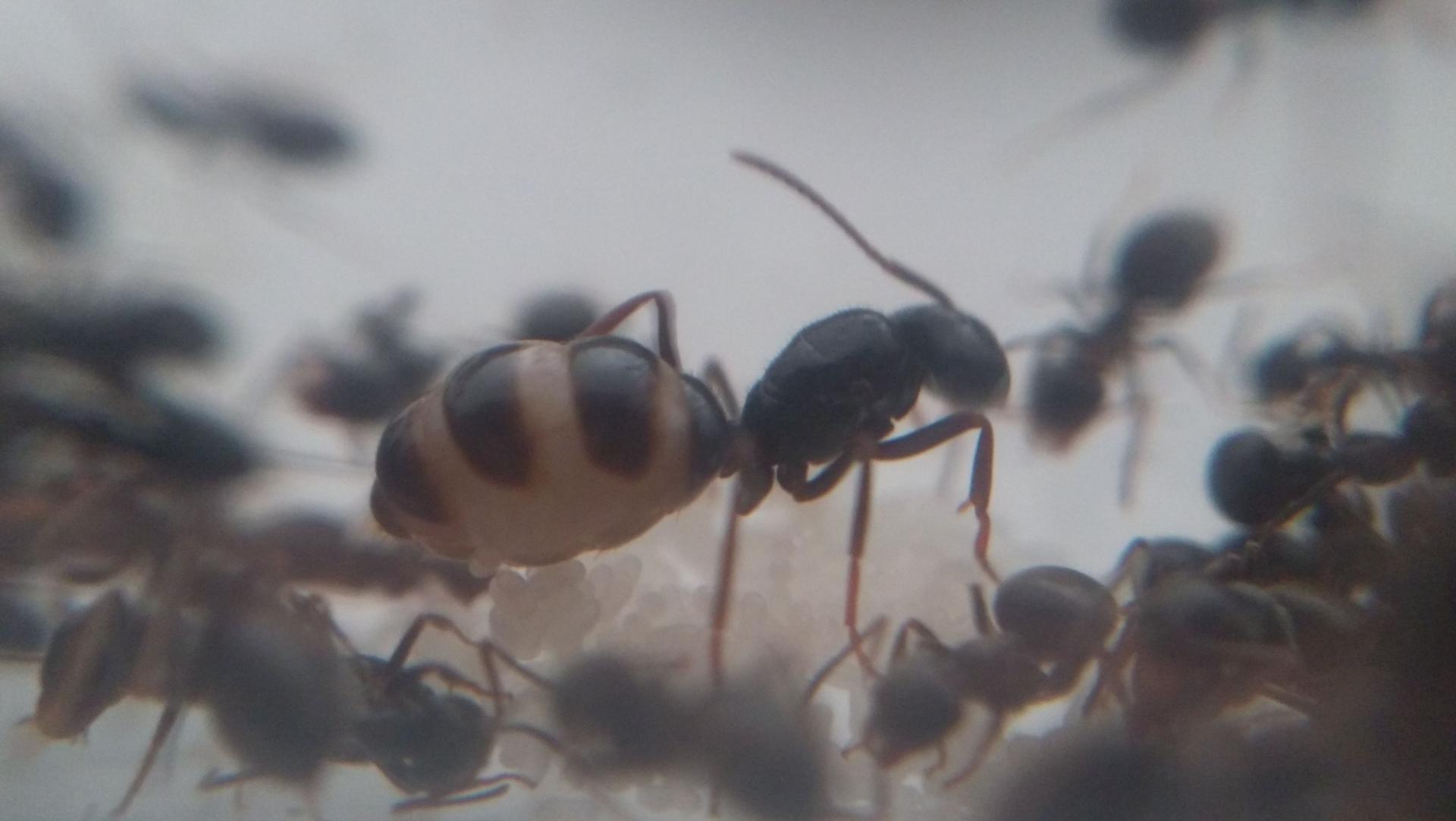 2020.08.26
All the L. niger pupae are already enclosed or rejected. All the L. fuliginosus eggs have hatched, no new eggs appear, colony has reached stagnation.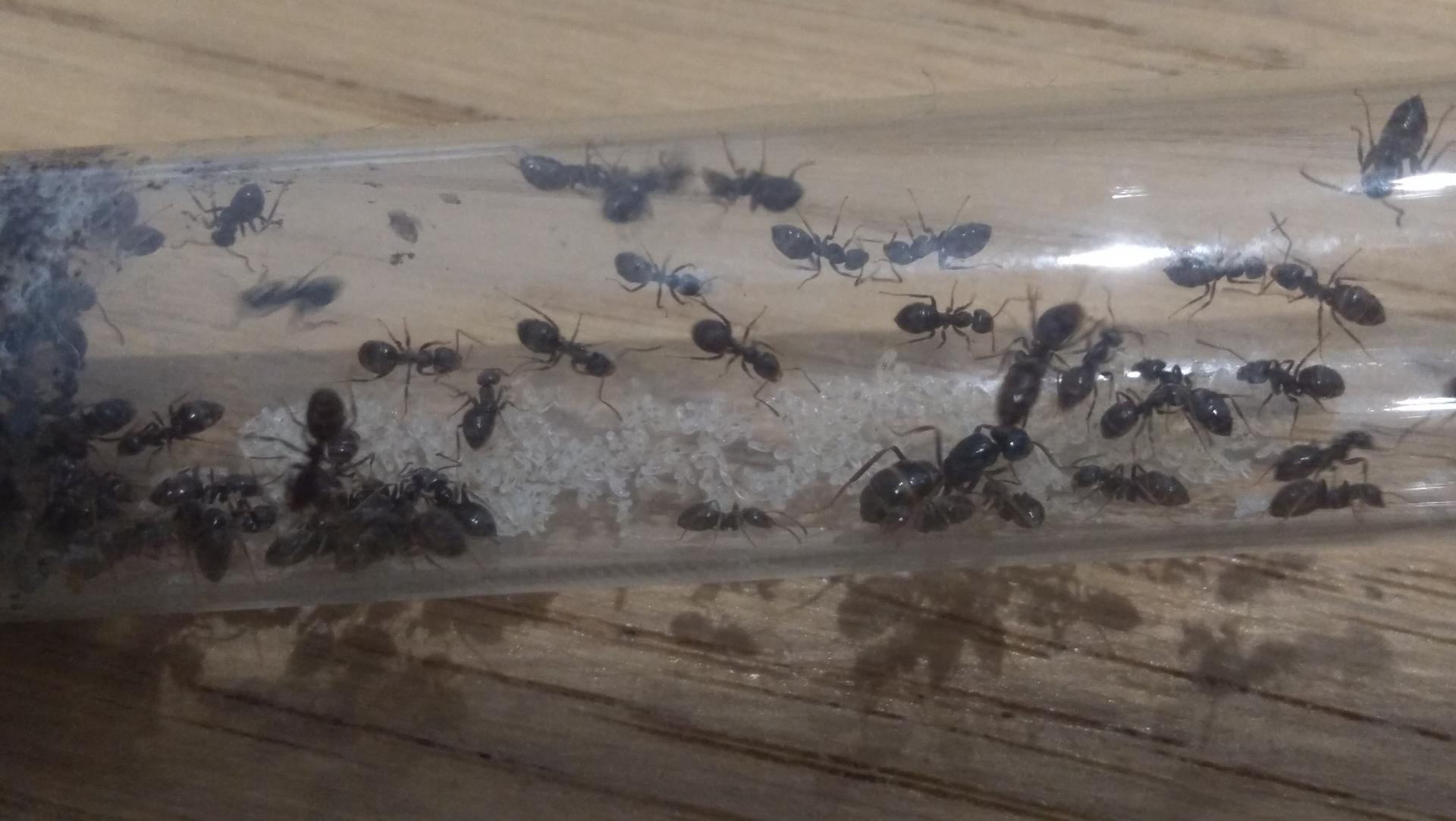 Colony was placed in the fridge on 2020.09.17 and taken out on 2020.11.21 with short periods in coldest place in my room before and after fridge hibernation.

Second season
Overwintering larvae became hungry in late December/January.
2021.02.01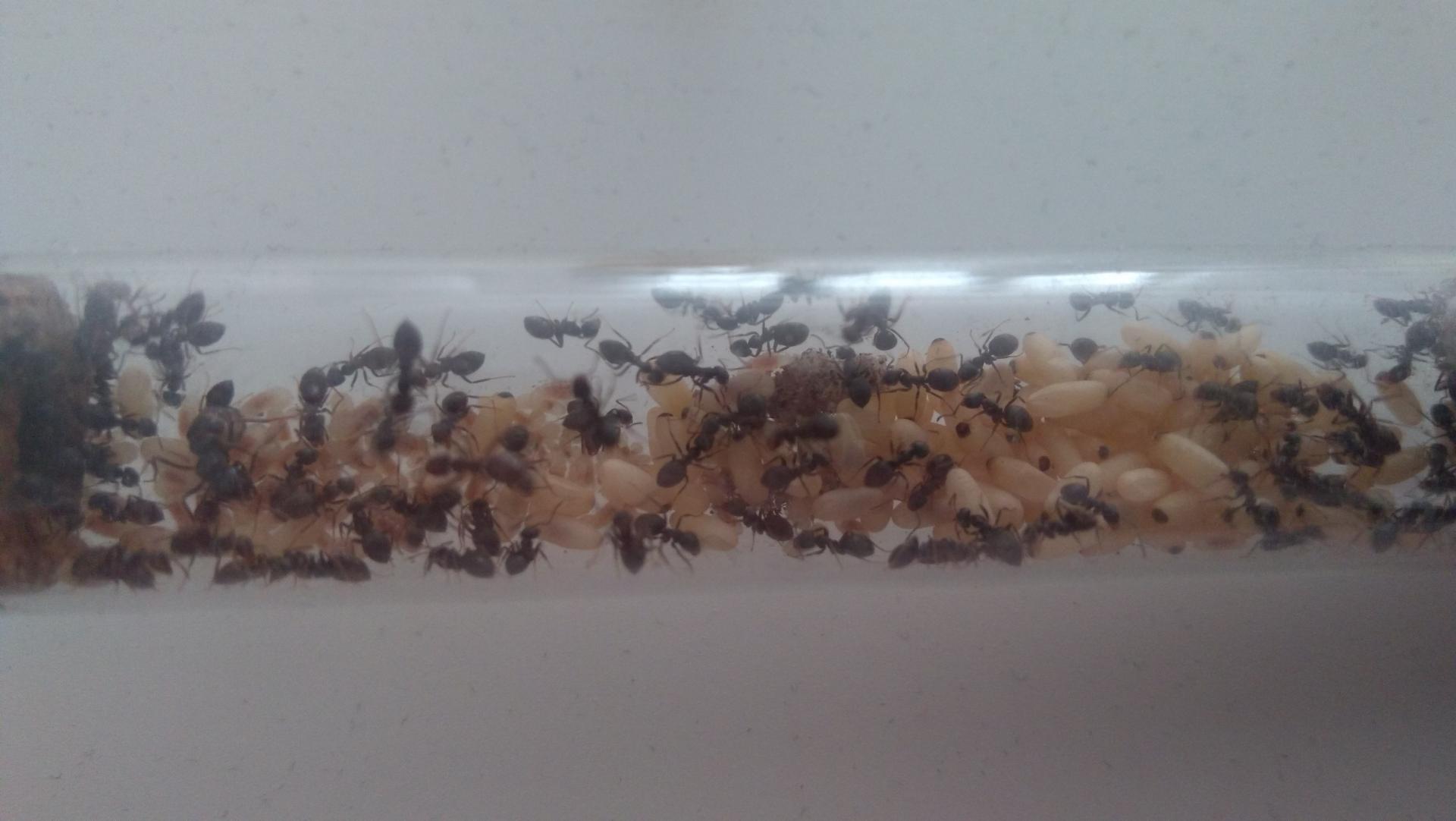 2021.02.07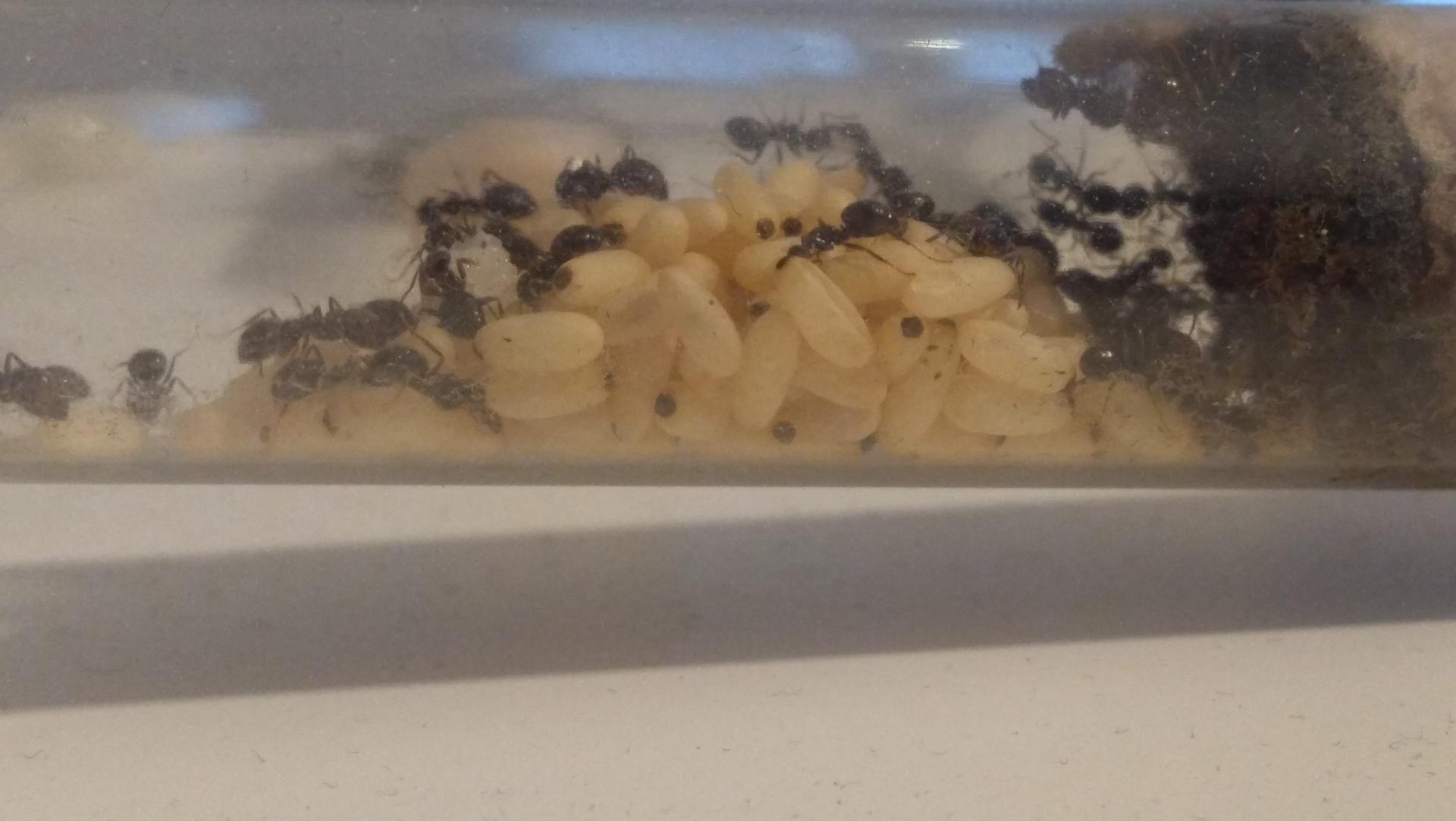 2021.02.16
First pupae became ready to enclose. This is a critical stage of Lasius fuliginosus development - Lasius niger are known to be a poor host when it comes to opening pupae. If they fail to open any, the colony is doomed. They HAVE to open at least one so that it can free other L. fuliginosus workers.
When a L. fuliginosus pupa is overdue, the worker inside tries to cut out way through the shell. It reminds me of a walrus, as it looks like a blob with two mandibles sticking out. The video shows that happening.


2021.02.21
Some of the pupae were laying around half open, with worker fully hardened inside but unable to get out completely. Fortunately few days later a Lasius fuliginosus worker was walking free of its shell.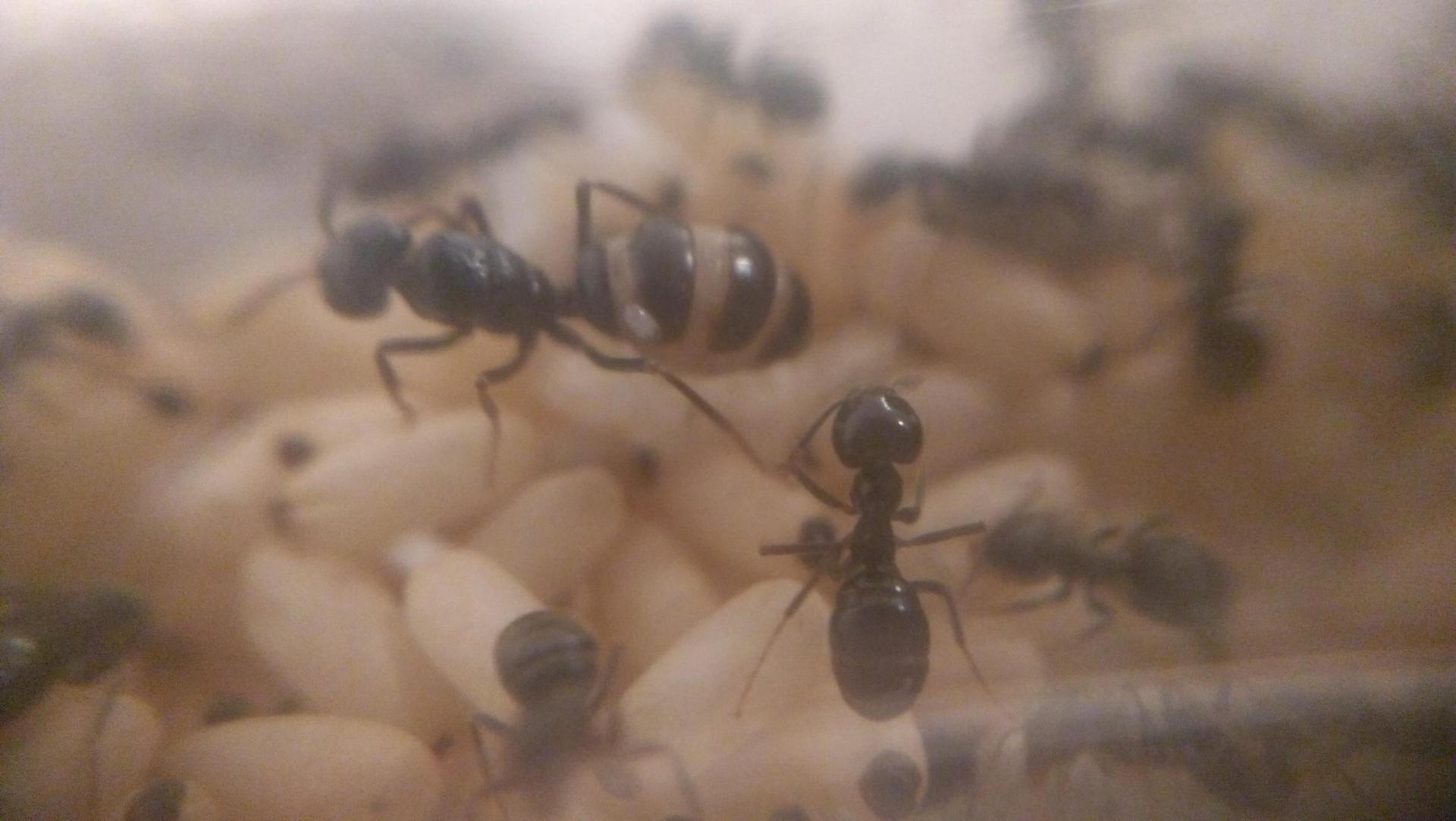 2021.04.25
Soon the colony had lots of Lasius fuliginosus workers. The colony seemingly stopped growing - but in fact the L. fuliginosus population was growing inside, they have just been replacing Lasius niger workers. I haven't seen them killing each other, but somehow the L. niger population quickly collapsed within the colony.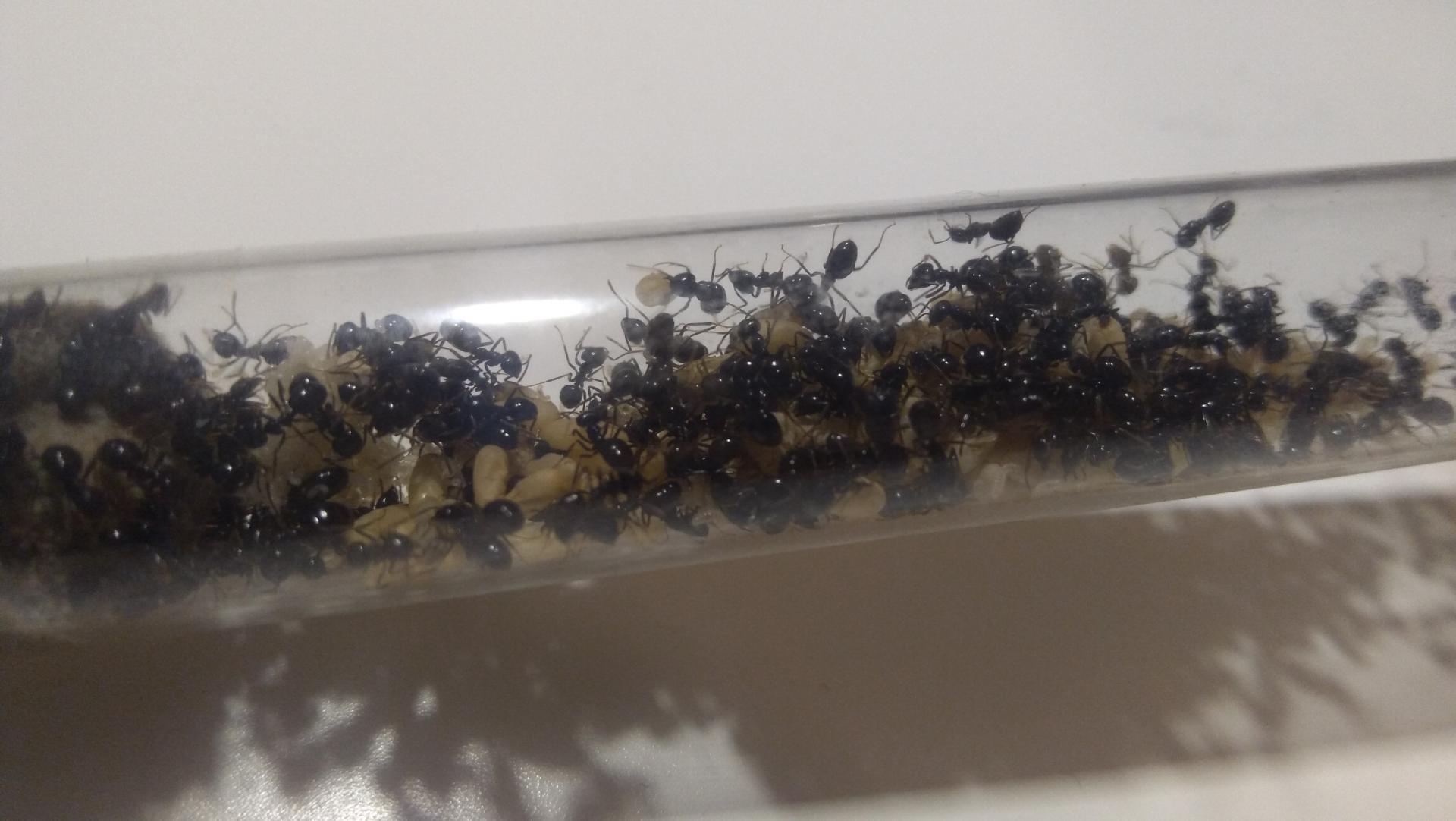 2021.06.02
I have caught another L. fuliginosus queen. I prepared a test tube with very small opening - so only workers could pass through it - in attempt of replicating BartTPs method of introducing new queens. The goal is to allow foragers to make contact with new queen without letting her reach the main nest, where nest guardians would execute her. She would be let out only when she would be covered with workers like the the old queen.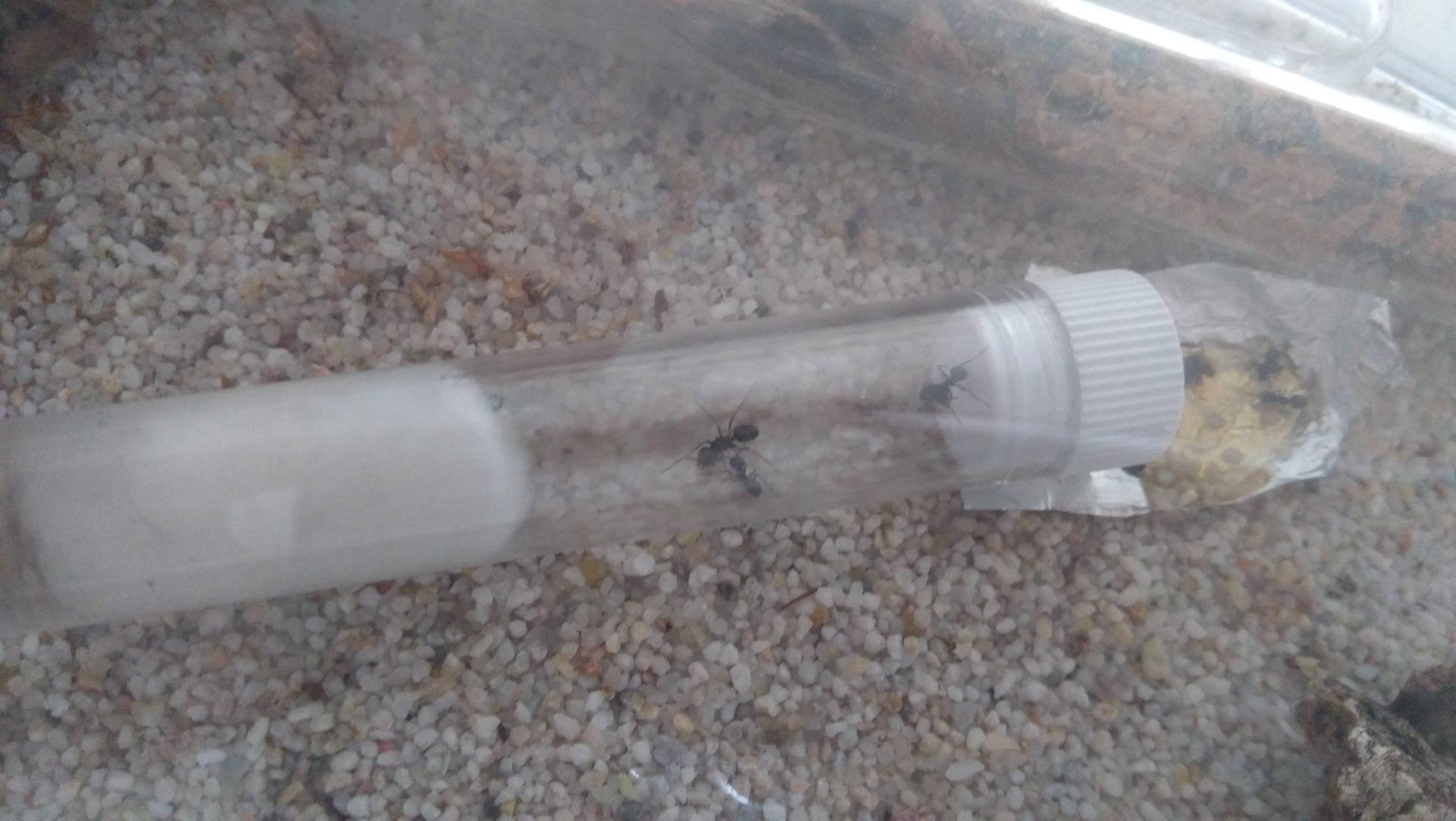 2021.06.06
The new queen didn't get much attention, but I've caught one moment when she was being fed.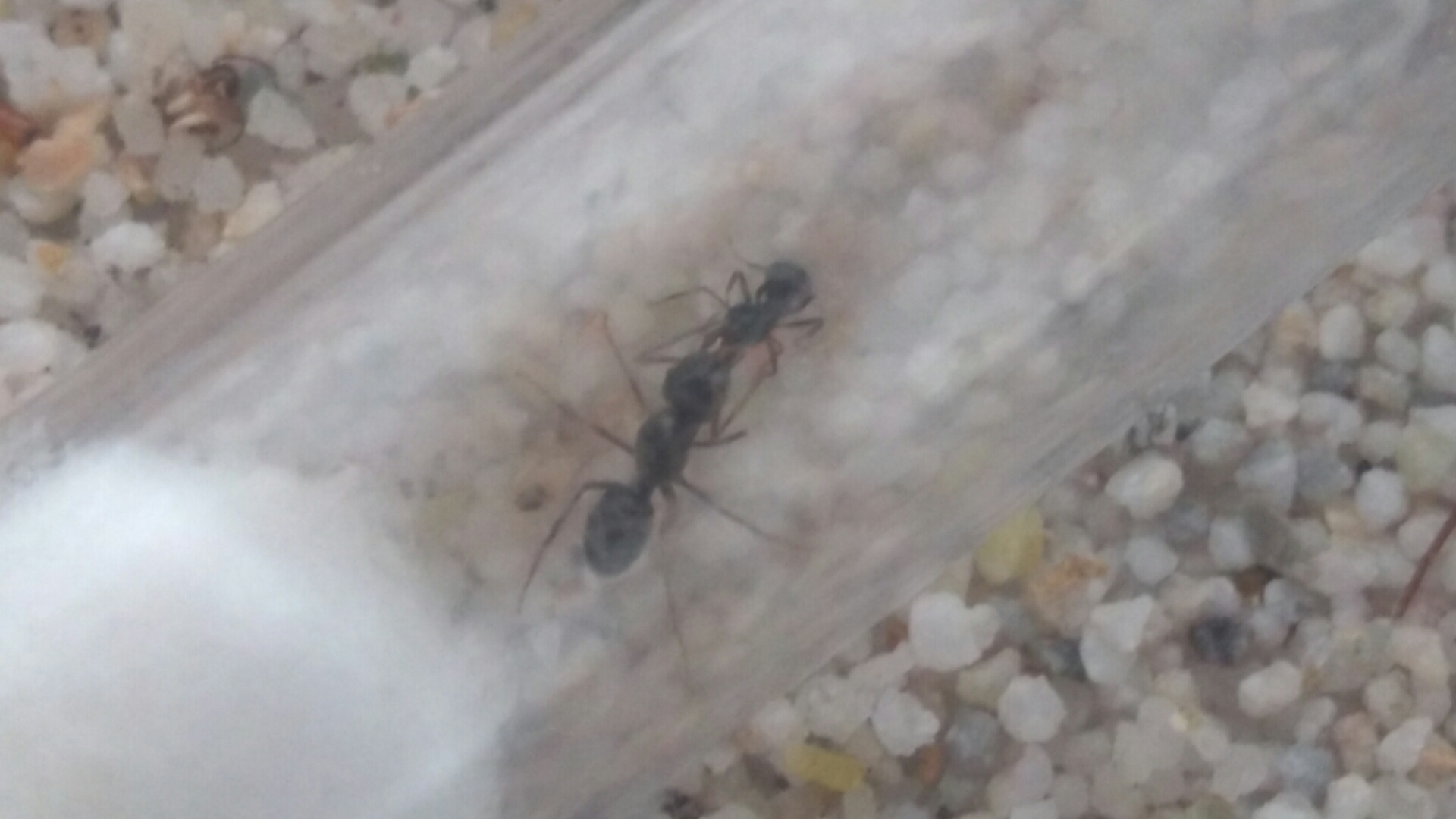 2021.06.14
Still no workers being constantly tending to the new queen. She had enough of it and broke out of the test tube and immidiately had entered the main tube, where she was met with mixed reactions - most of the workers ignored her, some fed her when asked for food and few were chasing her, attacking her legs. When I was leaving to work no worker was attacking her anymore and she seemed to be gaining attention. Unfortunately I found her dead several hours later - I suspect she came too close to the entrance and attracted the guards.
2021.06.21
There was a new nest attached for few weeks. Some foragers were visiting it, but it was generally ignored. On this day I have noticed they moved almost all of the colony to the new nest. Only the queen with a group of workers were still in the tube.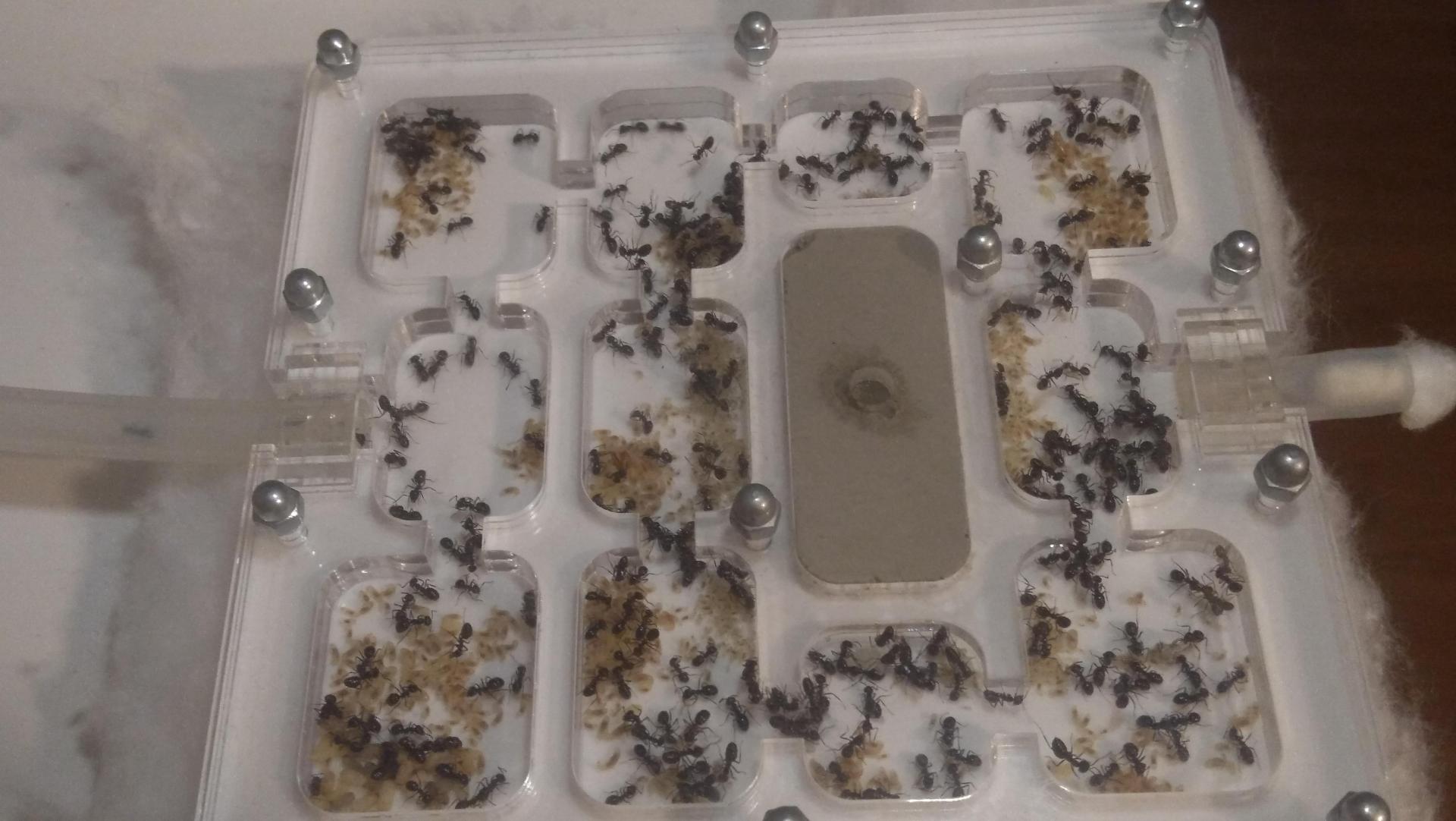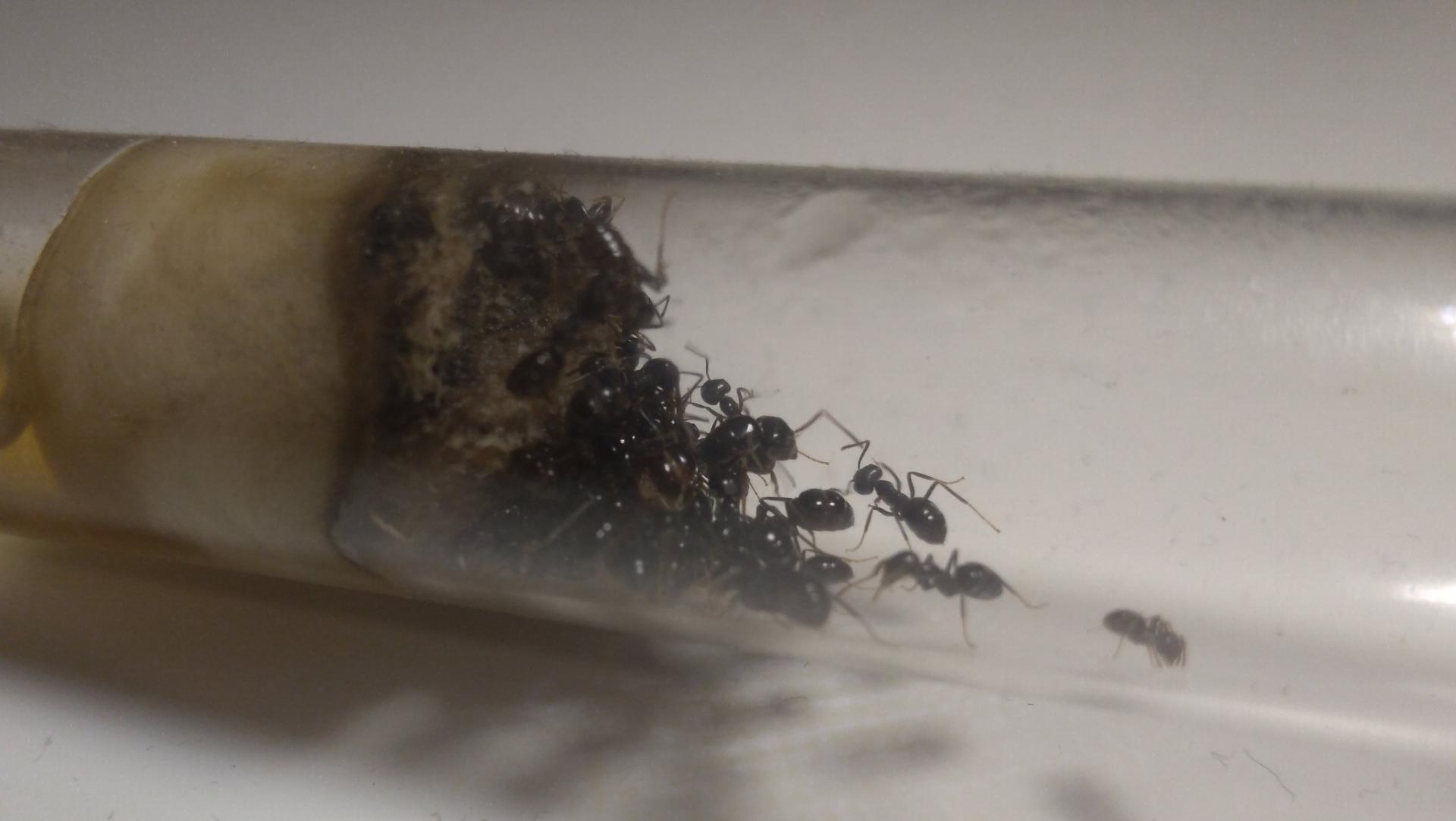 2021.06.30
They have segregated the brood by size in the new nest. Also one room became a dedicated pupation station.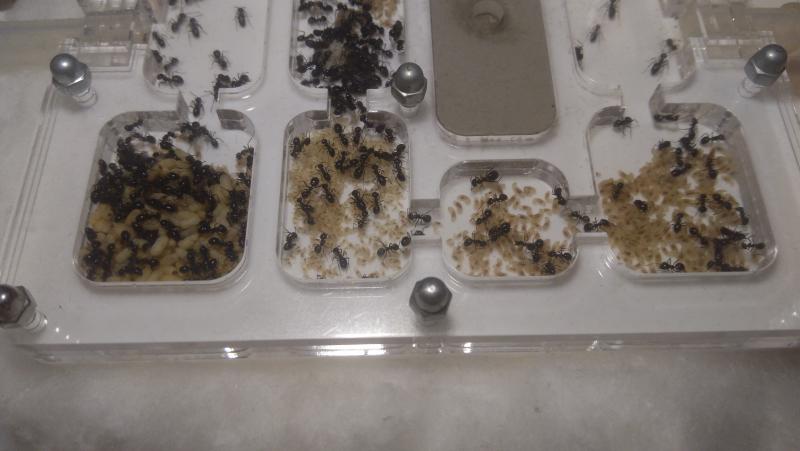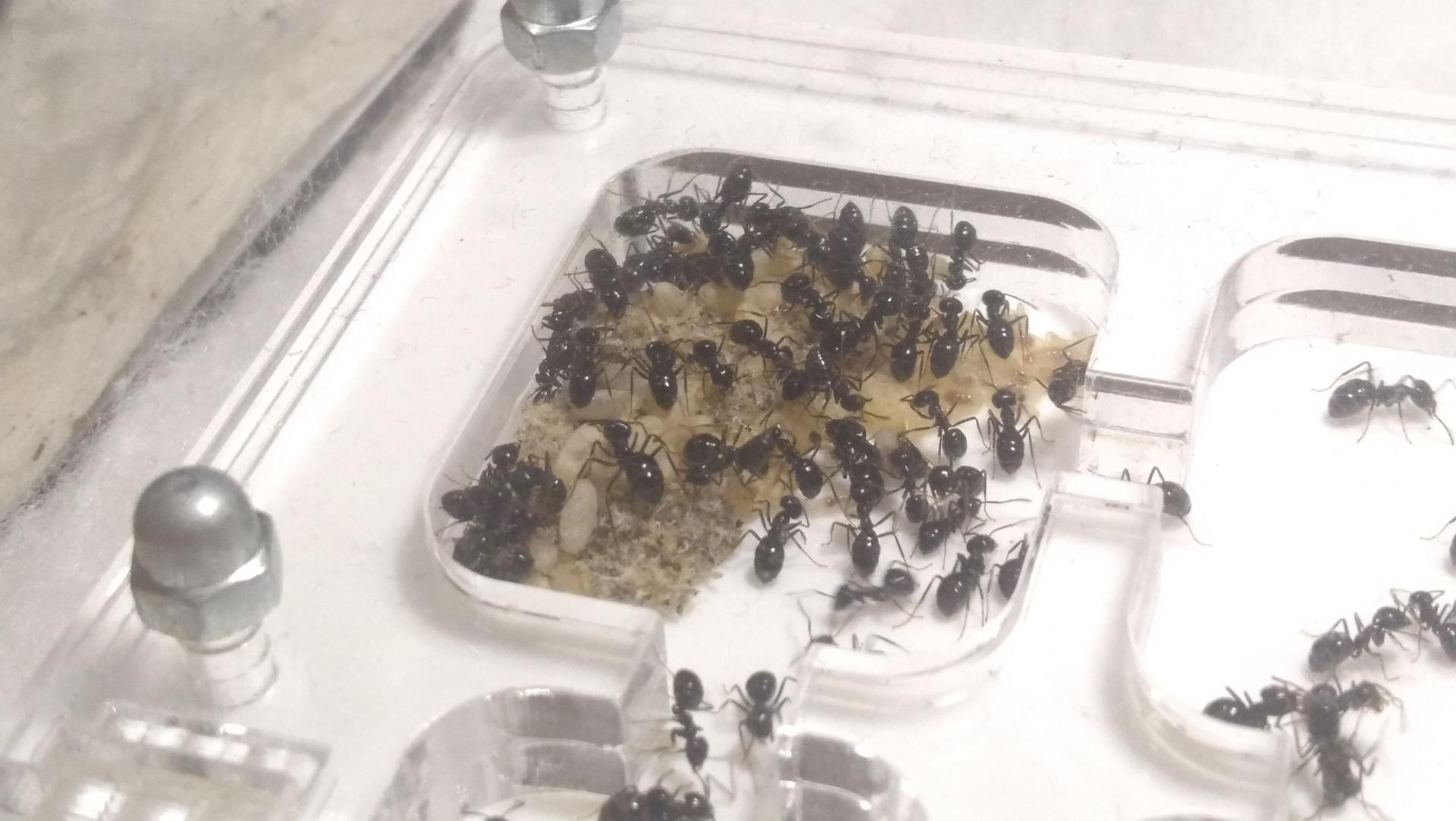 2021.08.30
The nest is getting crowded, but ants have decided to use two segments as garbage sites. Instead of cleaning them they prefer to occupy empty test tubes in the outworld.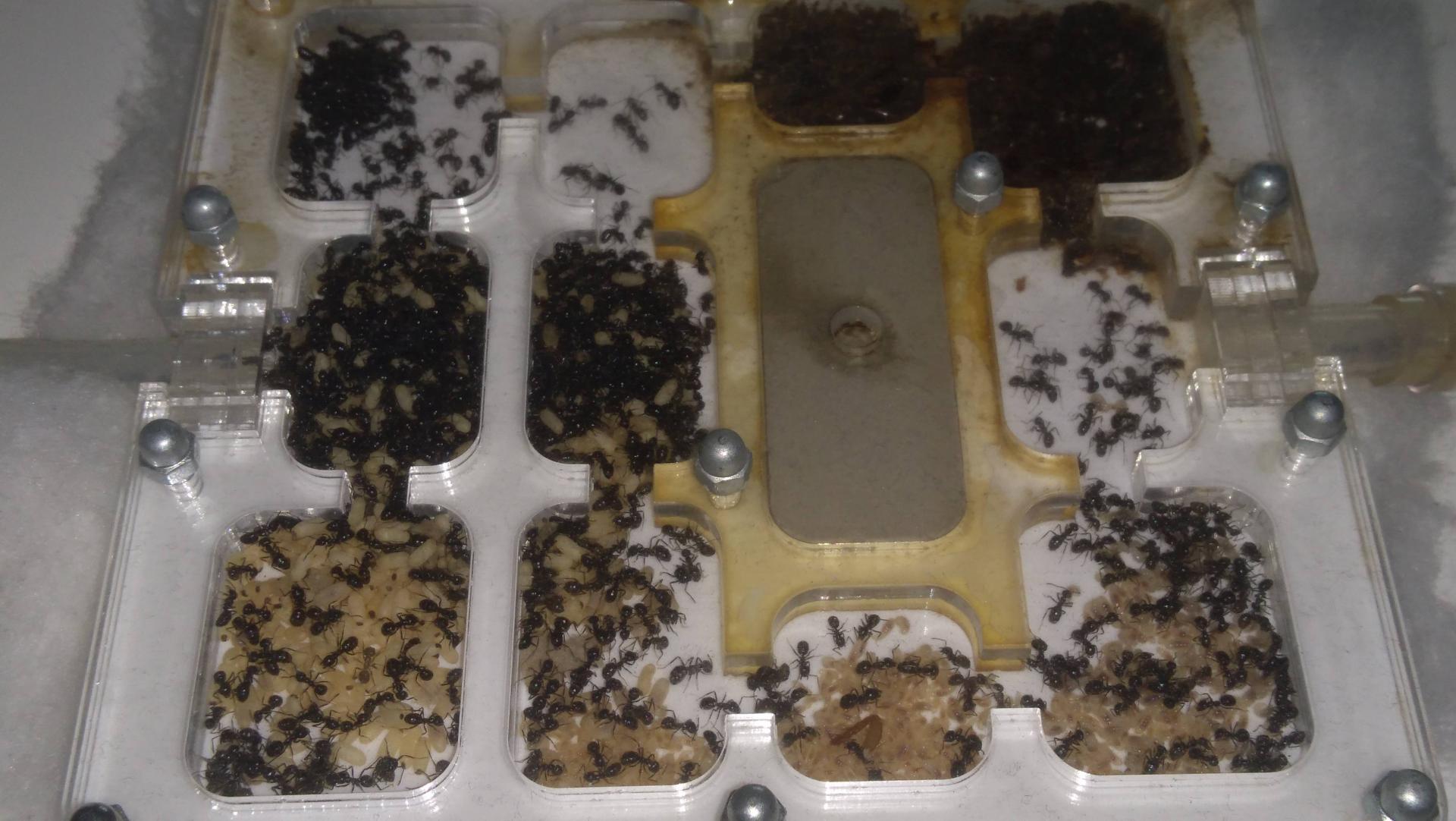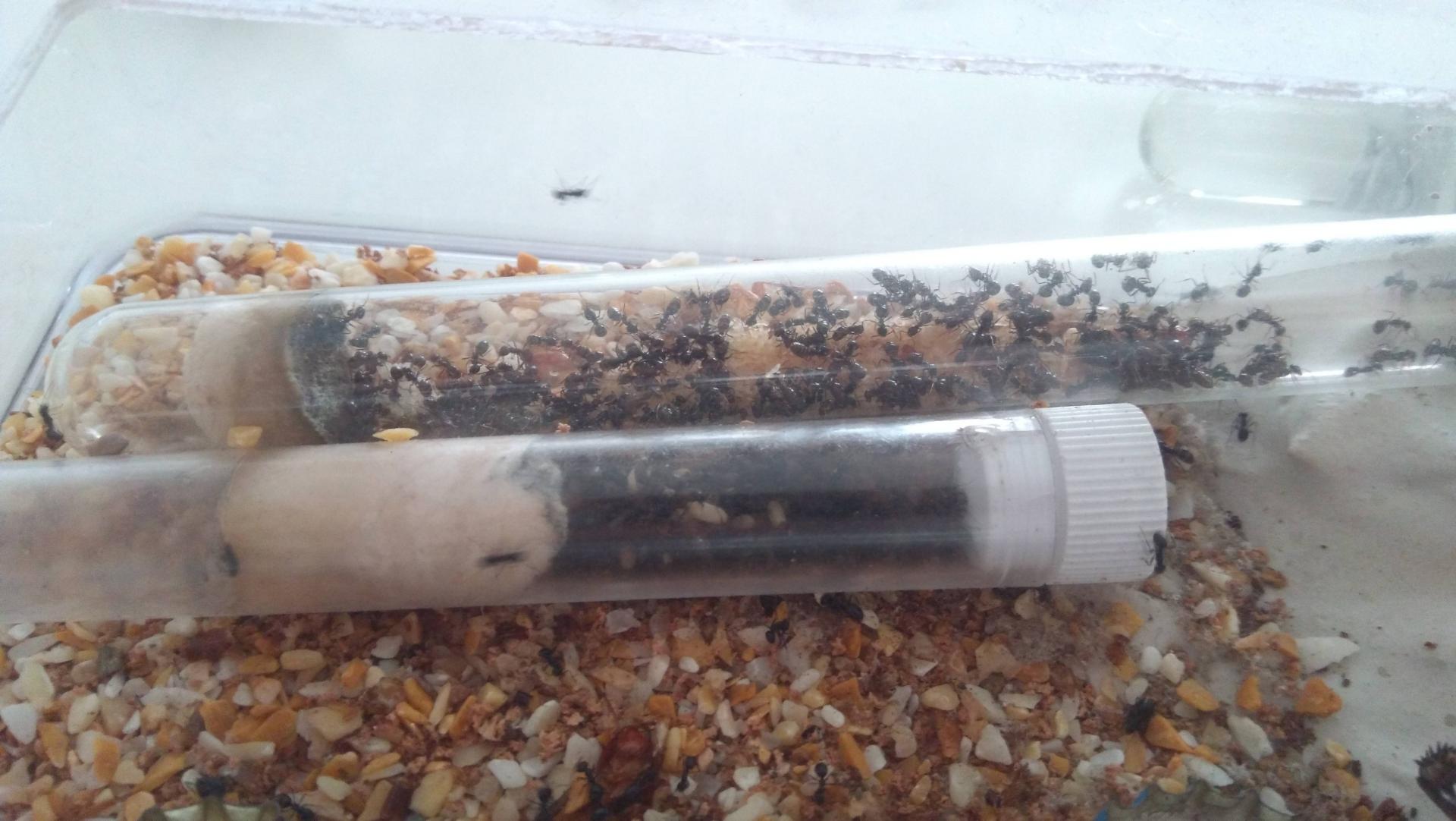 2021.11.29
I put the nest into my fridge. All the workers moved into the nest. Later counting had shown that there was over 1000 workers at that time. No Lasius niger workers were present. While cleaning the outworld I've picked two workers to show that L. fuliginosus have workers of slightly varying size - especially the head size can be different.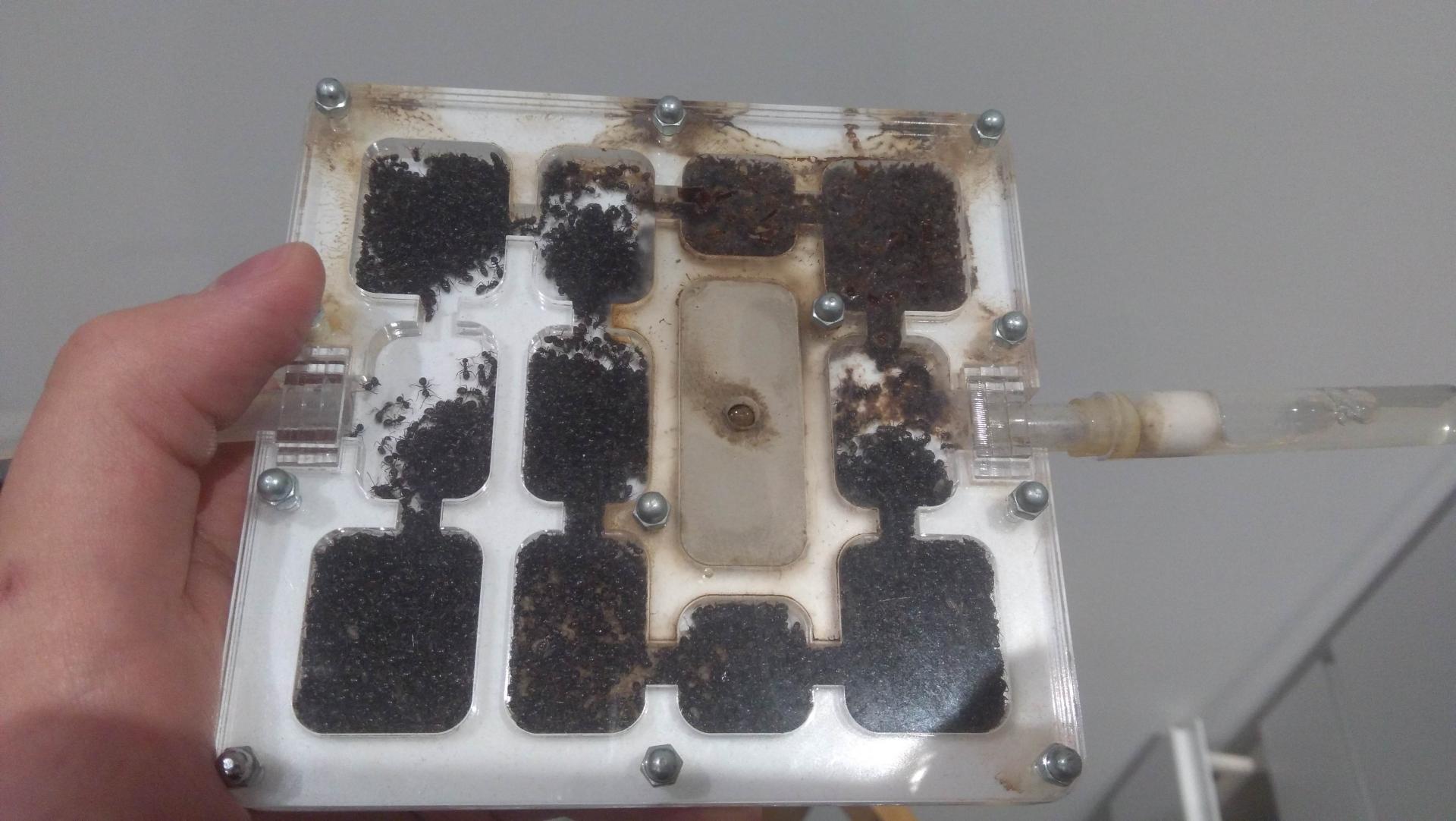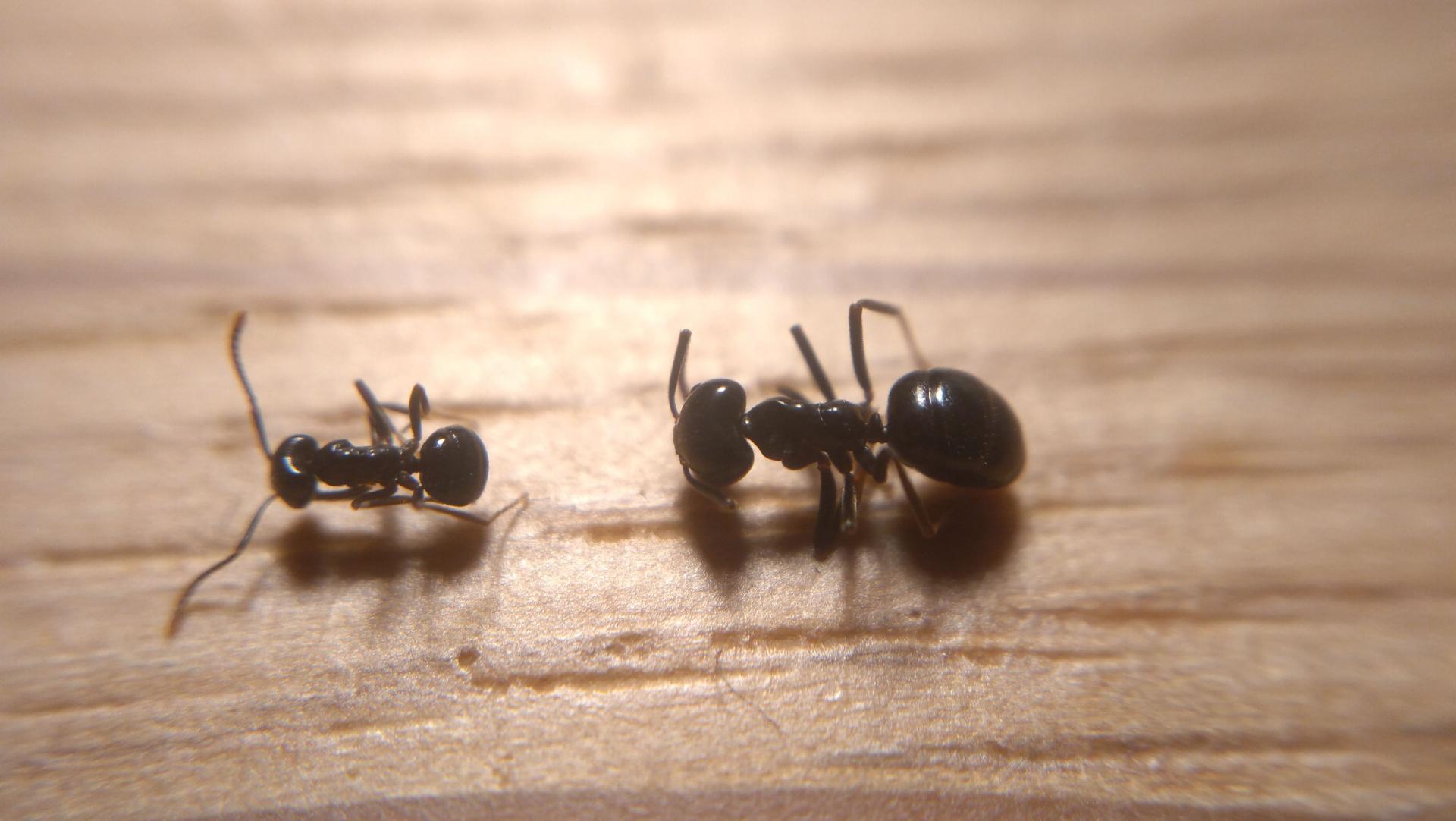 Third season
In this year I've placed the nest inside a new outworld and attached a new nest made out of cork and partially filled with rotting wood (oak, birch and pine). I wanted them to build their famous fungus-cardboard nest, they never built anything even though they had some wood/cork available before. This didn't work too, it most likely died early.
They have been taken out of the fridge on 2022.01.27. Three days later they have been placed in new outworld and quickly rushed to investigate new areas, especially new nest - but they didn't inhabit it immidiately, sometimes there was just few workers, sometimes hundreds with a bit of brood.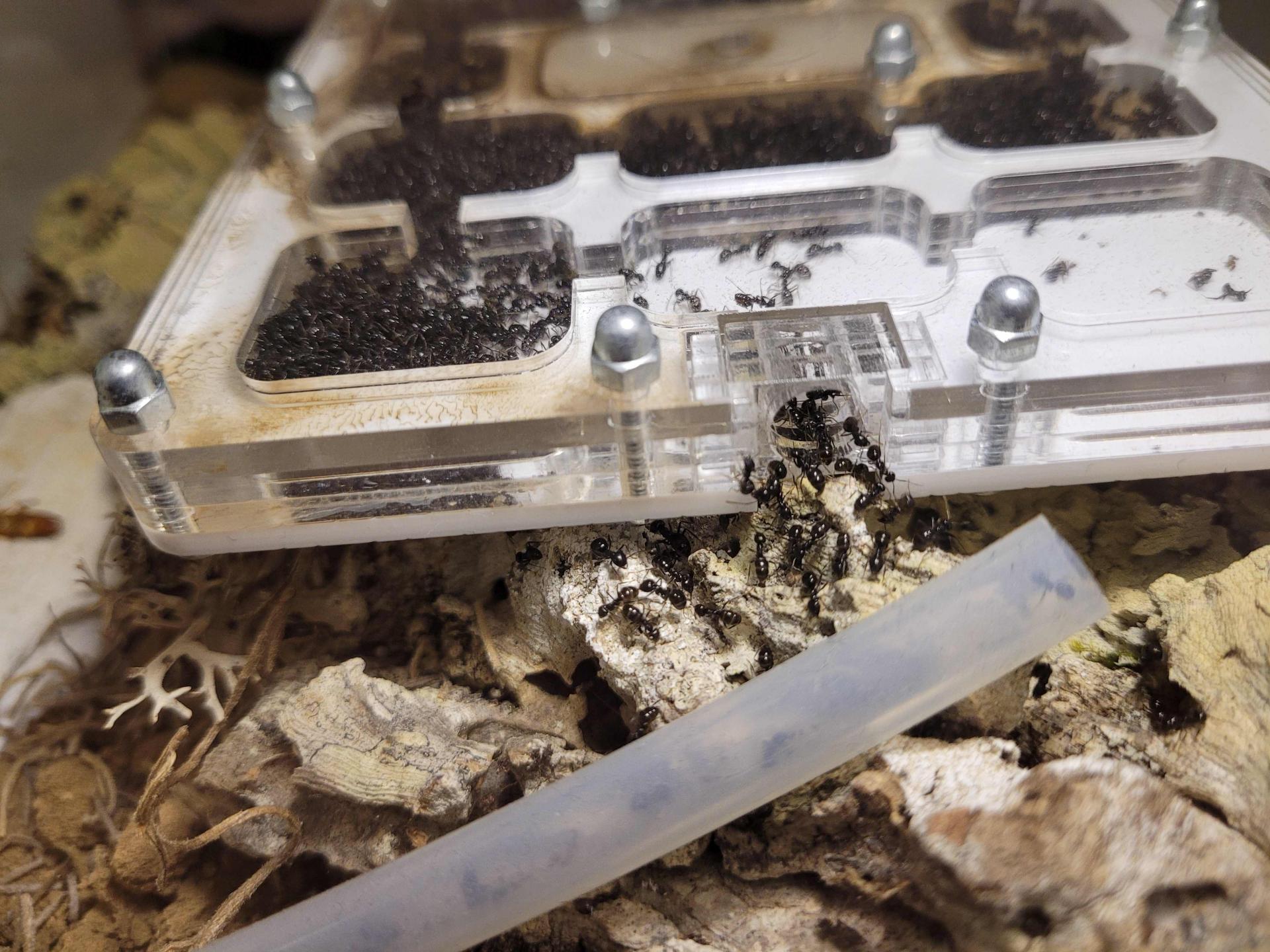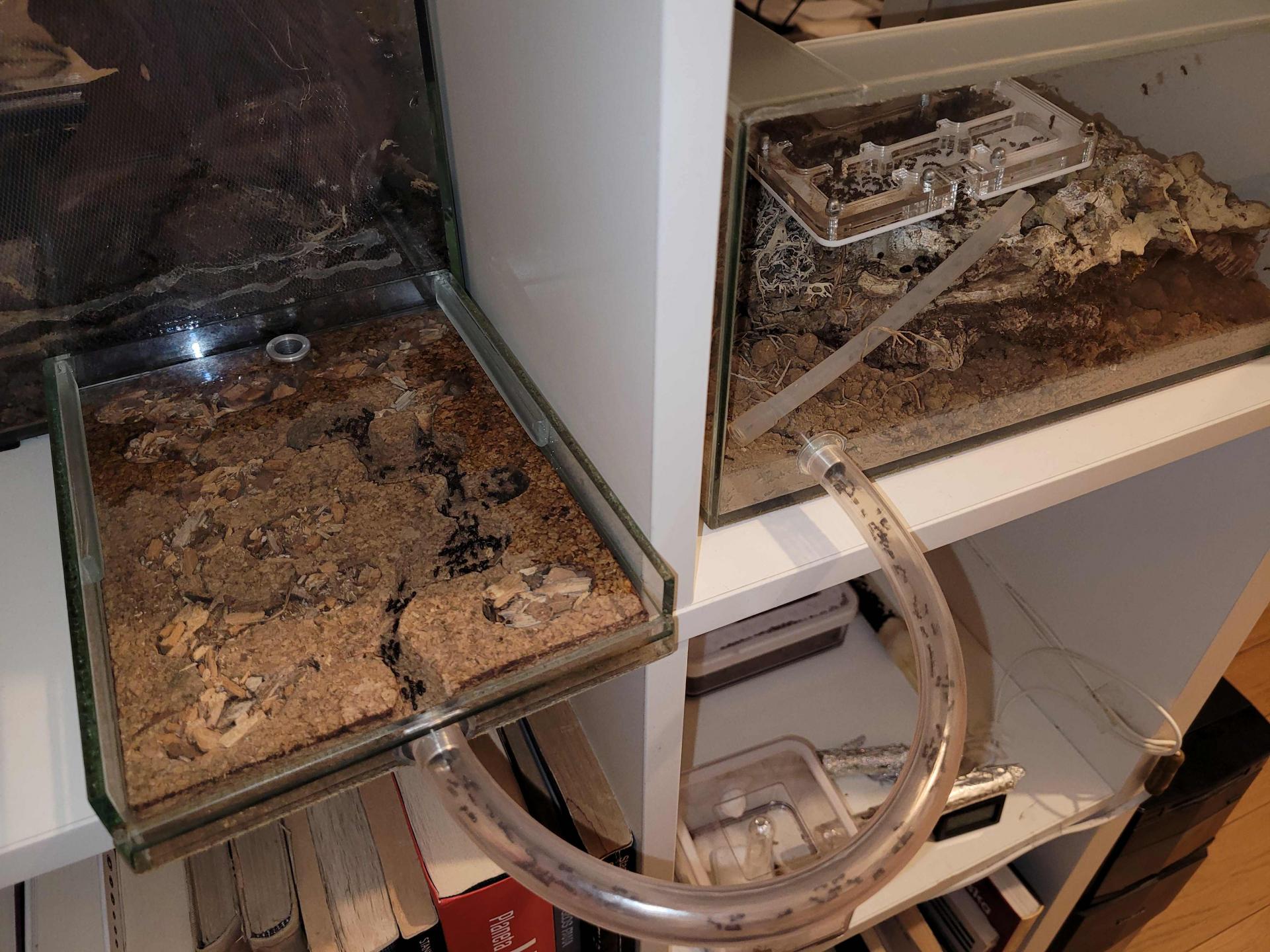 2022.02.01
First food of this season.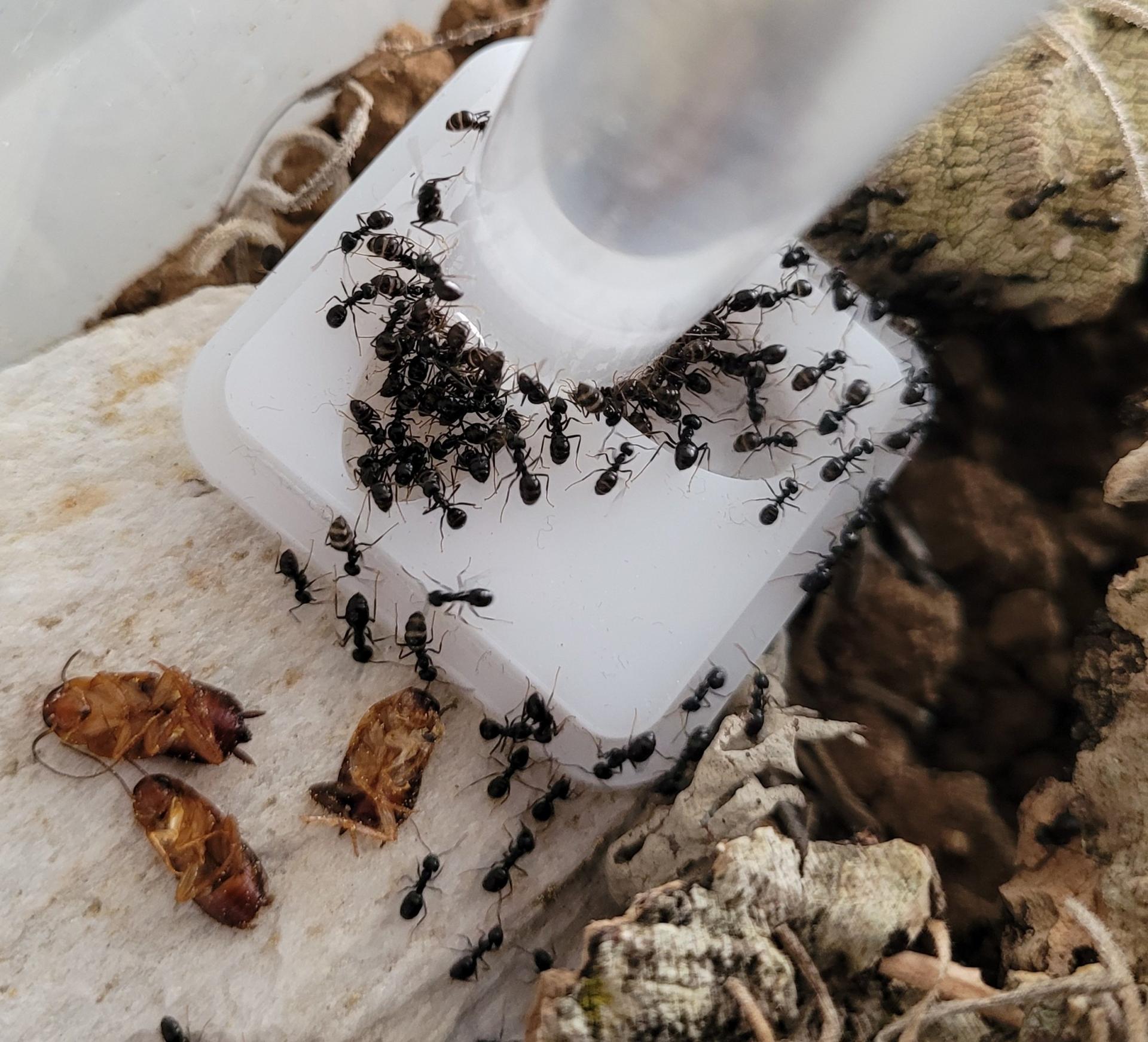 2022.02.17
Fist pupae of this season.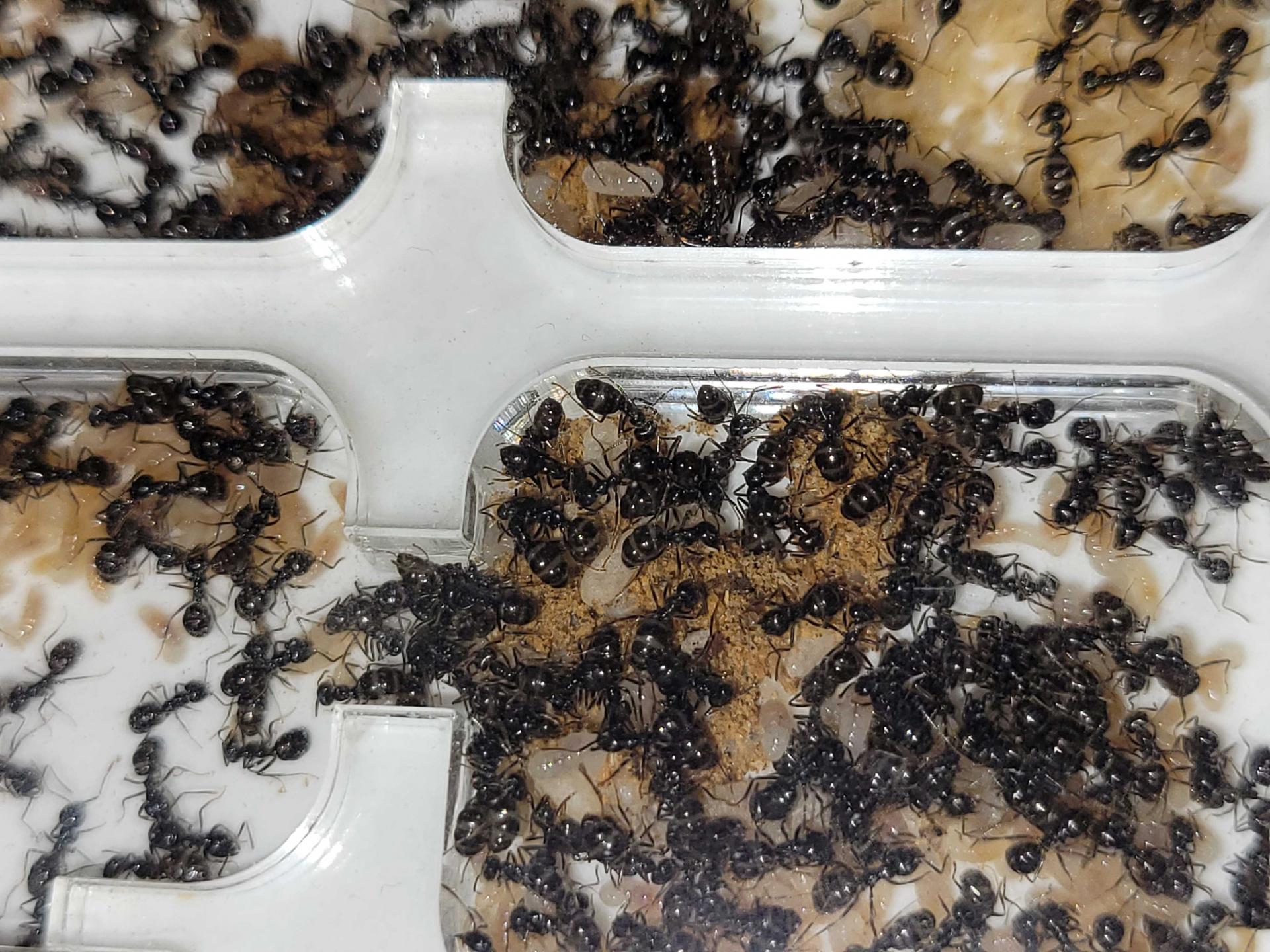 2022.03.03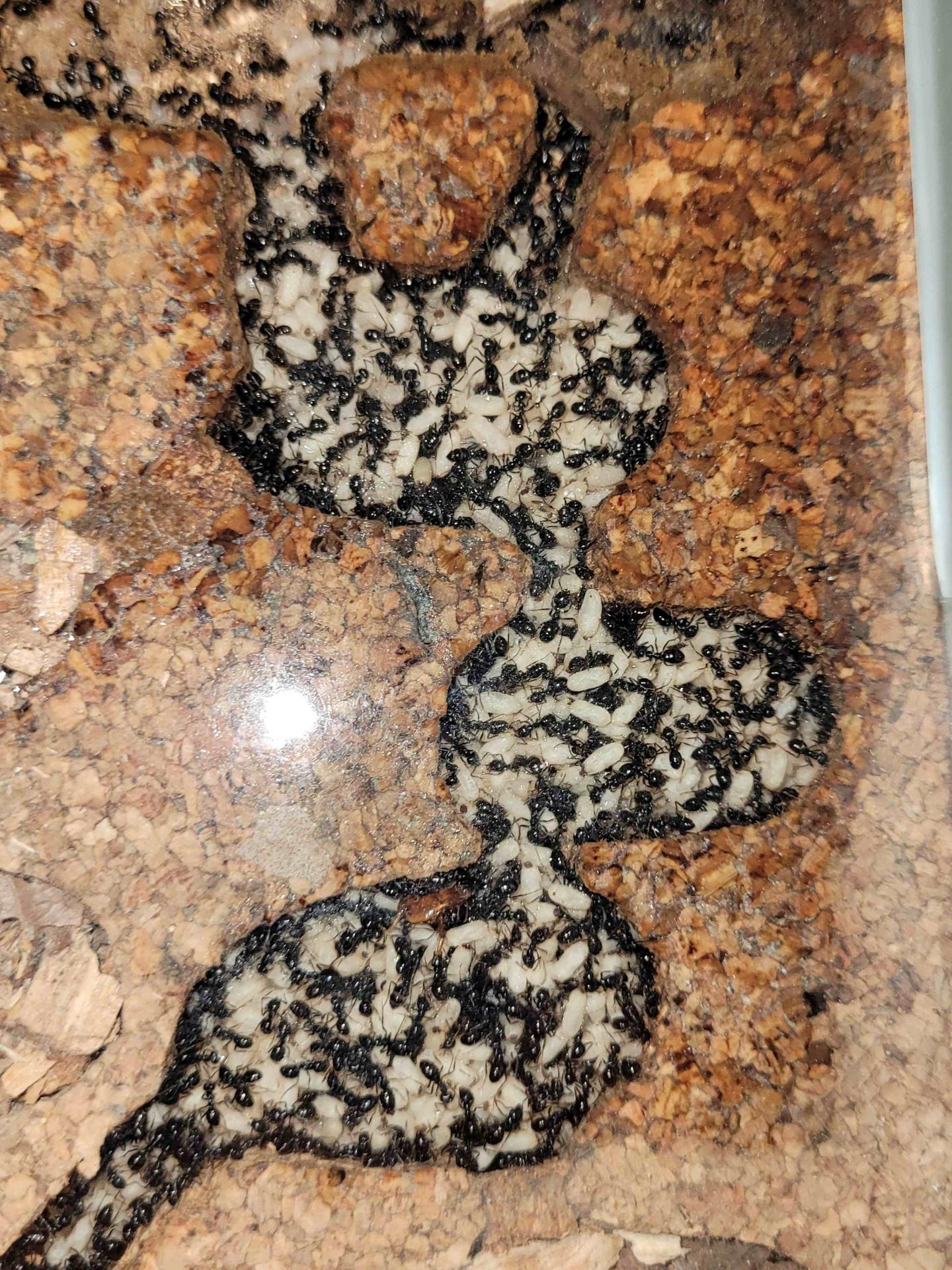 2022.04.13
Almost all of overwintering larvae had already pupated and hatched. The queen was busy laying eggs, her abdomen is so physogastric I am surprised she hasn't popped like a pimple yet. Due to barely any larvae present the colony is a bit lazy.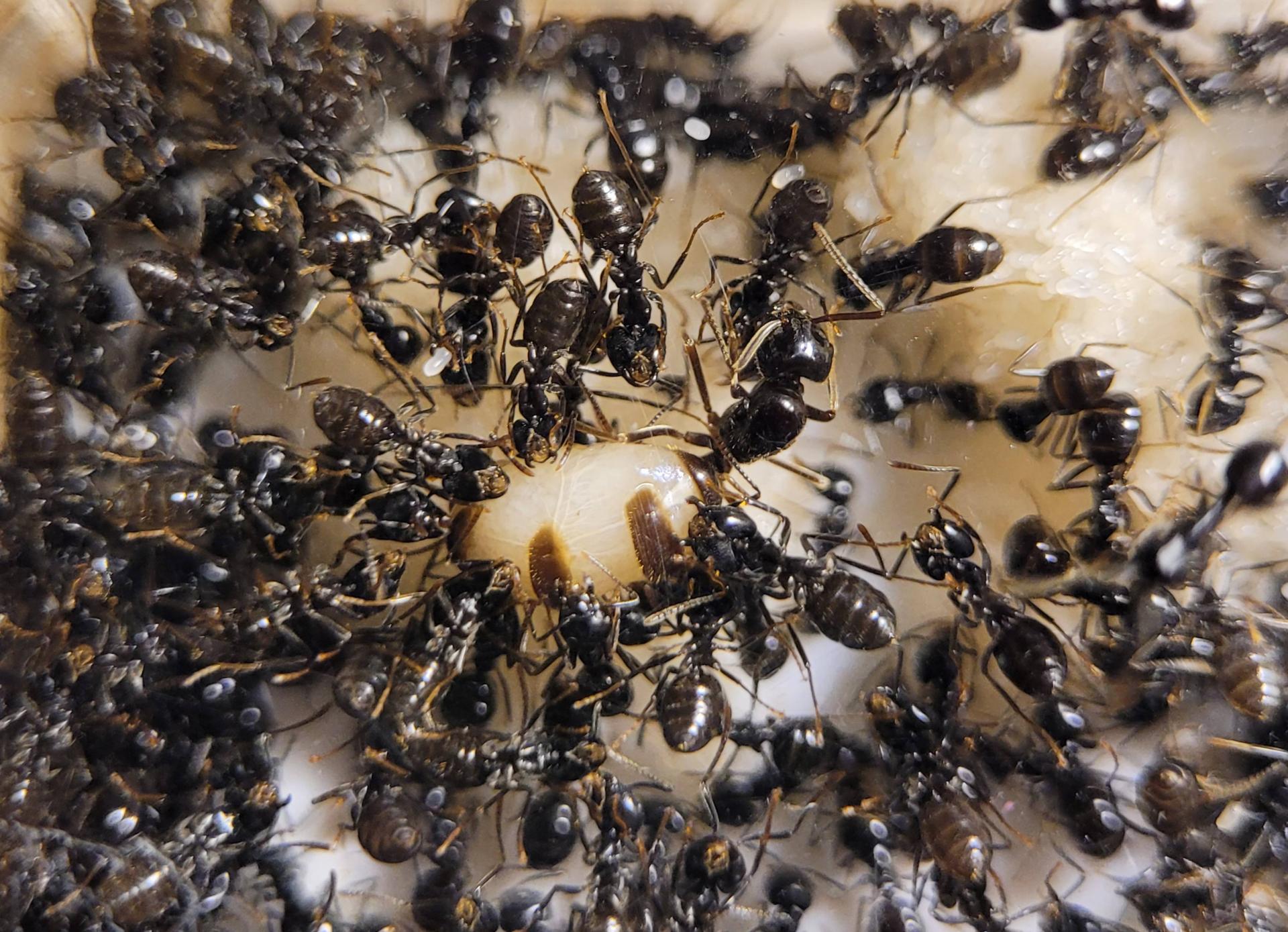 Edited by Kowal, May 8 2022 - 8:38 AM.