Hello everyone. I've been antkeeping for almost a year now, though I have had an interest in ants for most of my life and occasionally lurked here. When I purchased my colonies, I began writing several standard journals for them, but found the process tiresome. The pace of my updates began to slow down and I soon saw them as a chore more than anything else. Eventually I stopped updating my journals altogether and took a break from the forum. When I came back I intended to remain away from my journals but after a thread got me thinking about what I liked and disliked about the process of journaling I decided to try writing a general journal as opposed to a journal for each individual species. My intention is that this journal will focus on the highs and lows of my colonies' lives, the behaviors and care of my ants, and anything else that catches my interest about my colonies rather than logging their growth. A general journal like this isn't a unique idea, but I'm excited to see if this format will better fit my needs than individual journals. With my introduction out of the way, it's time for you to meet my ants. All of my colonies are near a year of age now, including Crematogaster sp., Liometopum occidentale, Veromessor pergandei, Camponotus absqualator, Novomessor cockerelli, Myrmecocystus mexicanus and Brachymyrmex patagonicus. I purchased all of them as queens or founding colonies with the exception of my locally collected Brachymyrmex patagonicus. In addition, I have a queen of Camponotus semitestaceous that got to pupae last season before losing her brood. After I kept her alive for months on only honey, I chose to give her another chance and nurse her back to health. Because I wanted to give her more individual attention than a test tube allows, I put her in a small deli cup complete with a honey and water cotton ball and regularly supplied cricket legs for protein. Although she spent months without laying an egg previously, the legs gave her enough protein to lay a new batch and she now has several small larvae. I'm interested to see whether I can succor this queen to getting her nanitics a year late and from there establishing a healthy colony.
My Camponotus absqualator colony is my newest, bought last year on November 4 from M_Ants at 6 workers. Although I'd heard that they are merely a smaller version of C. fragilis, they seemed to me to be slightly larger than my previous colony of that species and where my fragilis wasted away for an unknown reason, they have thrived uninterrupted. As they grew feeding them in their test tube became progressively harder and eventually I had to move them into a plaster tubs and tubes setup that I recently moved my Liometopum occidentale from. They've lived in that setup since then and once their original tube ran dry I added a second. They inhabit both now, wet and dry. Throughout this 250 day saga they have grown at an astounding rate for their genus. I would estimate that their size is now at 70 workers, but they pack together like sardines so I have no confidence in that guess. However, the most interesting aspect of their growth is that over the past several months they have hatched out four majors. From my research I believe that Camponotus absqualator is bimorphic, but there is clear size variation among the majors so I'm holding out hope for a new generation of yet larger majors. They are significantly larger than regular workers and sport massive muscular heads with vicious looking (and feeling!) jaws. Despite their obvious fighting role the colony seems more interested in protecting them than vice versa. They don't act more aggressively than a regular worker and will often hide away at the first sign of danger. Perhaps they will grow some backbones once the colony is larger, because otherwise I can't see them being any use. Useful or not, they are gorgeous ants and I took them outside for some pictures well lit pictures just before sunset. Until recently this would not have been possible but a week ago I applied fluon to each of my colonies' outworld, using a mini vacuum emptied into a fluoned container to contain escapees. This process is rough and killed several ants but is faster than aspirating and doesn't expose my lungs to formic acid produced by some of my colonies. Nevertheless, I'm considering buying an aspirator as a less harmful alternative. Without further ado, here are some pictures and clips of this beautiful colony.
This worker is engorged with honey, almost like a replete. The way the light plays off the honey in her gaster reminds me of Myrmecocystus as well. She wandered around like a normal worker, but during my time watching her I saw her feeding a sister worker through trophallaxis.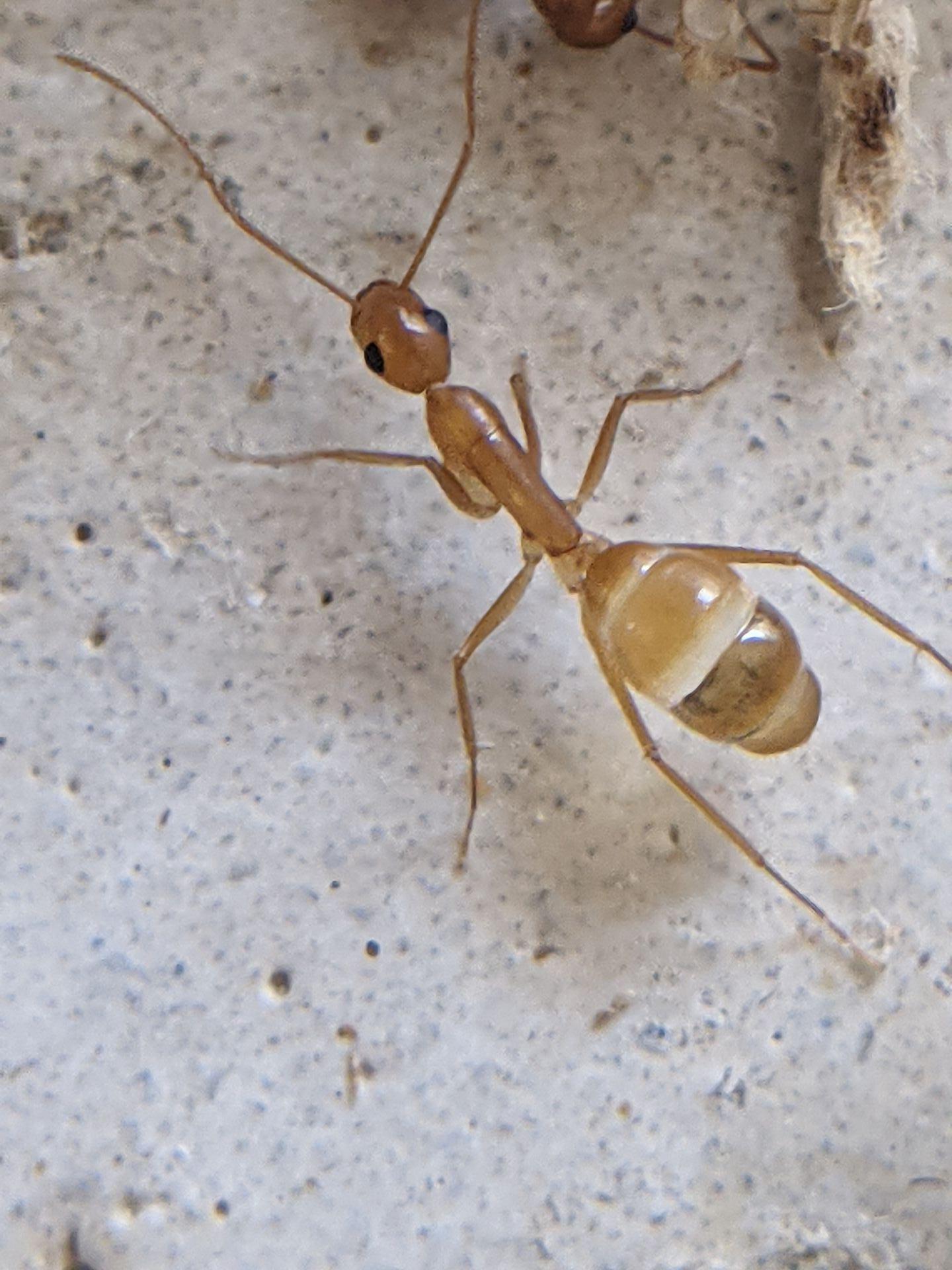 Here is a major standing amidst several minor workers. Notice how the major's immense head size moves her eyes from the sides closer to the middle of her head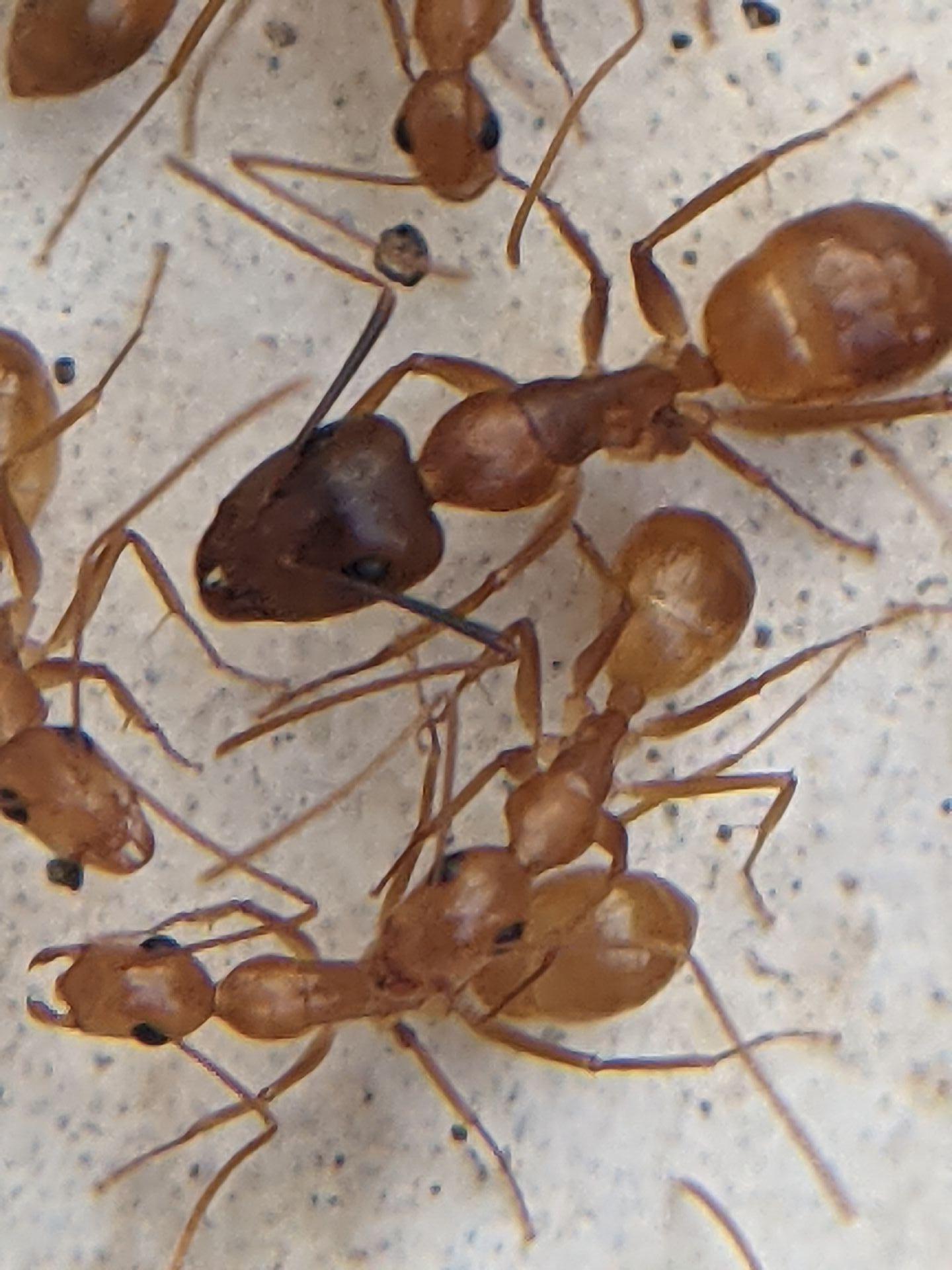 This is the entrance to the colony's two tubes. The original rests in a cavity formed in the plaster to hold it while the other is pushed between it and the side. Unfortunately, despite taking precautions when I inserted the second tube it still crushed a worker against the floor. Within days the colony managed to extract the flattened corpse from under the tube and dispose of it. The colony has only used the second tube for water up until recently when they began to put brood in it though it is unable to fit the full colony. They aren't too picky about where the put their brood and will sometimes leave pupae on the ground outside the nest altogether. I have a THA Nucleus coming in the mail for my Veromessor pergandei and when they have been moved out of their Fallen Fortress it will be passed down to this colony.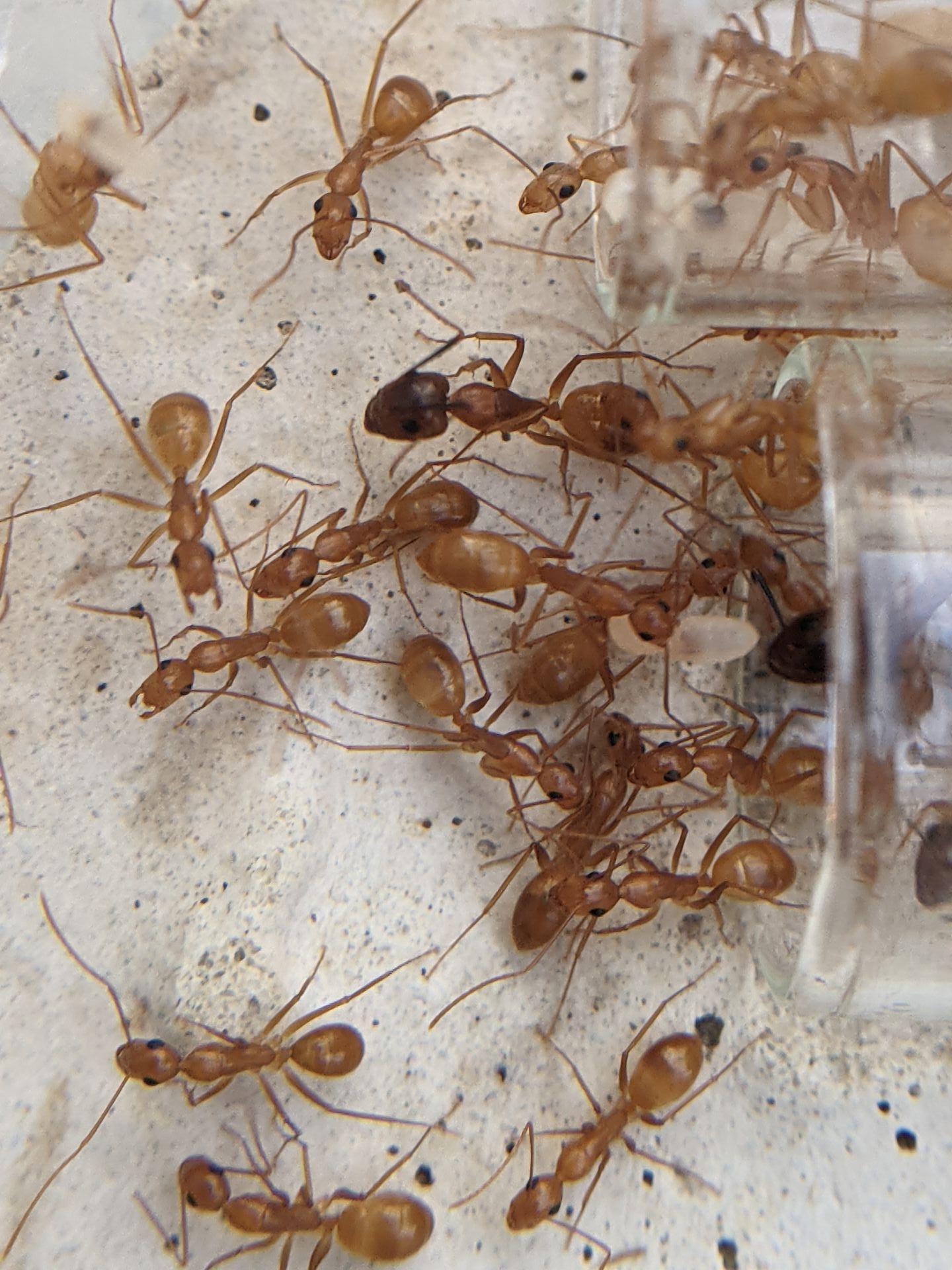 A wider view of the nest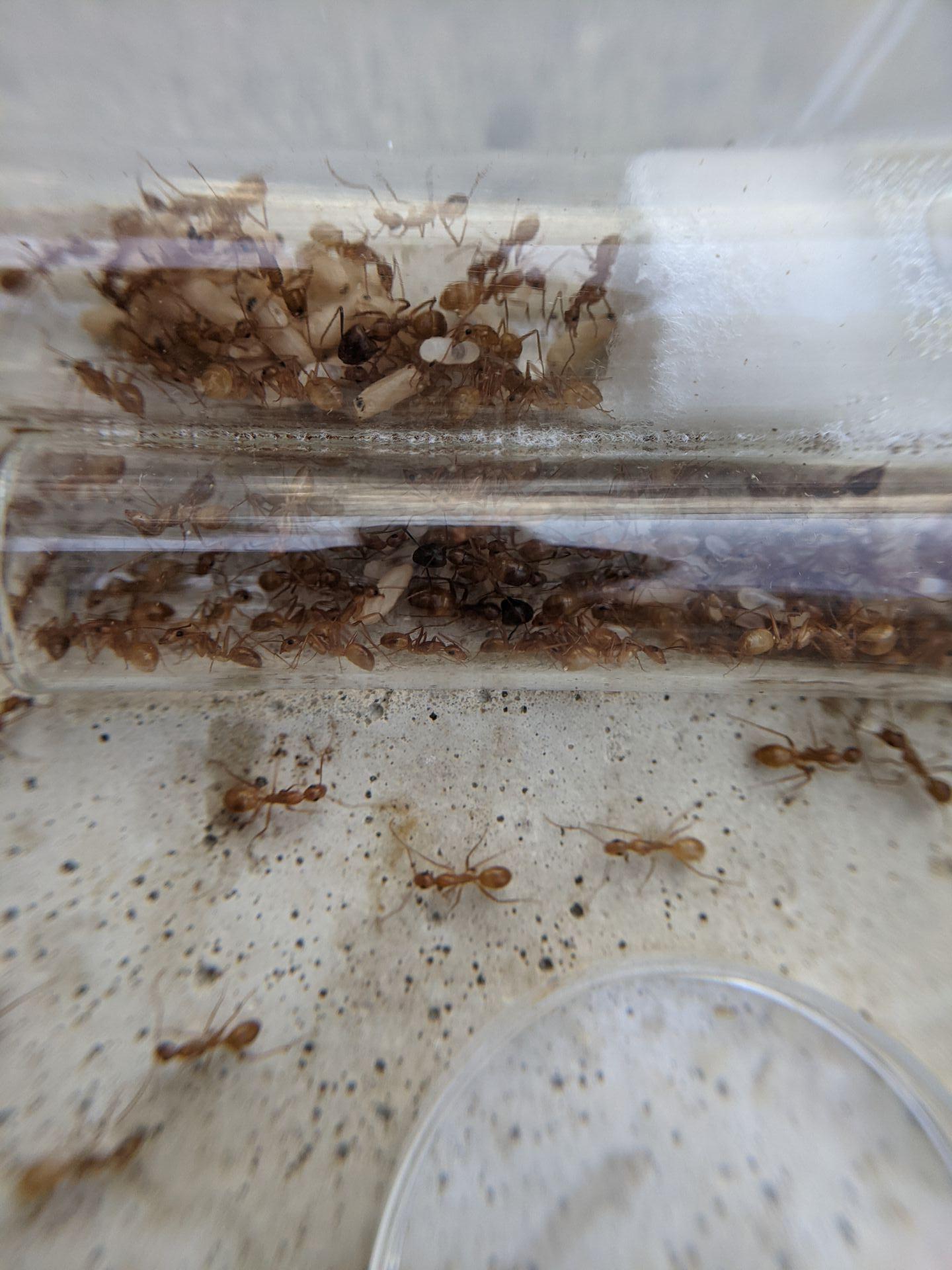 Here is a gif of one of the majors moving to show how FAST these girls go when scared, despite their size. Under their feeding dish you can catch a glimpse of their mysterious volunteer cleaner crew which I believe to be booklice. They seem to be harmless, but have taken over many locatgions in my room with worrying ease including the dried oat dust at the bottom of an old mealworm container and a bone-dry graveyard formicarium.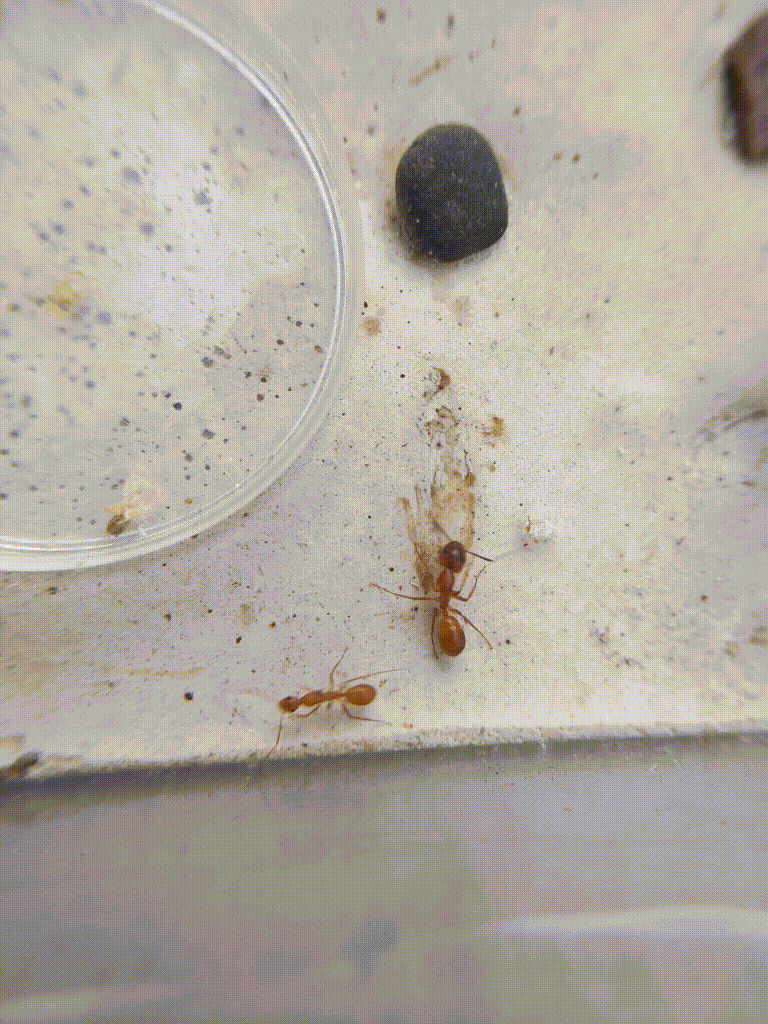 I tried to get a picture of the queen as best as I can, but the glare was bad and the roof of the dry tube is covered in cotton fibers so this was the best I could get.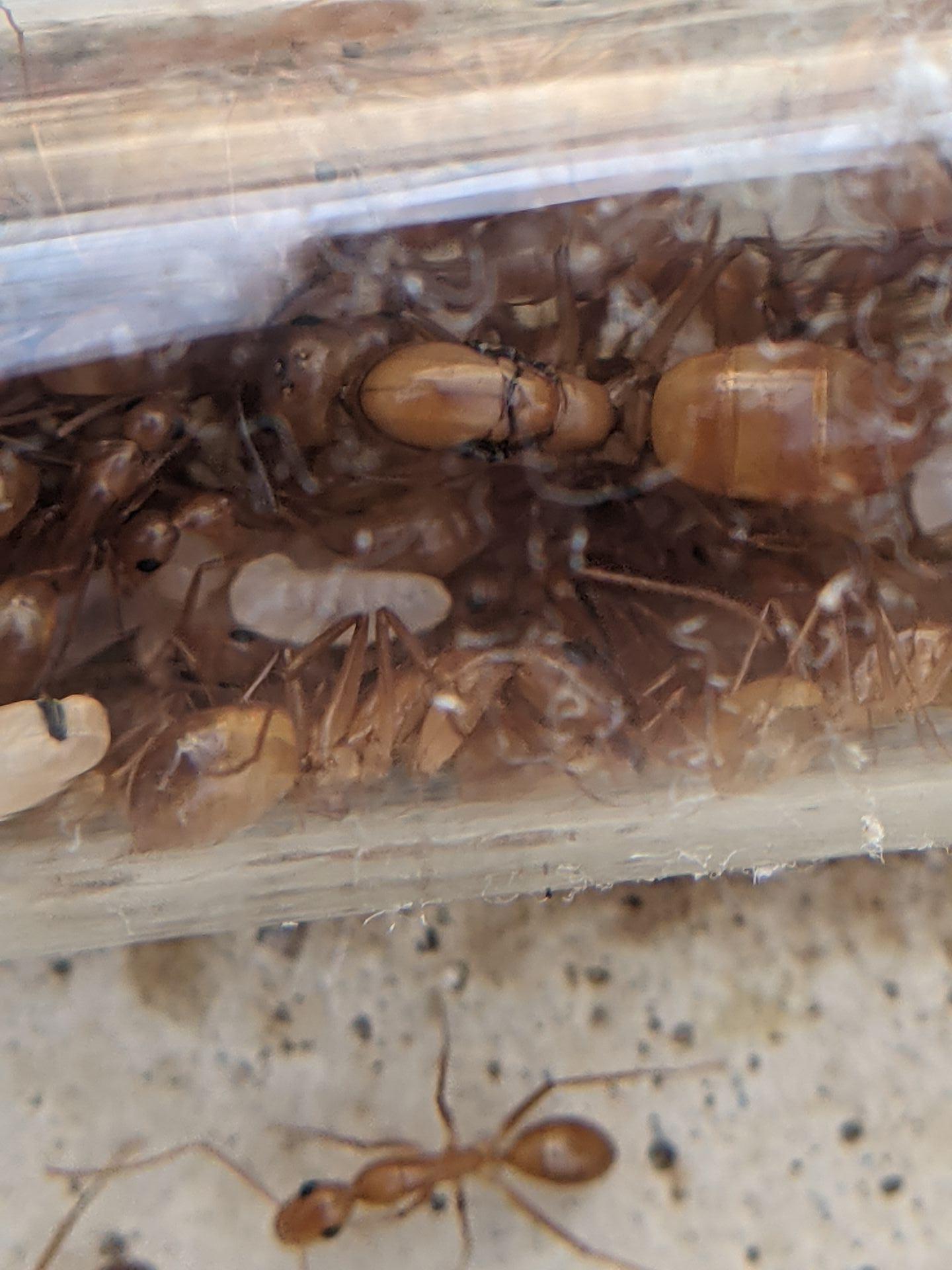 Finally, I present a major and some minors walking around in their wet tube. This is probably my favorite capture of the day.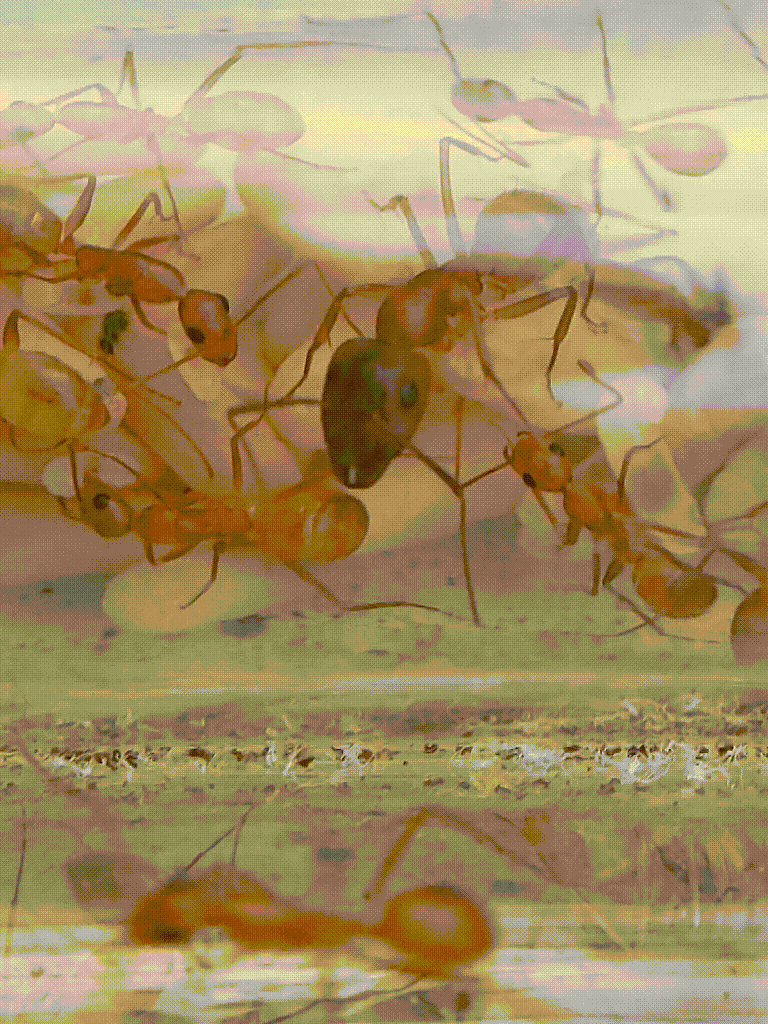 That's all for the first entry to my journal. For my next post I'll give a tour of my Novomessor cockerelli colony. I would like to thank you all for reading this far. Discussion and advice is welcome.
Edited by TestSubjectOne, July 12 2021 - 12:31 AM.