Ok a little back story with Myrmica specioides in general. Myrmica specioides is an invasive species from Europe along with M. rubra, I'm not exactly sure when or where it was found in North America or how exactly but for Vancouver and the neighbouring municipalities they assigned a Dr. Rob Higgins to deal with the problem, mainly the more destructive Myrmica rubra.
I don't remember when M. rubra was first discovered but M. specioides was found here from specimens turning up in 2011. In 2013 Dr. Higgins found a way to discern them from native Myrmica and M. rubra; M. specioides had an abruptly bent scape. By 2014 a survey had been conducted and found Myrmica specioides at 38/40 municipalities here (Myrmica rubra only found in 3/40).
Myrmica specioides was dubbed the impressive fire ant because of their abundance at YVR, which during their nuptial flights attracted a bunch of birds which ate the ants, and birds don't mix well with planes. By 2014 Myrmica specioides was a well recognized invasive ant, that is until the genetic testing they did, where they received mixed results, with some specimens keying to Myrmica scabrinodis, as of now they're ironing out the details and trying to figure out if they are indeed M. specioides or M. scabrinodis or both.* (Hence why I constantly use cf.) Anyways that's how the story here goes, M. specioides by now has been found in Washington state, Oregon and California.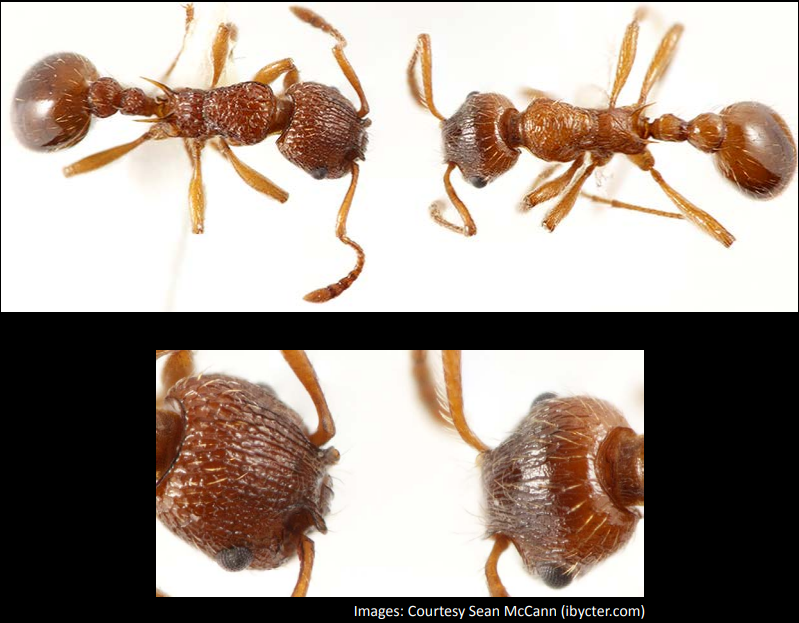 Myrmica specioides (left), Myrmica rubra (right)
*Note: Myrmica specioides and Myrmica scabrinodis are easily confused, it's very likely that certain specimens (Especially earlier specimens) of M. scabrinodis are M. specioides and vice versa.
The M. specioides I have match pretty closely a M. specioides specimen from France. Whether it is actually from France I have no clue.
RRR
Specimen from Antweb
A few personal notes:
I've known this Myrmica species for quite a while, I believe since around 2008/2009 but only recently found out it was M. specioides. I noticed it after a mature colony was moving their nest in my backyard, the fact that it was a mature colony leads me to believe that M. specioides has been established here for a while. It's abundant in sub urban areas and grassy areas that, moisture does not seem to affect where it nests. It nests in soil and seems to prefer nesting under rocks. The architecture of the nest chambers resemble those of termite gallows, lacking clearly defined tunnels and chambers
At some point I collected a portion of a larger colony that had two queens and put them in a small dirt setup, the nest was constructed with two layers: A top network of tunnels with no chambers, and a bottom network of tunnels with chambers, connected by a few tunnels. In the wild I've noticed that they constructed lots of tunnels but chambers or brood of any kind was rare unless it was underneath a heavy object that was firmly stuck in the dirt. I'm not sure if they employ the two layer type of building the captive colony did, although due to the fact that they like to nest in open grassy areas it's a possibility. Entrances are simply marked by a loose pile of dirt or an inconspicuous hole in the ground, because of their tendency to form a layout of shallow tunnels, nest entrances are constantly changing.
(Sorry no photos of that colony

)
Workers forage independently and do not trail, the radius seems to be around 5 meters, they do not trail but will recruit workers if needed, in some sort of tandem trail. Around 8 workers will leave in a trail to the designated area. They also prey on aphid alates.
Their main competitors here are Lasius alienus, which is one of the few species that thrives in suburban areas, the two species often nest in close proximity but avoid conflict. M. specioides main form of defence is physical barriers, where they will cover up their entrance or debris, one colony I found made a large wall in a chamber Lasius alienus has breached but also had a fair amount of workers on standby behind the wall of debris, the front row in particular was very cramped with workers lined up in a straight line, with heads facing towards the wall. M. specioides workers also release a mushroom smelling odor when disturbed and members of the colony relay the scent. So one worker makes this odor and the rest follow suit. I'm not exactly sure what the purpose of this odor is. If all else fails they will evacuate. The only times I've seen Myrmica specioides fight L. alienus was over root aphids on dandelions, workers will gather en masse around the nest entrances while columns of 8 or so workers will walk to the designated location. I have not personally witnessed a fight as most of the times the Lasius seem to be driven out quite quickly and mostly takes place underground. M. specioides readily picks fights with Tetramorium.
They tend to be very swarmy when provoked, but don't sting very easily. I've only ever got stung by these ants around 7 times during my lifetime. The stings aren't very painful either, it's like a small pinch but it does get very itchy.
Nuptial flights take place from late August to mid September. It's quite common for colonies to gather alates but not fly, I've found quite a few wings shedded after these 'pseudoflights' near the nest entrance but I'm not sure if they're mating in the nest or what. In the case of a full flight, female and male alates will launch themselves into the air, and find mates while in the air and drop to the ground mating. Males mate by mounting on the back of the female while trying to stick their gaster from the side into the gaster of the female. I've noticed other males will attempt to attempt to pull other males mating with females with their small mandibles while trying to mate with the female. The females proceed to find somewhere to hibernate for the winter and will found colonies in the spring.
Now onto everything else.
Anyways this colony also had a peculiar history. Basically I found a queen wandering about during the spring of 2015 I believe, I brood boosted it and kept it yada yada. She laid eggs multiple times but none ever developed into larvae, anyways during the fall of 2015 on September 15th I believe, M. specioides had a nuptial flight and I started a colony with 8 queens and some pupae. That didn't end up well either, the queens never settled down despite the workers and I ended up killing them in a really nooby mistake. Fast forward and it was the spring of the following year I found 3 queens roaming around. Remember the first queen? Turns out she was infertile and just disappeared one day. She had 8 or so workers and some male larvae by the time of her disappearance, I dumped the workers with the 3 queens and they started a colony, a really successful one actually, lots of eggs, at one point the egg pile decreased and I noticed one of the queens was picking fights with the others, who did not fight back. She ended up killing the other 2 queens single handedly. I think she ate her rivals' eggs but I have no proof.
I was planning to start a journal after getting more alates from the 2016 Nuptial flight but I missed the flight.
December 30th, 2016.
I don't remember when I exactly hibernated them. They definitely did, just not sure when, might have brought them out just for this photo, I don't know.

May 3rd, 2017
June 20th, 2017
Myrmica specioides produces female alate brood with overwintered larvae (I think, I've found up to 90% of all the brood after they emerge from hibernation being female alate brood) and added them to my colony out of curiosity. Most of the larvae didn't eclose into female alate pupae but something like a worker with queen features, they were usually killed. I had one male from the brood but I killed it for reasons. Half of the alate brood just developed into slightly larger then average workers, these were not killed.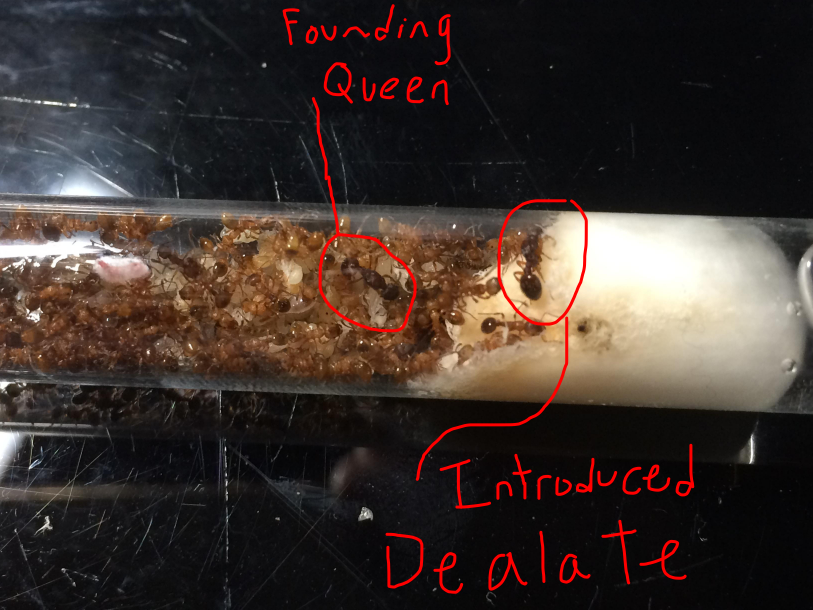 July 13th, 2017
I managed to introduce a dealate to the colony. Not a queen just a completely random dealate.
August 26th, 2017
The alates would occasionally help out with work or come out to feed by themselves. Although the wild ones do not do this, they sometimes help evacuate brood when the nest is disturbed.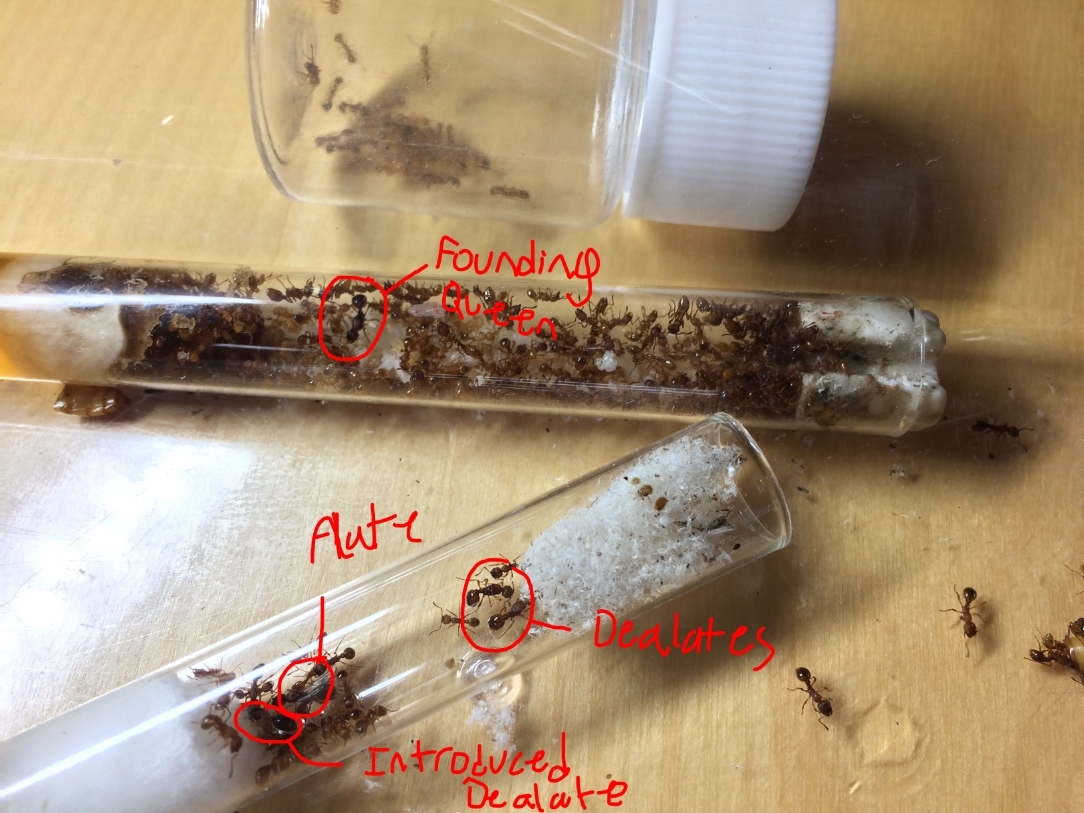 (BestAttemptAtCloseup

)
August 30th, 2017
As of now this colony is producing one alate larvae for whatever reason. The dealates rarely ever go into the main tube housing the founding queen, but the alates do as they please. No idea why some chose to take off their wings while some didn't
dontyouhatemakingatopicandtheneditingitatonoftimesafterbecauseofbrokenlinksandgrammarmistakesorjustclarificationingeneral?
Edited by LC3, July 14 2020 - 6:17 PM.