Hello,
new ant keeper here.
I only very recently got back into it.
In my youth, I kept a small colony of Formica polyctena (wood ant) in a large homemade Formicarium/ Outworld in my room (for about 3 years) and even won the state science fair with my studies I did on them. I had always been fascinated by ants, even as a little kid!
Now fast-forward 30 years, and I am rediscovering my love for these animals.
I actually was looking online for another shrimp tank / Wabi Kusa to display in my living room, but then by pure accident, I came across all these amazing ant setups.
So I decided to get back into it!
I did some research (getting out all my old ant books, including the classic, "The Ants" by Hölldobler and Wilson, watched tons of Youtube videos) and haunted some forums), so I could decide on what I wanted to do.
I also thought it would be great to join this forum and start an ant keeping journal- to keep all my information, success and failures in one place and to also receive some input, constructive critisism and have some nice chats and discussions with all of you, the more experienced keepers.
It will also be a great place to come back to and to document the growth of my colony.
I wanted to start with a beginner species, and I remembered the cool harvester ants, which I watched during a holiday in Spain. So I relatively quickly decided on keeping Messor barbarus. This is also a quite pretty species, I have to say!
As for which setup, in the end, I bought a small starter set from Antstore (because it really looks pretty and professional!) and after watching some videos from Bruma Ants, I also wanted to try out an acrylic nest (just in case you are wondering about this weird mix). So on one shelf in my living room, I set up the AntCube, connected the acrylic nest with a tube to the AntCube, installed a small heating mat at the back of the DigFix- farm of the Cube and then set about looking for my colony.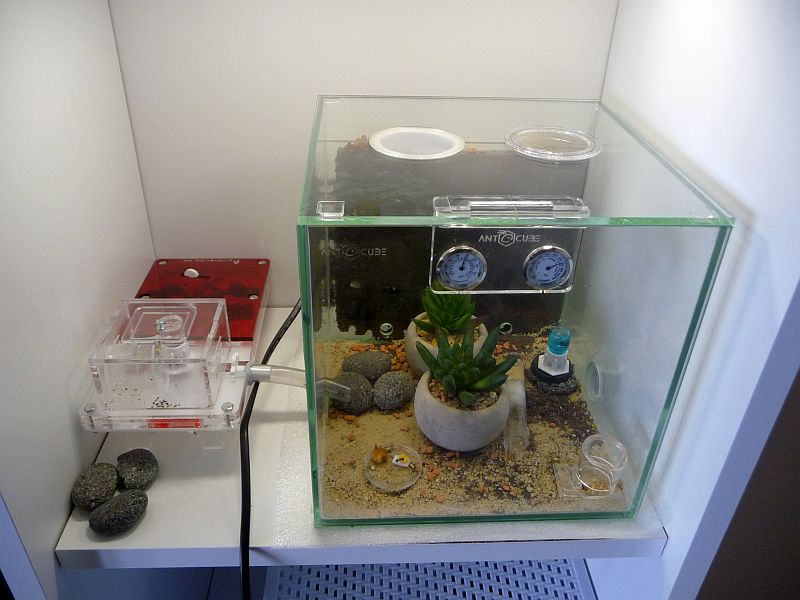 I also added a couple of LED spotlights to the top of the shelf- these are not for permanent lighting, but for me to feed and clean and to take pictures and to watch the colony. They are off most of the time, especially when I am at my full-time job.
On several forums, it is recommended that beginners start out with a larger colony, larger than the usual queen and 10 workers which are sold online. I have seen that on a German trading side, German ant keepers were selling ants, so I contacted one of them. I was very positively surprised by this transaction- the seller was very responsible, he obviously cares for his animals very much, and I had to send him pictures of my setup and my credentials and he asked many questions to make sure I was up to it. I have heard very bad things about animals being sold online (or buying puppies at car boot sales!), so what a nice experience this was. The German keeper sold me a small established Messor barbarus colony with around 150 workers for my starting setup. He even sent me a small plastic cup with the excretions of the ants, to add to my new formicarium, to establish a toilet site and to keep their home scent.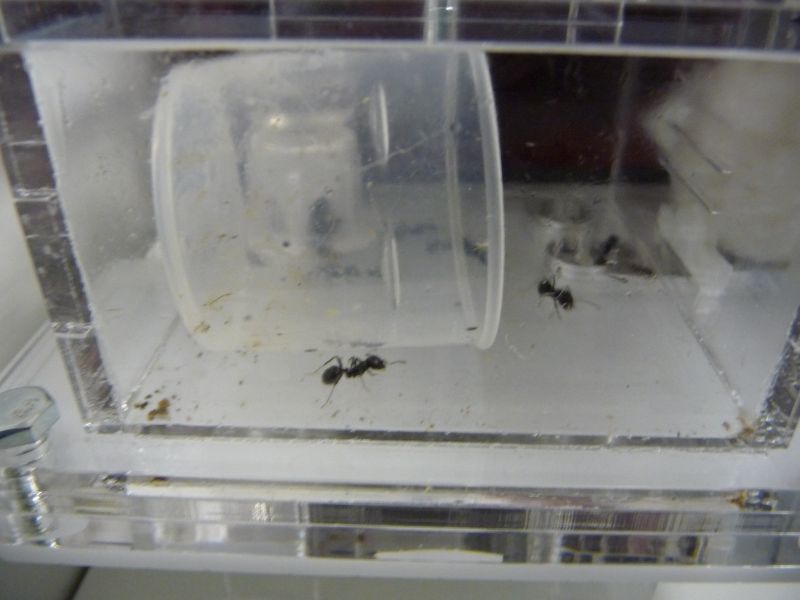 We had the ants shipped overnight, and the transport went smooth and they arrived at my place safely and I only found ONE single casualty after arrival.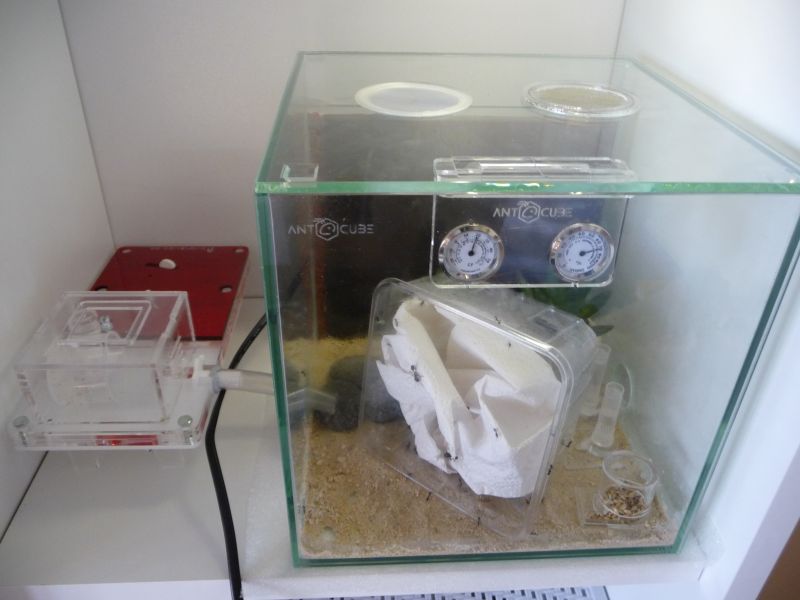 For the first few days after arrival, for some strange reason, the ants decided to live in the connection tube connecting the AntCube with the acrylic nest.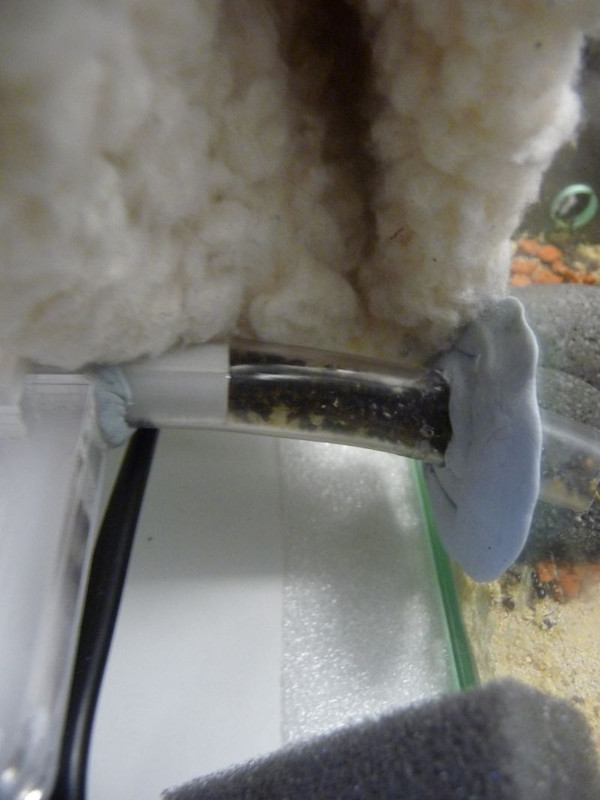 A rare glimpse at the queen: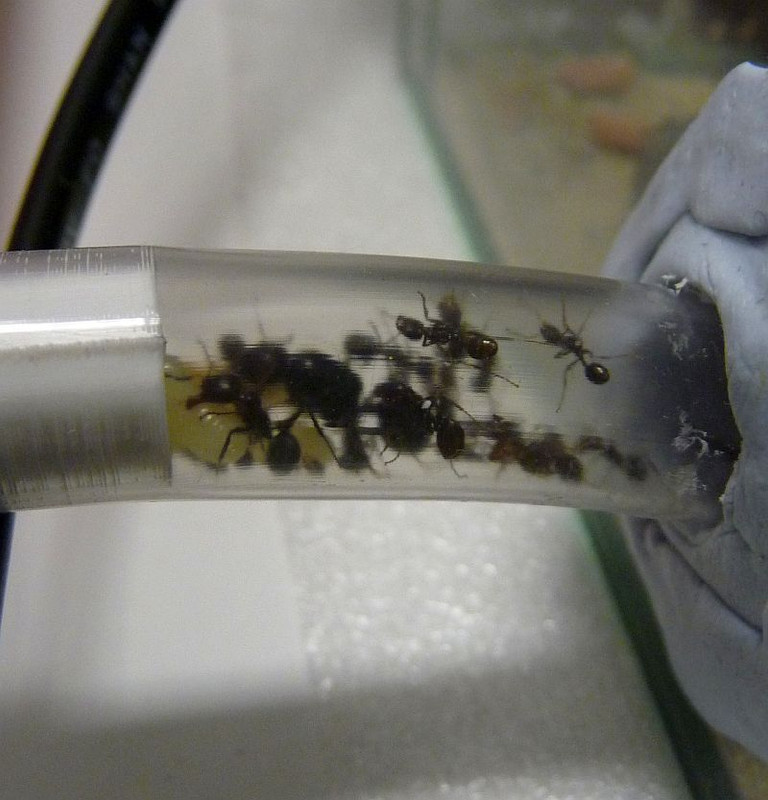 They never were shy, they immediately took food and water, they used their plastic cup toilet and they started digging in the DigFix of the cube.
I was pretty sure, they would move into the AntCube and enjoy the warmth of the heating mat.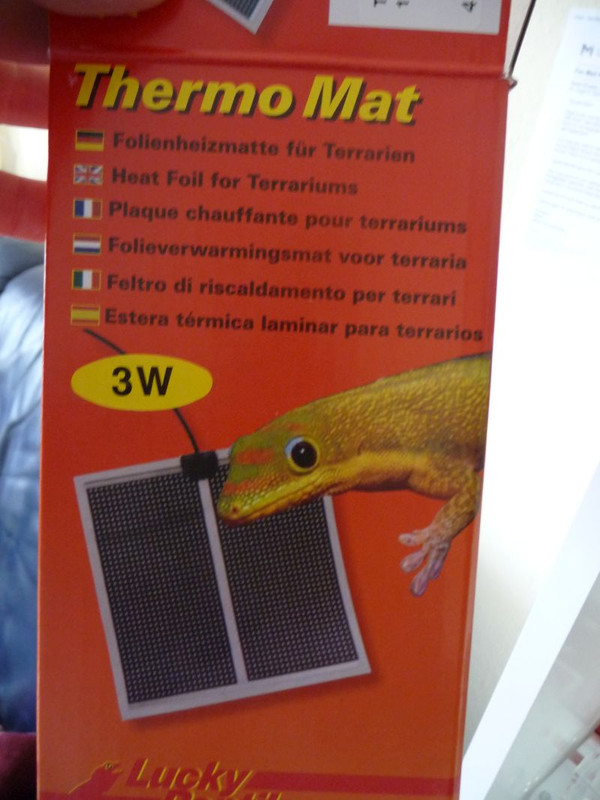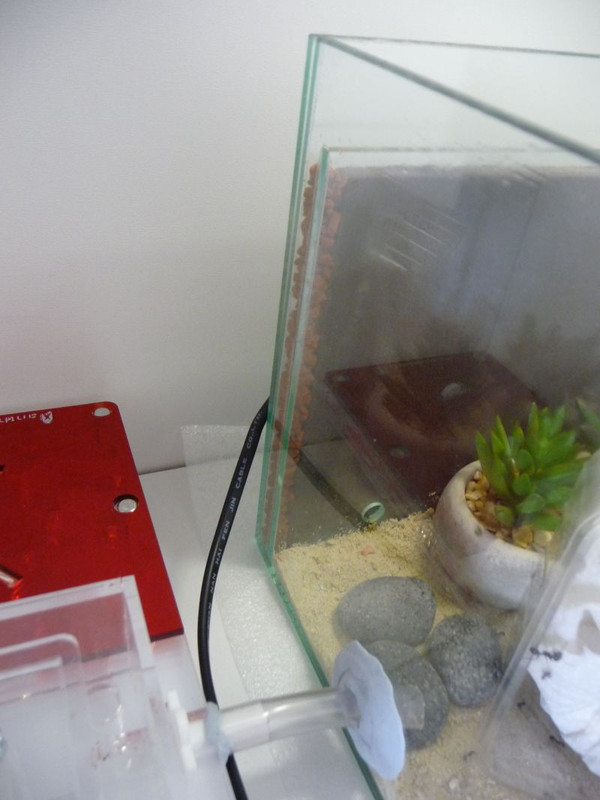 In my living room, it is 20 degrees Centigrade, and it can become warmer if the sun shines in the afternoon (the ants are kept outside any direct sunlight, though). I have a flat under the roof, so in deep winter, the living room will only have about 16-18 degrees centigrade (energy saving!!!) and in summer, especially a hot summer like last years, it can be around 30 degrees centigrade. I am not planning on using the heat mat on hot days, though. Looking at these temperature ranges in my flat, this should actually be pretty ideal for keeping Messor barbarus!
But then, what happened?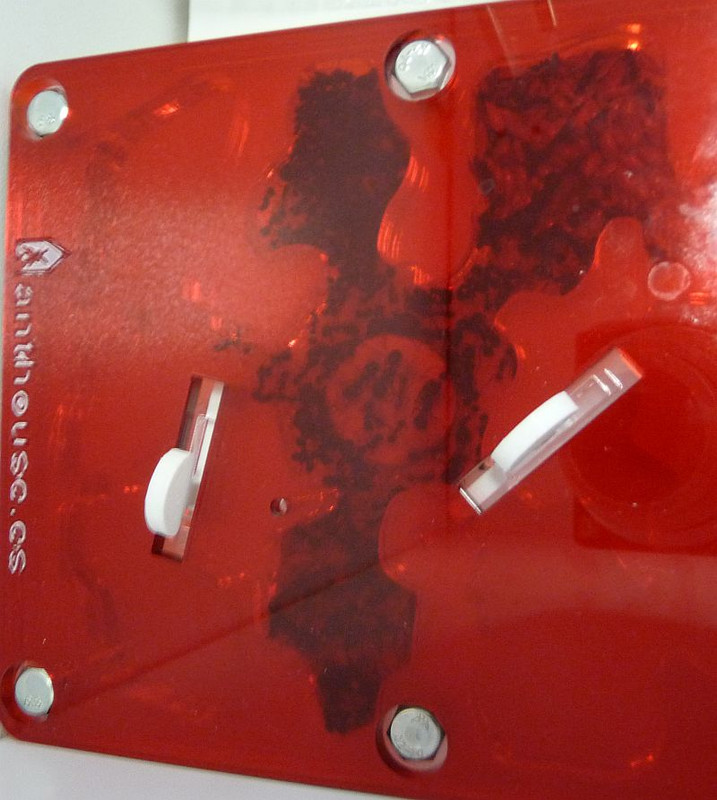 The ants for some reason defied my expectation and instead of moving into the heated spa area, they moved into the acrylic nest. The acrylic nest! Which I thought would be end up as seed storage or rubbish dump!
Anyone has any ideas why?
I have been feeding them a whole range of mixed seeds (from the Antstore, some bird seed and seed the seller of my colony sent me), they also got some sugar water (which is not popular at all and only lone individuals visit on occasion), they got some pieces of organic walnut from our family orchard, pieces of organic egg from my dad's chickens and I also bought them some protein fruit jellies (which they ignore). They even had some steak and a piece of chicken last week, which they both swarmed.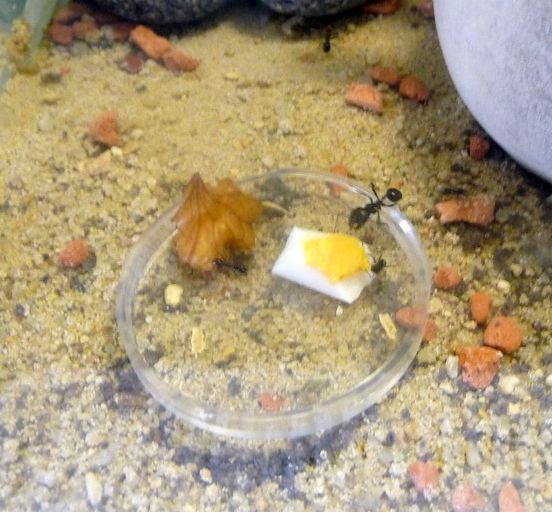 The harvesters are very interesting to watch, they appear to be very clumsy. It took them a while to figure out how to pick up a round seed and how to transport it.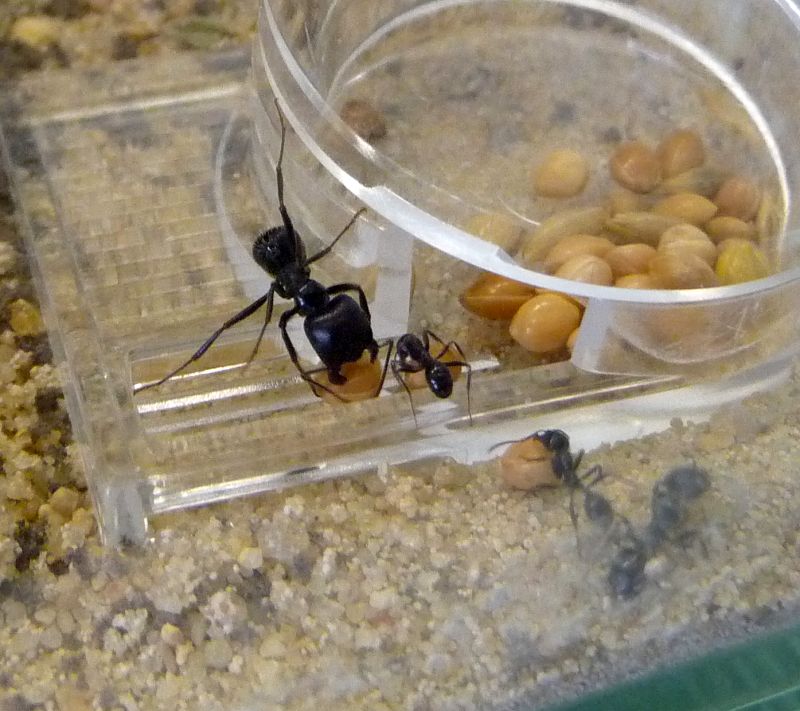 They are also not very shy or stressed or even aggressive- when I open the lid, I think they by now mainly expect to be fed. I had been asked at work if these ants would bite. I said yes, the big majors could break the skin (since they also crack seeds). To demonstrated to my colleagues, I actually tried it out and had a large major climb on my fingers- but nothing really happened. The major got bored and started cleaning herself. So I reported back to work that my ants were not really the biting type.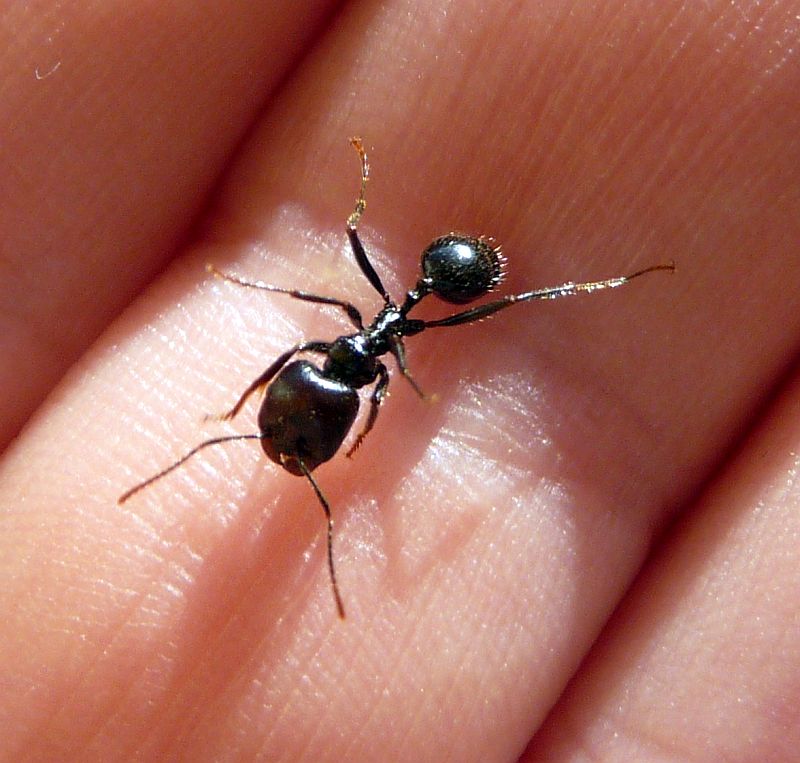 So this is what we are at today- one week after arrival.
The ants live in their acrylic nest, a small detachments digs some tunnels in the DigFix, a few workers patrol the outworld for food.
They even have started to create some rubbish dumping sites: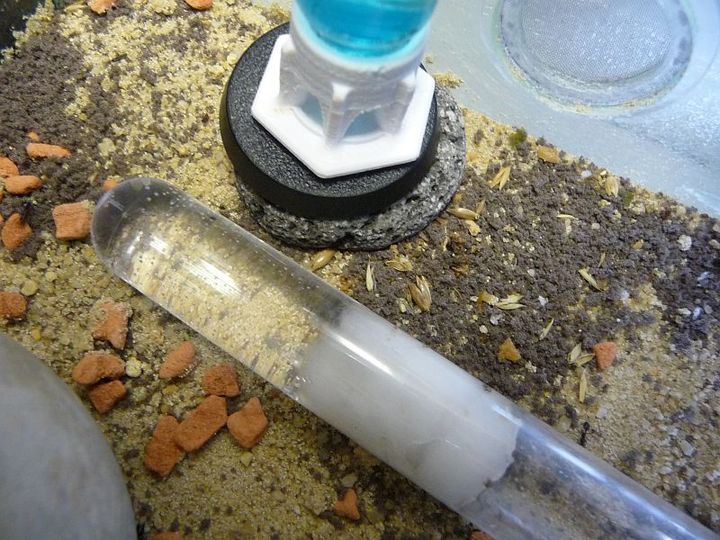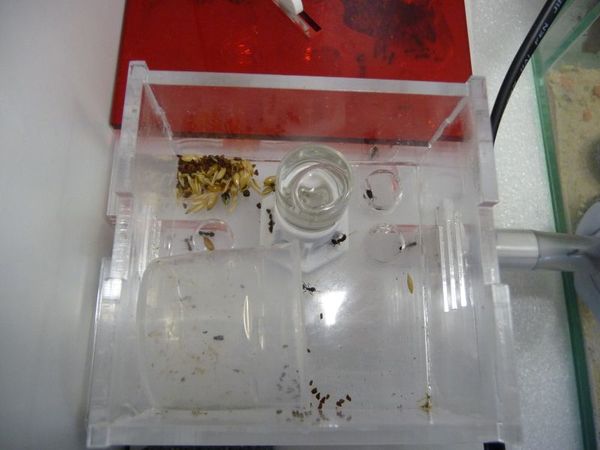 Edited by Ernteameise, April 1 2023 - 9:02 AM.