After many years of waiting, i finally managed to get my hands on a termite i alway wished to keep: Hodotermopsis sjostetdi!
This very large (soldiers in mature colonies can exceed 2 cm) and archaic termite species is found in souteastern China, Vietnam and a pair of southern Japanese islands, where it lives in humid forest inside damp, decaying wood, however they quite readily explore and dig in soil if needed and are even capable of building shelter tubes, though this behaviour has so far been observed only in captivity as far as i know. They can form quite large colonies for such a basal wood-dwelling species, exceedin 10000 in strenght.
Until just a few months ago, these termites were included in the tiny Archotermopsidae family along with Archotermopsis and Zootermopsis (the latter of which is surely well-known to many users of this forum due to its predominantly north American distribution), but as now they've been reclassified as the only member of a brand-new family, Hodotermopsidae.
The ones in the pic are a small group i recently isolated in a simple petri dish setup from the "main" colony (kept unmolested in white-rot wood pieces half-buried in soil) for observation.
I've got this species just three weeks ago, so finger crossed for their continuous growth and health!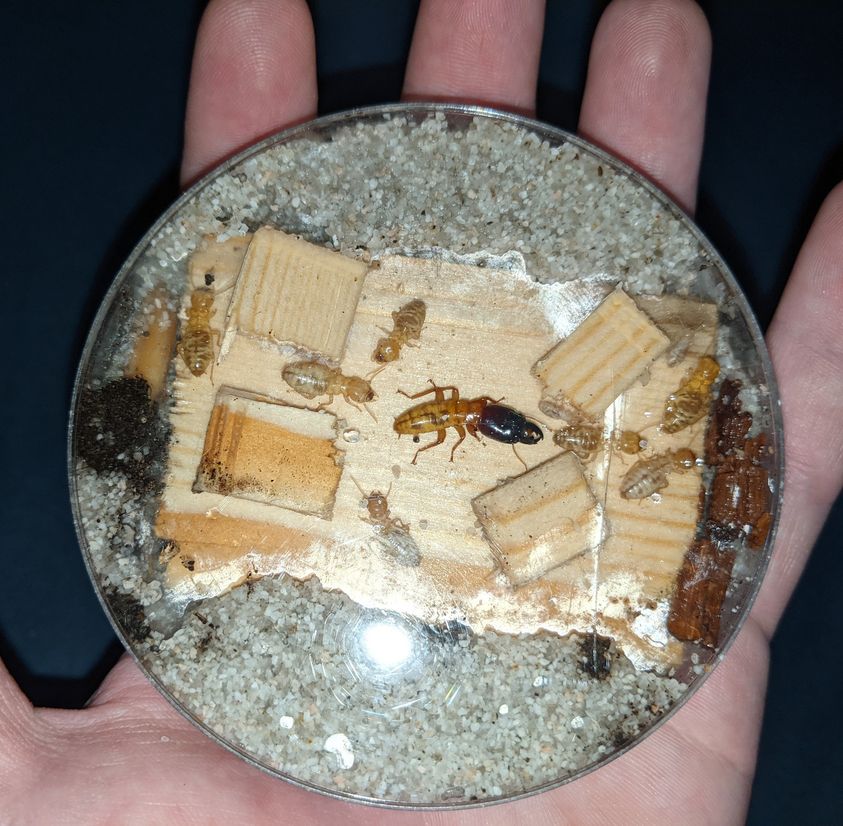 Edited by ItalianTermiteMan2.0, December 31 2022 - 12:45 PM.