Update 8-9-2014
Chromerust
and I showed up in the desert Sunday 8-3-2014 just after a rain storm went through dropping a decent amount of rain. At first we noticed none of the
Acromyrmex
nests were open, and they were nowhere to be seen, but later that night they all started opening their nests and rebuilding their mounds. We could see plenty alates popping their heads out, so we knew they should be flying soon.
We woke up the next morning around 8 am, and already we could see
Acromyrmex
males were flying everywhere, with the occasional female in the swarm. I quickly gathered up my things and headed over to the trees where I know they all like to dig their nests. At this point there were already plenty dealates digging founding chambers, so I looked around for the ones that still seemed to be wandering around. I collected quite a few of them and put them directly into test tubes for fear of them spitting out the fungus pellets inside the containers I keep them in temporarily. They flew again the next morning and that time I noticed there was this one pile of dead bushes and debris that the males were all swarming around and the females would show up there and mate with a few of them on the ground and then fly off once finished. I can see they seem to only like digging their nests in partially shaded areas like under trees or large bushes.
Acromyrmex versicolor
males swarming.
Acromyrmex versicolor
alates mating.
Acromyrmex versicolor
queen digging her founding chamber.
These queens chose to start digging their founding chambers right into the side of a loose dirt clod laying on the ground.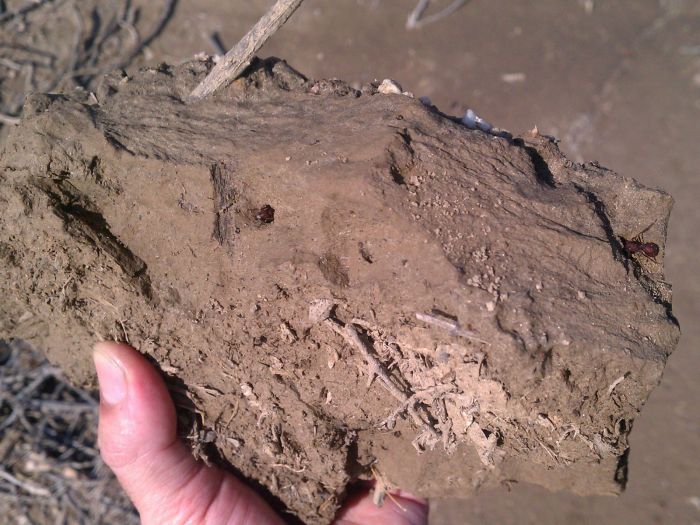 Later that day I noticed that plenty of them had dug their founding chambers right above the spots where my bucket traps were placed. Before leaving, we tried retrieving a couple of the traps, but I forgot to bring a metal detector so I just could not figure out exactly where they were without destroying all of the founding chambers above them. We decided to leave them and come back for them later with a metal detector; it's possible there will be even more founding chambers out there by then anyways. I ended up staying one more night, and the next morning there was another really small mating flight that took place again.
This is what the Ironwood trees look like that most all of the
Acromyrmex
in this part of the desert seem to nest under.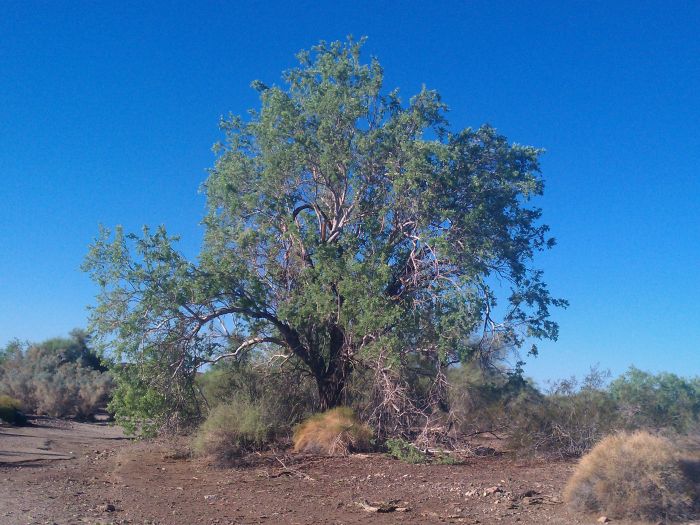 Once I got home I checked all their tubes for their fungus pellets, but wasn't finding anything. Finally, about two days later, I found a few of them had spit out their pellets.

The third day I checked them all with my microscope, and could only find what I knew for sure were fungus pellets in about a quarter of the tubes. I also noticed a lot of what looked like it could have once been the fungus pellet in some. Unfortunately, I could only find a few that looked like they had a tiny bit of fungus starting to grow on them, and I couldn't even find the one in the picture above anymore. Some of the queens when disturbed, would pick up the pellets and it looked like they were destroying the fungus that had started to grow on them, so it's probably best not to disturb them at all during this process. A few times I noticed the queen would put the fungus in the cotton and get it stuck in some of the strands, and then while trying to pull it loose, it looked like she was damaging it pretty bad. I have a feeling this might be what happened to a lot of the other pellets, and probably explains why I was seeing pieces of what looked to once be fungus pellets. Next year I will definitely have specially designed alternative founding setups ready for them ahead of time to avoid this problem. I'm probably going to try to quickly put something together and move the queens and their fungus into them. We'll just have to wait and see what happens from here. Also, tonight
Anhzor
and I are going out to retrieve the bucket traps.