Heyo everybody, hope everyone is doing well as nuptial seasons approach! May everyone get to experience the beauty of catching their very own queens and raising from scratch
I just wanted to share my journey of keeping this invasive species of ant and my experiences keeping them. Here's a beautiful picture of some of the physogastric queens that are within the colony.
However, I am aware of their capabilities of being the utmost of escape artists due to their perseverance and amazing foraging trails, I had contemplated for many years before wanting to keep such a species, I've spent a lot of time researching about them including asking other antkeepers about how they contained/kept these ants themselves as well as looking on the professional side of these ants i.e reading a plethora of research papers regarding especially their inbreeding nature and among other factors that makes this species such a prolific ant causing a nuisance across the entire globe!
DISCLAIMER: This species is not for the faint of heart and definitely not for beginners, keep these species at your own risk as I am not accountable for anybody who takes inspiration of impulse buying pharaoh ants due to seeing my post.
But anyways aside from that, I had bought from a friend who has a 20k colony size of these ants on the 10th February 2023, it has been a while since then so I will post from the beginning for those who are unaware.
Originally I bought about 3-4 queens with some brood and workers, little did I know that they would begin inbreeding so early, from the picture below you can see many male pupae present in the nest!
I reckon I had about 40 or so males eclose, they had eclosed before the queen alates did, and shortly after, the queen alates began emerging. One of the prolifically dangerous aspects of this species is the fact that they will mate as soon as they can in order to start egg-laying as soon as possible, on the very same day the queen eclosed only just after 6 hours they began going into a mating frenzy.
(Camponotus ligniperda queen next to the tube just to show how incredibly small they really are!!).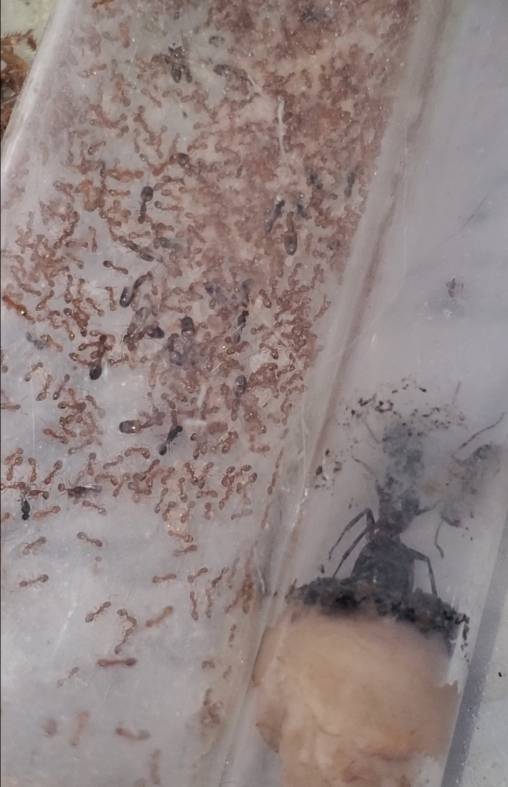 At this point I was very excited yet nervous at the same time, in total I had upwards of 16 queens or possibly more, it's difficult to count the queens due to their miniature size, that's 4x the amount of queens that I had originally started with! They had all mated and the males died about a few weeks after.
The amount of eggs they lay is just insane, according to papers they can lay up to 24 eggs per day in their prime egg-laying, and then slowing down to about 6 eggs per day.
Anyways fast forward to about 2 months into keeping these ants, they've continue to grow larger and larger, their diet consists of 3 adult superworms daily in which they will consume within the very same evening. Here's some pictures of their feeding responses:)
And I will conclude here, I'll probably post the rest of the colony growth if this post has some good interactions, I've made some cool tubing designs and allocated them into a nest nesting design which I'm very excited to share with you guys.
Hope you enjoyed reading and apologies if this post is way too long
Sent from my SM-G975U1 using Tapatalk