synopsis of species:
- species name: carebara diversa, formerly pheidologeton diversus
- colloquial names: 'asian marauder ant', 'east indian harvesting ant'
- temperature requirements: 24-30°C (75-86°F)
- nest humidity requirements: 60-80%
- length: queen 20-25mm, workers 3mm-16mm
- diet: this species is a generalist, eating a large majority of arthropods and occasionally small vertebrates. carebara diversa are also known to harvest seeds during drier seasons and will consume nuts, legumes, seeds and fruits and berries.
- monogyne / polygyne: polygyny, many queens are tolerated in a colony allowing for large colonies of hundreds of thousands of workers to be formed. I am speculative that this species exhibit secondary polygyny/oligogyny, wherein a colony adopts new, fertile queens from nuptials as oppose to queens founding together. There has been claims of queens founding together have fought and killed other queens when in each others presence. colonies with a larger number of queens and workers can usually fission or bud off to form new colonies.
- setup: carebara diversa colonies need a large foraging area and a very large nesting area, dirt setups work best, though well hydrated artificial setups also work well. it is best to have some dirt as it allows the ants to mediate air flow and optimise nest conditions to their liking, and most colonies will struggle without it. the nesting area should be well ventilated to prevent mold, adding springtail populations can help minimise this risk. both carebara diversa and their sister species, carebara affinis. like to bury food items and collect them at night, especially when the colony is small. this can lead to mite outbreaks, usually leading in the demise of the colony. This can be solved by either adding predatory mites like stratiolaelaps (formerly hypoaspis) or keeping the foraging basin seperate to the nest so ants cannot drag large prey home at night and will therefore won't bury their food.
- diapause: no - though in some areas, queens can slow down egg laying where the temperatures drop to around 20°C (68° F) and this species can tolerate temperatures as low as 15°C (59°F) for a few days, although this is definitely not recommended.
- colony size: unsure, some sources say 50,000 per colony, others say 250,000, so as of yet its unclear. I would assume about 30-70 thousand per queen.
- bite/sting - minors can have an irritable bite that can make them hard to remove from skin, majors rarely bite unless provoked, and can tear off skin.
side notes: carebara diversa minors have an extremely short lifespan of about 1-2 months, because of this, the colony always requires access to foods and a substantial brood pile, especially when they are small. colonies that don't have the brood to replace the dead workers inevitably fail and the colony will die. many sellers sell small carebara colonies that usually die before they have the chance to grow, due to brood being eaten due to stress of travel, or workers dying from starvation. because of this, it has given the species a terrible success rate outside of their native range and has given this species a bad name as being difficult to care for. because of this fact, I discourage anyone to buy a colony under 500 workers. The recommended range for colony size should be around 700-1500 workers.
Update No.1 - 10/02/2020
I have been enthralled with keeping carebara diversa since starting ant keeping and I managed to buy a colony of about 250 workers from myants 3 months ago. This was a very foolish decision on my behalf as I was unaware of how unlikely this colony was to succeed without the recommended workforce. However, I was very lucky that the colony arrived with a substantial amount of brood, easily enough to fuel the next generation. It was quite short notice on when I bought the colony so I had little time to prepare a full setup and instead came up with a tuppaware box connected to an antstore nest that previously belonged to my messor barbs. When they arrived the tube was a little 'big' and so was a bit of a tight fit.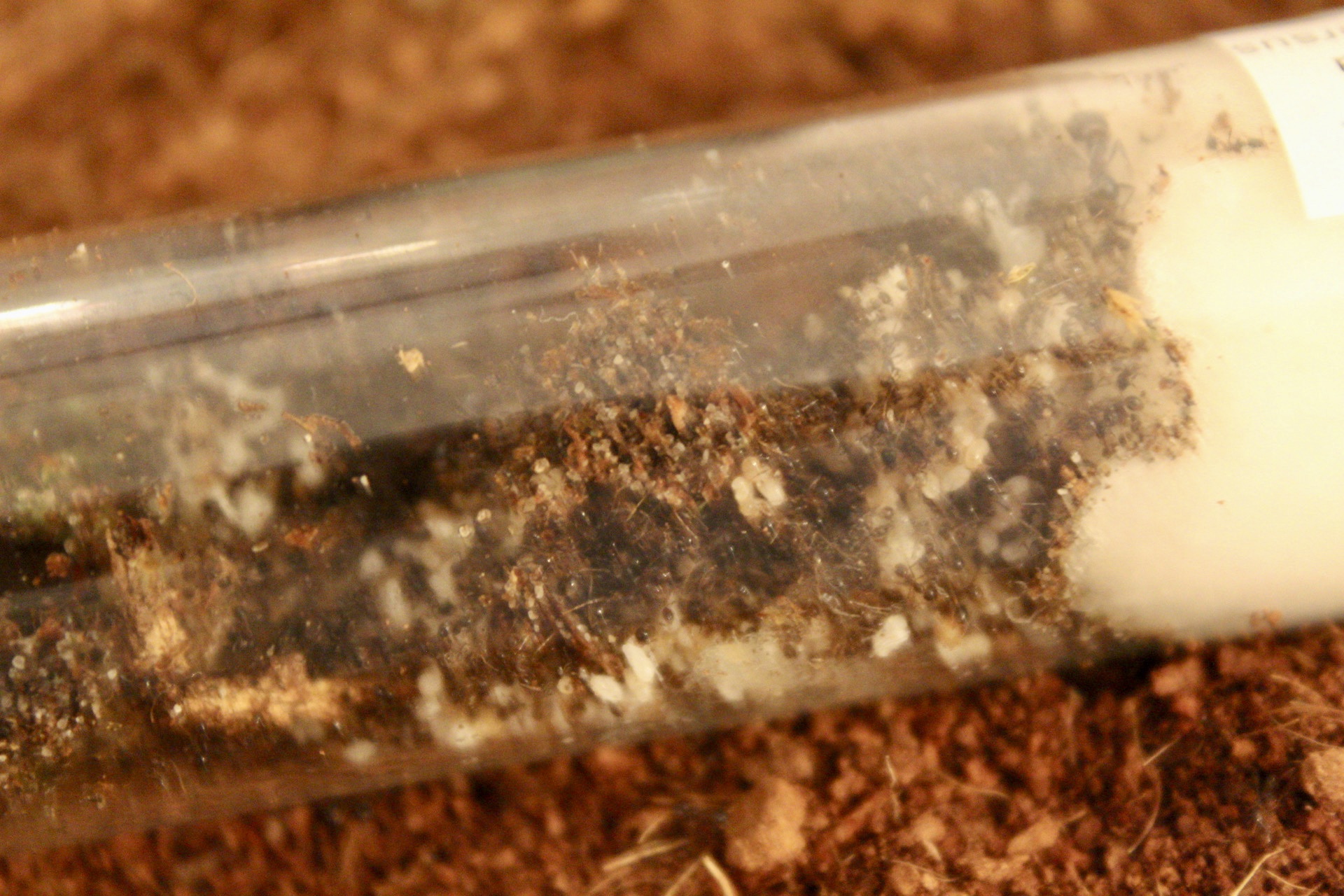 here is the queen, albeit very blurry.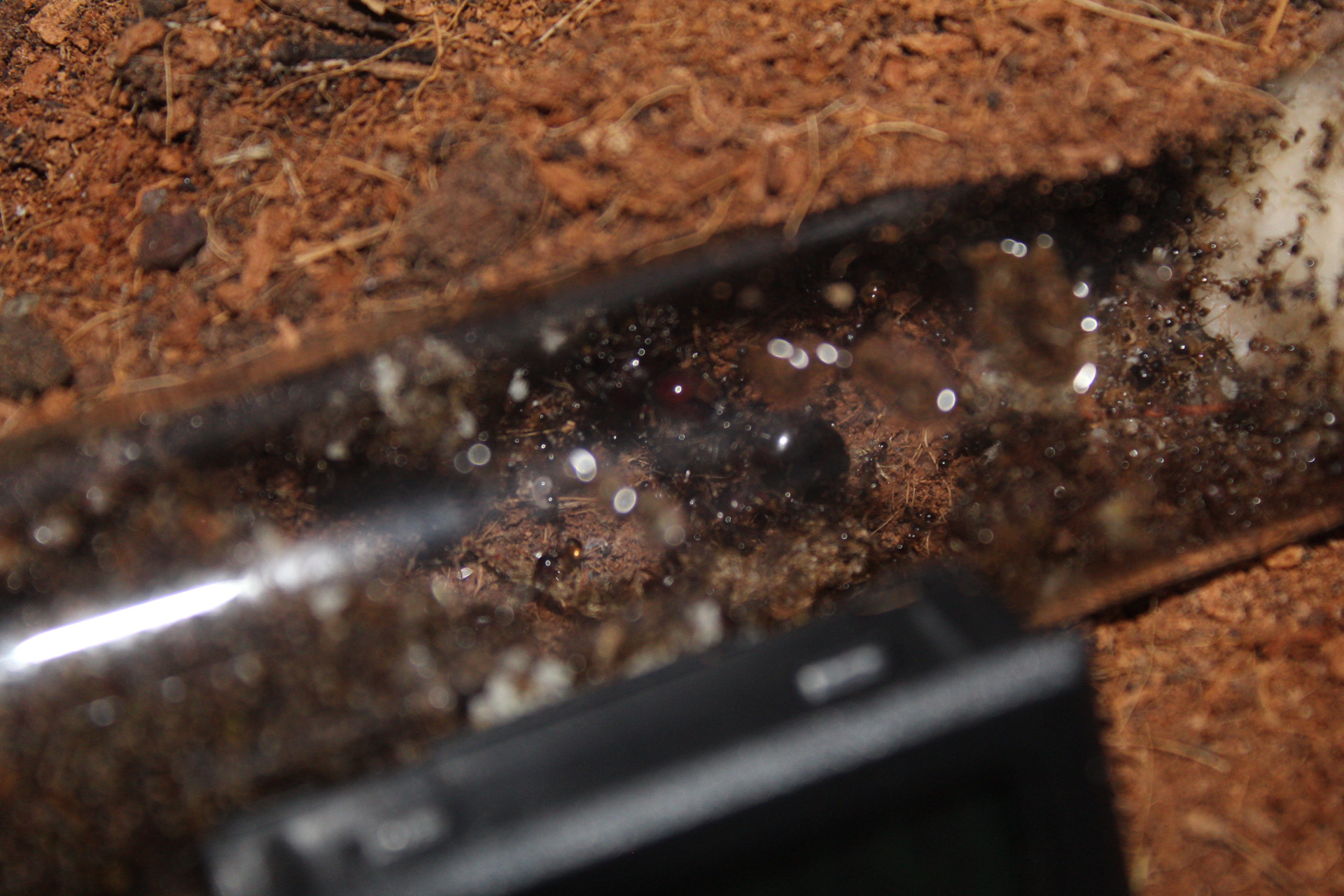 For such a small colony, they still had quite the appetite, managing to finish a full adult cricket in 12 hours when they first arrived and ate about 3 medium sized crickets a day.
This was the adult cricket they first received, they image doesn't do justice to how many ants are actually there, a common trend in my other photos of them.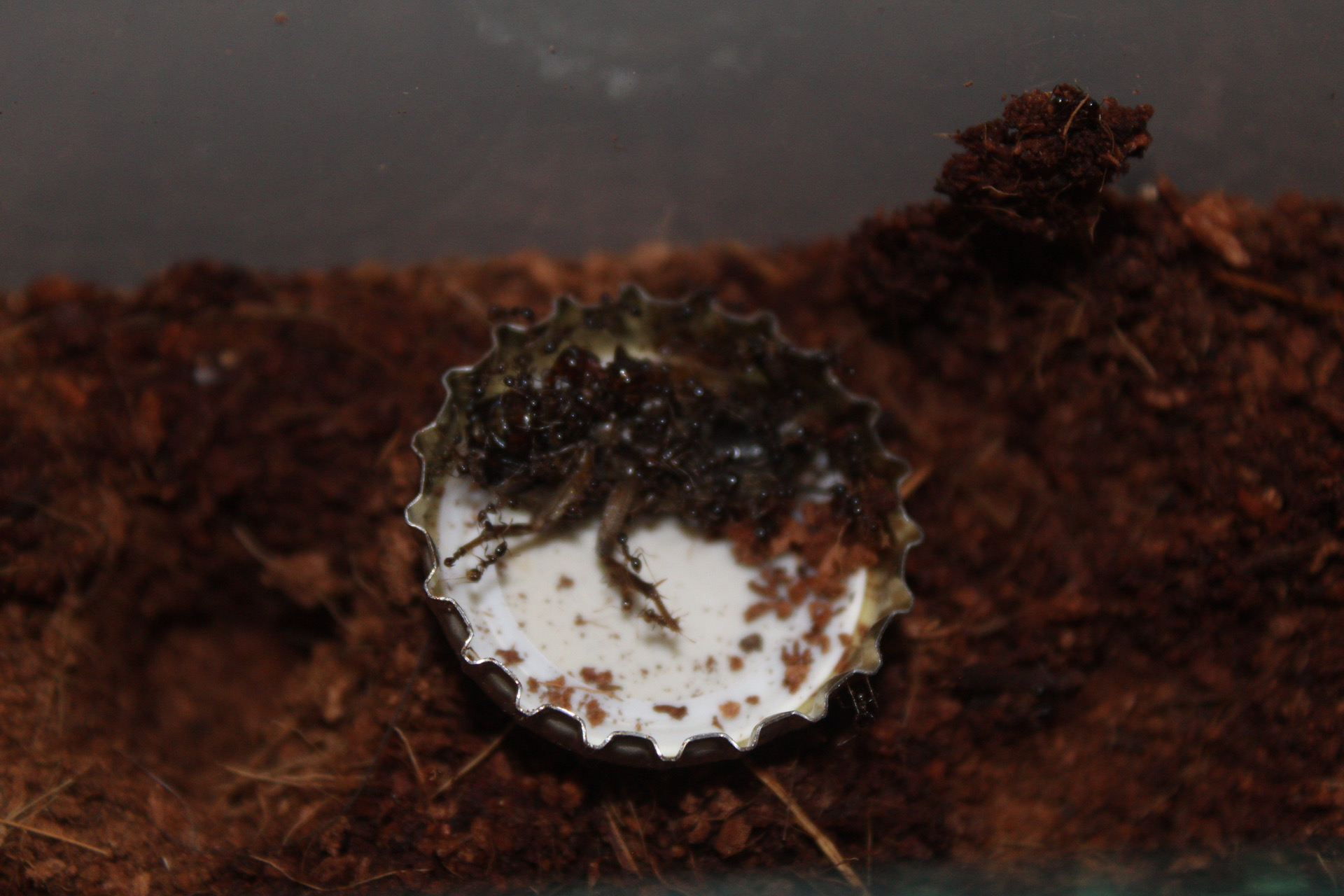 this secondary photo was one of my favourites at the time, though it is hard to show the ant on the cricket to the right was raised in a defensive posture at the time, similar to the defensive posture of oecophylla workers.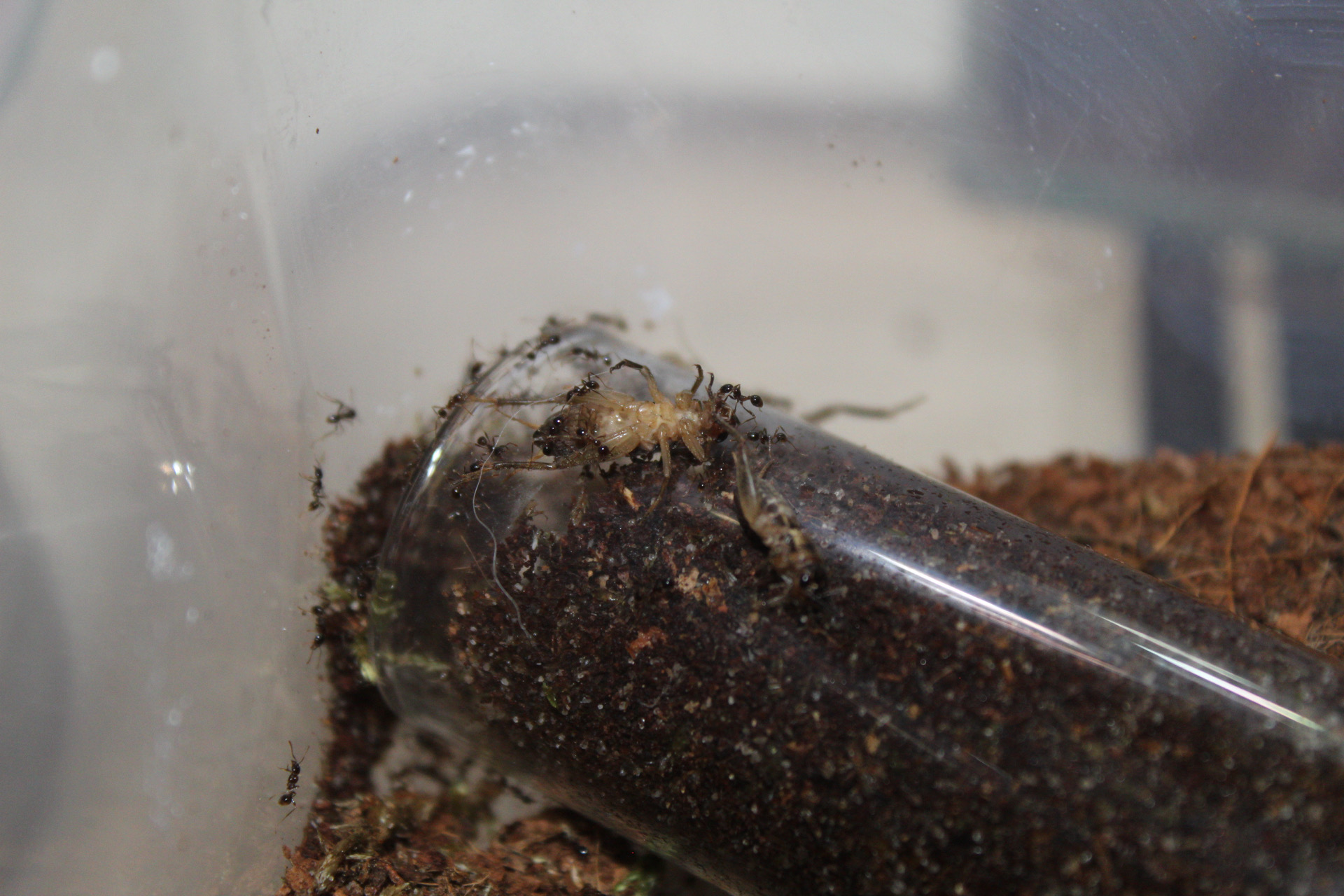 They grew pretty quickly out of the tube and excavated a lot of dirt in the process, eventually moving into the antstore nest where they are currently residing. during this time they have grown substantially and raised reproductive male brood at one point as seen here, these larvae with the small thorns are males; they make elates surprisingly early in development. The white stuff to the right out of focus what a huge load of eggs stuck to the glass.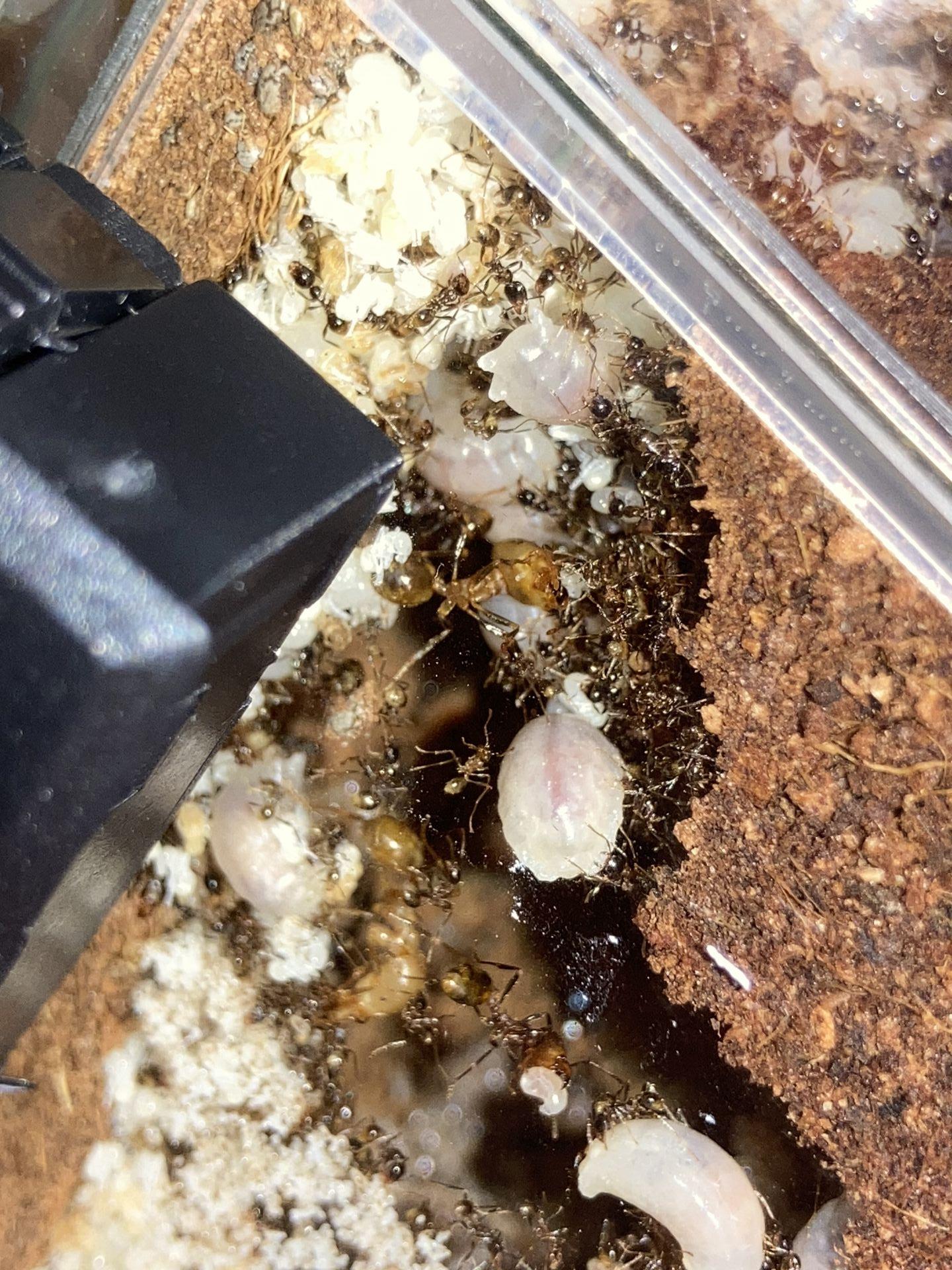 Unfortunately, most of this male brood succumbed to low temps when I underestimated how little my house insulated against low temperatures, upon returning home, I found the colony extremely sluggish with the majority of large larvae being dead and eaten. A lot of minor larvae and pupae also died, though the colony had enough workers at that time to rebound after the queen decided to take an egg laying break. the only drone larvae to survive, did eventually pupate and even managed to eclose, albeit with extremely deformed wings, as you would expect, he didn't last long.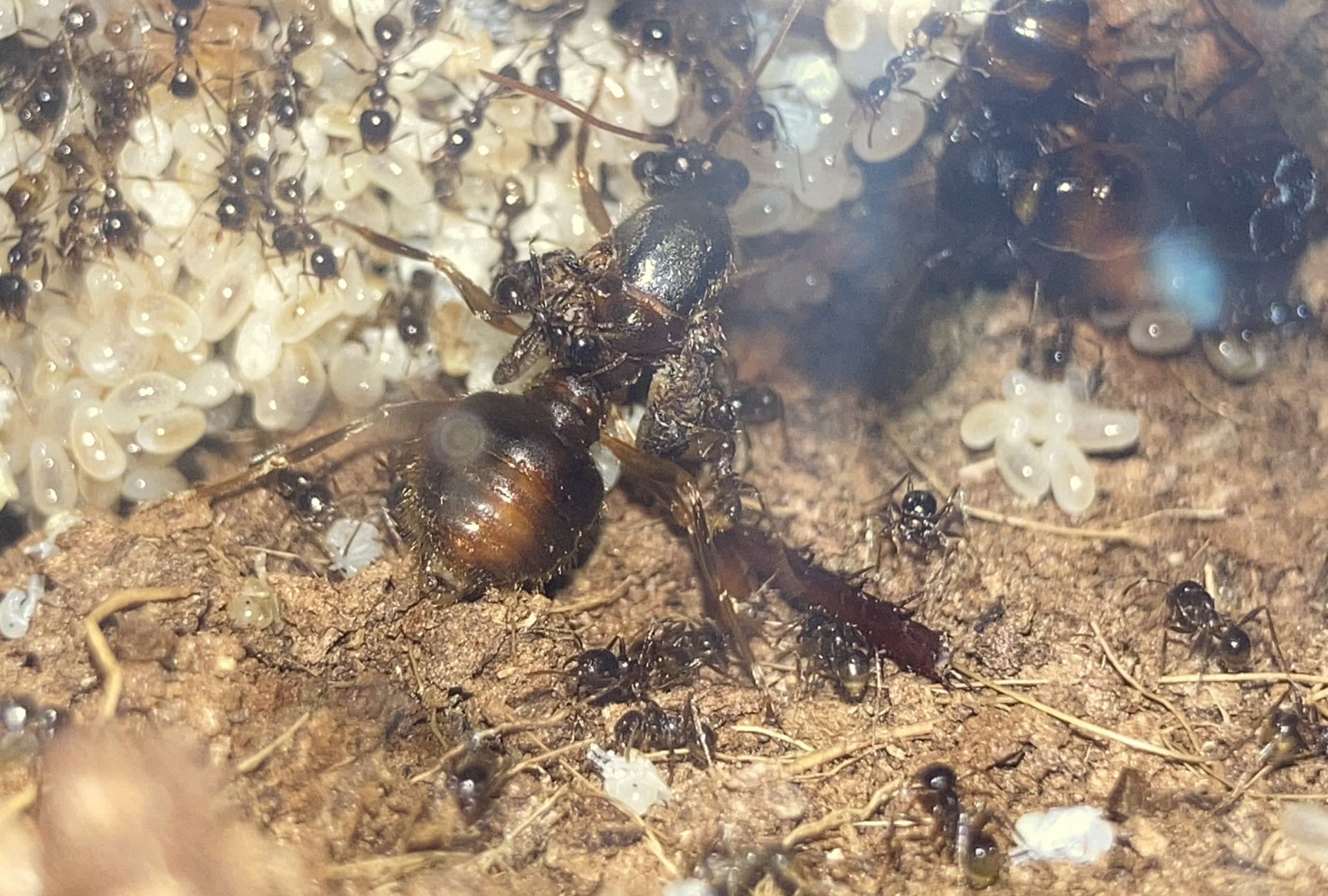 These ants diets have been no short of 'diverse' when it comes to what they have been given, ranging from locusts to curly wings flies to popcorn and peanuts, though most of their diet consists of Dubia roaches and crickets. with the excess of food, there has also been a large number of majors eclosing in the nest, which help with cutting up food, though the largest usually stay in the nest and act as food buffers. They always send out huge swarms of workers whenever food is available, which is also a joy to watch.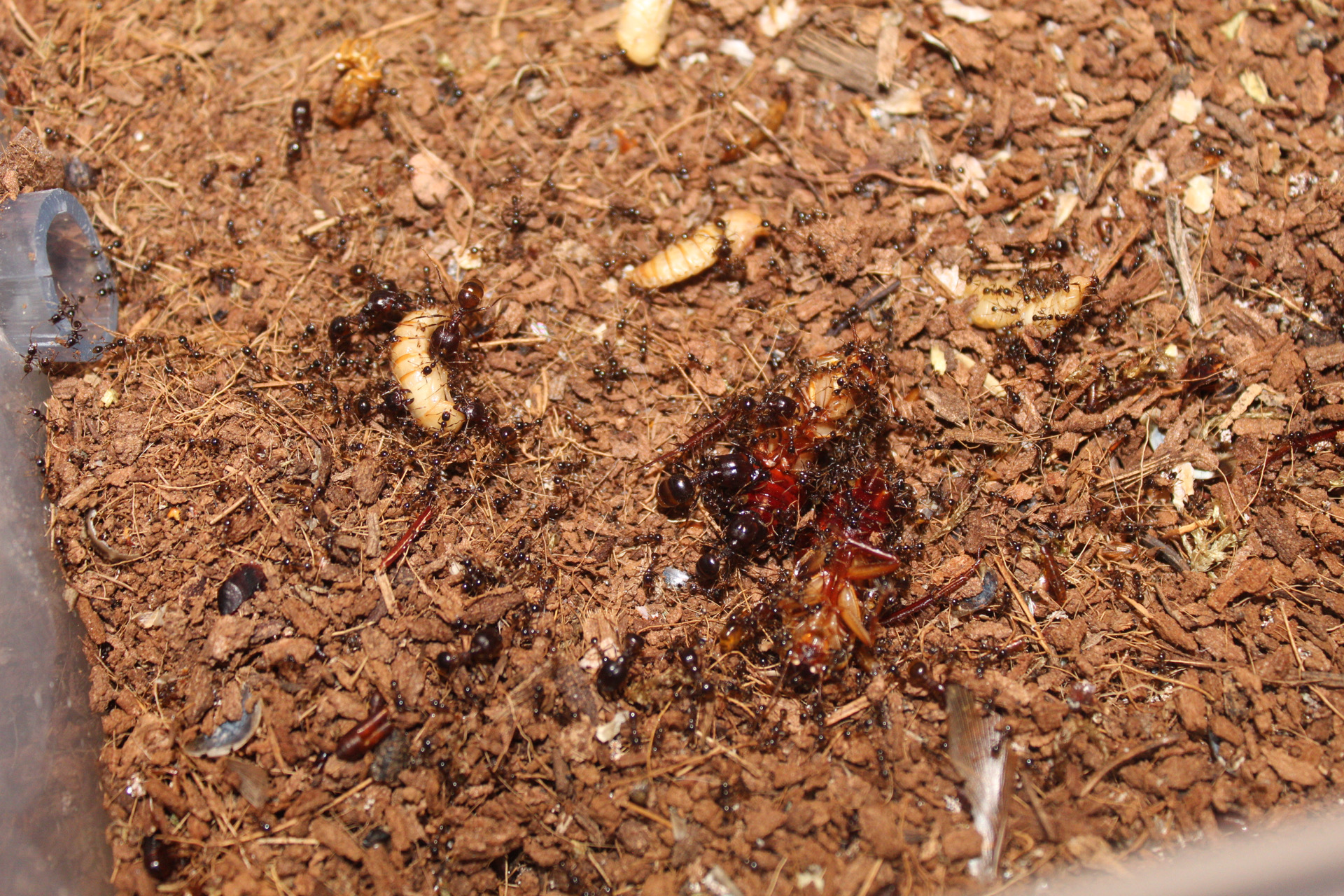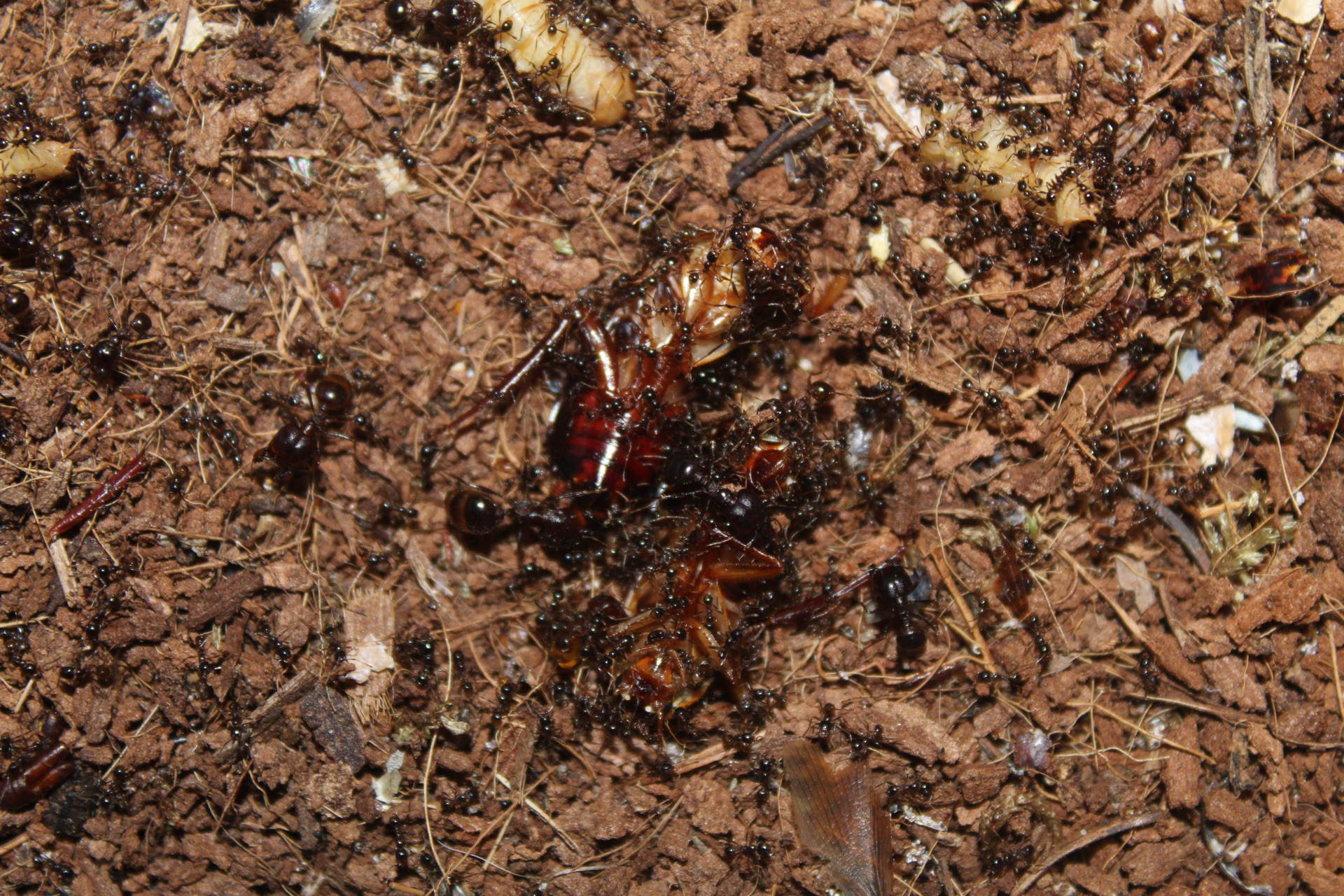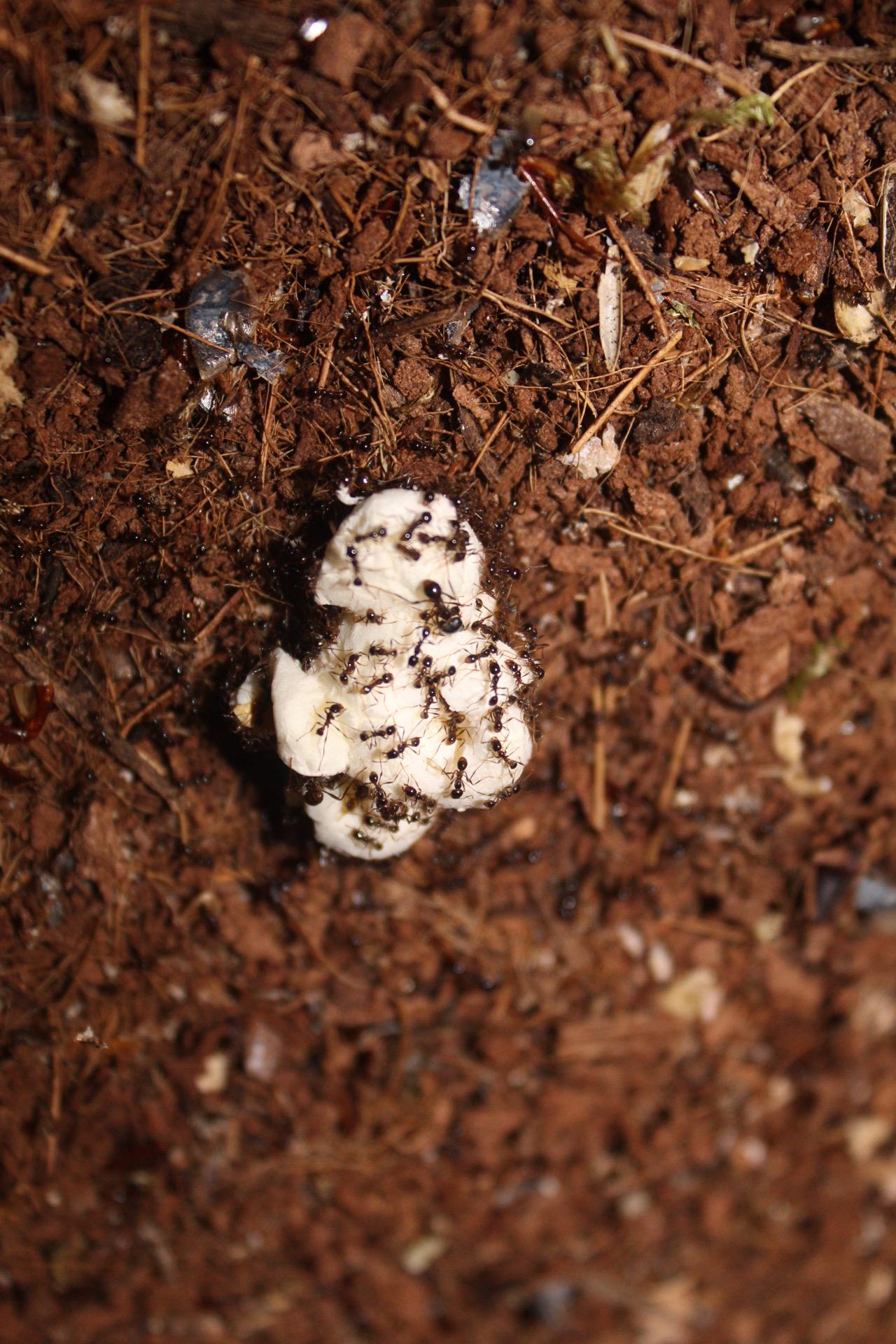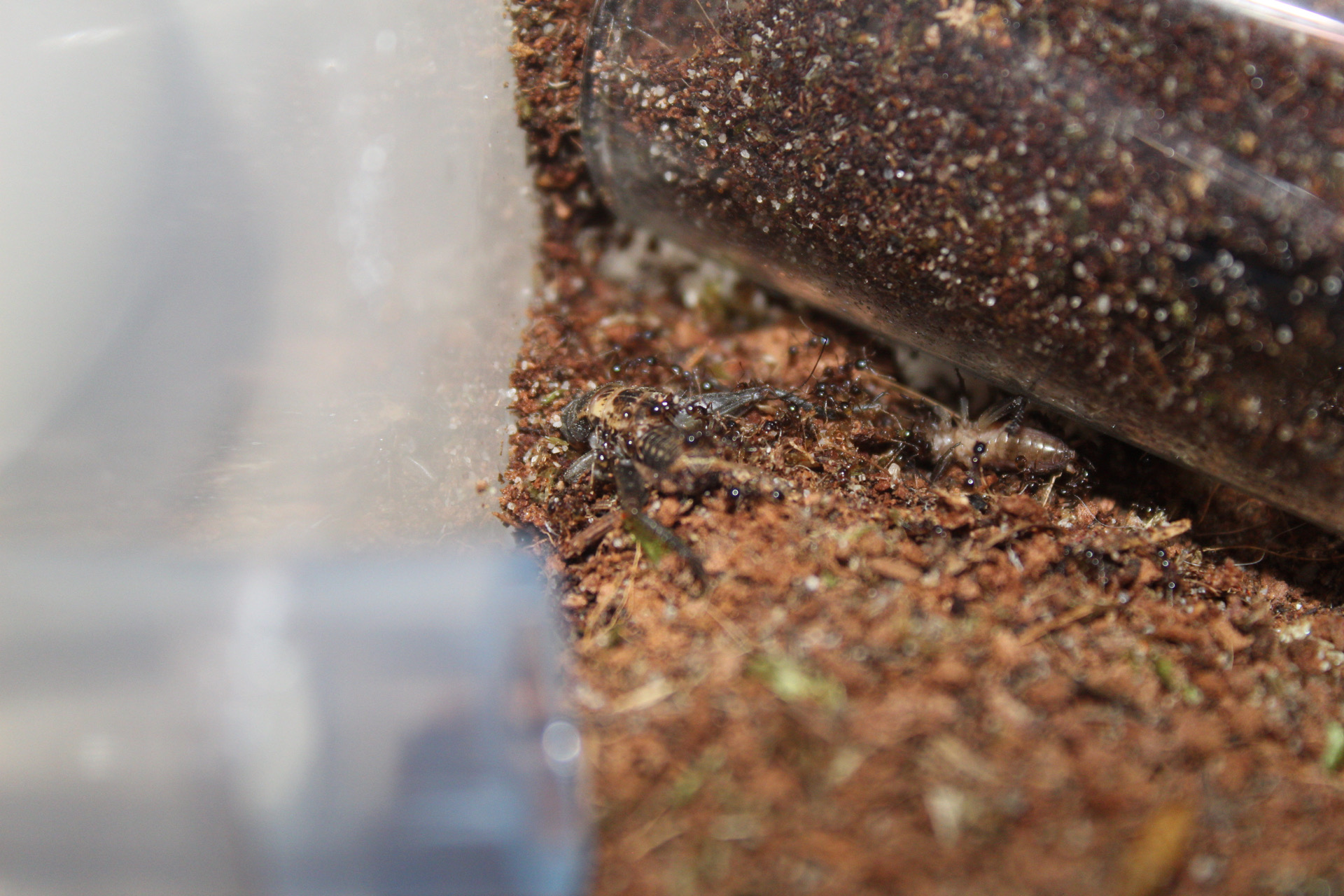 In conclusion, the colony I would estimate is at about 500-600 workers strong now and is due a nest upgrade. I am working on finding a suitable vivarium and am considering a ytong and soil nest hybrid, though I am still unsure of further details. This colony has been a spring time in the haggard winter of this year and are easily the favourite colony I own.
Edited by Fatatoille, February 11 2021 - 5:34 AM.