Hello Guys. Its been forever since I've been active. Not because I lost interest in ant keeping but rather I've been really ill and not physically capable to go anting or to take care of any ants for that matter. My health has been up and down and literally almost died twice (requiring intubation and defibrillation). So I don't have any ants at the moment but my health is much better now and I want to get back into ant keeping. I still have the termitat and they're all going strong. So I thought I would do an update on them. So I've had the termitat for just over a year now and they are all doing great. Its been the easiest thing to care for only needing about 5ml's of water every week or so. When I first got it the colony only consisted of a hand full of workers and maybe two soldiers. Now the colony is much larger with lots of soldiers and tons of adult workers and numerous juveniles. The juveniles seem to come in waves every month or so.
Soon within the next month I'm going to try and rehouse them into a larger version of the Termitat that I'm designing. It's basicly just going to be a jumbo version. With a 15" diameter slab of Douglas Fir instead of the 7.5" slab that they're living in now.
So here are a couple of pictures.
This is what I refer to as the front side.
And this is the backside.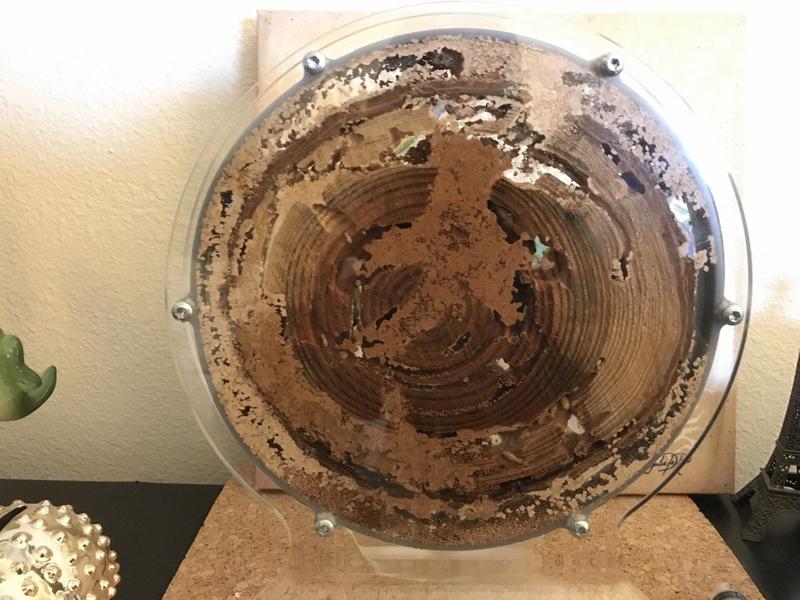 Also here is a short 6 minute video I just took.
So for those members that might remember me, I hope everything has been going well with you and your colonies.
thanks,
Jess
Edit: forgot to mention the species. These are Zootermopsis angusticolis, AKA damp wood termites.
Edited by FSTP, September 15 2018 - 5:38 AM.